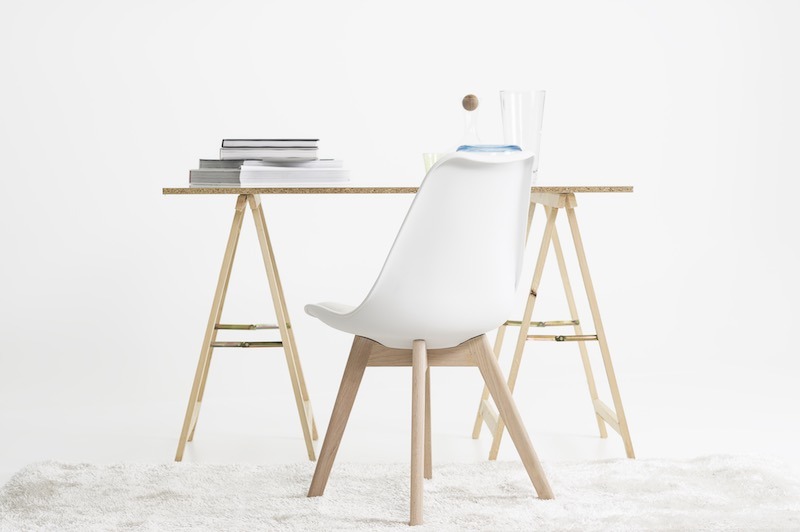 Best Modular Office Furniture and Accessories
(Last Updated On: September 23, 2023)
Modular office furniture gives you the ability to structure any office, whether brick and mortar or a home-based office, to meet the office's needs. 
Pieces can be added as the office grows or as needs change.
Modular office furniture is especially helpful to the home-based freelancer. 
Modular furniture includes cubicle and room dividers, which allows the worker freelancing from home the ability to tailor the office to the existing home.
We have listed some products that will help you make the most of your space and give you flexibility when setting up your modular office. 
Modular Furniture and Accessories
Ideal for the modular office, this acoustic room divider allows you to create the space that is tailored to your needs. 
The privacy panel absorbs 85% of the sound that passes through it and provides a quieter workspace. 
Panels can be used individually or zipped together. The zipper option gives you the ability to flex the wall and wrap a set of panels around desks or create a separate nook. 
The ReFocus dividers provide you with privacy and gives workers the ability to focus without being distracted. 
You can add panels as needed and place them where they can be used to your office's best advantage.
Giving you plenty of desktop space without a large footprint, the Devaise computer desk will be ideal for a modular or home office. 
A generous 55″ in width, you will be able to fit your laptop, monitor, keyboard, books, and files in one spot. 
There are two drawers to keep your office supplies handy and out of the way. The filing drawer will accommodate letter and A4 size files. 
Holding up to 450 pounds, the steel frame adds to the durability and stability of the desk. 
Cleverly made, you are able to choose which side of the desk you would like the file cabinet to be on. 
If you restructure your office, you can switch the desk to suit your needs. Ideal in an office setting or at home.
All offices need organization tools to keep the chaos to a minimum and to keep order to the space. 
The TomCare storage cubes will help you to establish order and keep items where they belong. 
These units will look stylish while making a minimal footprint. Use them in the closet, under a desk, or in a corner. One reviewer used the cubes to construct a wall between spaces. 
Each cube will support about 15 pounds, and they can be arranged in a variety of configurations. 
Use them in the break room, at home in the laundry room, or to corral the kid's items. 
Great for a bathroom to hold towels, the uses of these cubes are myriad and varied.
Perfect for the minimalist office, the Need desk works great for your laptop. 
There is no need to assemble the desk, and it can be opened and folded in a matter of seconds. 
The leg pads are adjustable and help make the desk stable on uneven floors. 
If you need to forget about your home-based office work, just fold the desk down and slide under the bed or put it in a closet. 
Better yet, the handle on the bottom of the desk makes it easy to carry outside to work on the patio or take it along to the vacation house on the lake that you have rented for a month. (you wish!)
You always need more storage space in your home office until you don't. 
Working from home myself, there are times that I need more storage than others.
Depending on the project, I might need areas of storage and the ability to keep projects separate. 
The EZOWare stackable storage bins solve that issue in style!  Herringbone tweed fabric in a natural gray color goes with any home office decor. 
The handles on sides make it easy to bring the bin to wherever you are working, and the bins have a fold-down lid that keeps the clutter from view. 
The beauty of these bins is that when you don't need them, they fold down to an inch in height and can be stored easily until you need them again.

Modular Office Furniture
Modular office furniture is a huge bonus for a growing office and for home-based freelancers. 
Space is often at a premium both at an office complex and especially at home. 
The beauty of modular furniture is that it can be quickly and easily reorganized. It can be arranged and then rearranged if needs change. 
If the traffic pattern or the flow of the space needs to be adjusted, it is an easy proposition with modular furniture. 
Easy to install or dismantle, the units can be moved according to changing needs or preferences.
How To Choose Modular Furniture
When deciding on what pieces of modular furniture you need take some things into consideration so that you get the items that you need and will work for you.
According to need
Office space needs to be conducive to the type of work that you do.
Where will you or your employees need to be sitting and working most of the day? Make that decision and keep in mind that having a comfortable workspace is a must. 
You can style your office furniture and interior depending on your business needs. Will employees have to communicate and collaborate with each other? 
Do you need a quiet space when making phone calls? With modular office furniture, you can create separate work areas by using cubicles. 
Modular Office Furniture Cost
Cost is always a consideration. If it is an office environment, there is a bottom line that needs to be accounted for. 
If you are freelancing from home, you are probably on your own and need to make your dollars count when setting up your office space. 
Determine your budget beforehand. That will help you to narrow down your choices. 
There are times when quality should not be compromised, especially when it will be something you use almost daily. 
You want items that allow for flexibility, and don't have to replace them after a year because they no longer work for your space.
Flexibility and functionality
What do you need your office furniture to do for you? Do you need storage for files? 
Do you need a printer and scanner handy? Remember, too, that you will need space to stretch your legs under the desk. 
Purchase modular furniture and accessories that have multiple functionalities. 
The storage bins should be able to store items and maybe also be used as a divider between spaces. 
The file cabinet should also be able to hold the printer. 
Try and get items that will serve double duty for your space.
Modular Office Furniture Size
Buy furniture that will be proportionate to the size of the space you have to work in. 
Big, bulky items will consume vast amounts of real estate and be challenging to work around and a plain waste of space. 
You don't want to feel cramped; you want to feel like you have room to breathe and move around freely. 
Knowing the size of your office, particularly crucial if you work from home, will be vital to getting the right size furniture. 
When looking at modular pieces, get the dimensions of each piece. Map those dimensions out on the floor using masking or painters tape. 
This will give you a visual of how the pieces would fit and how much space they would take up. 
Do this before you purchase so that unhappy surprises are avoided. Leave enough room so that you are comfortable, not cramped. 
Modular Office Furniture Aesthetic value 
Since your office is the area that you will be spending a goodly amount of time in, give some thought to the aesthetics of the furniture. 
Your surroundings are important in how they contribute to the mood of the office. This is impactful if you work from home. 
The atmosphere can support the vibe or be dull and oppressive. 
When choosing the items for your home office, look for those pieces that add lightness and brightness to your space. 
Resist buying pieces because you like the design or color. Yes, the orange wall module with the hot pink flowers is a fun piece. 
But you might not want to look at it for eight hours in a row. Every day. 
Choose items that contribute to a calming and productive atmosphere. 
You will be spending hours in the office, so consider the aesthetics.
Cleanliness
White modular office furniture can look crisp and up to date. But will it hold up under everyday use? 
Smudges and dirt will be evident on a white surface. 
Think about how you will be using the furniture you are purchasing for your office. 
If it is a table that will be used for breaks and lunches, you will want something with a surface that is easily wiped off and looks clean after use. 
If you are freelancing from home, your modular furniture will probably double-duty as you might  not have the luxury of unlimited space. 
Choose pieces that will clean easily and are not easily nicked or scraped. 
You don't want to spend your time cleaning the area you just spent eight hours working in, so make sure that the pieces you choose are easy to care for.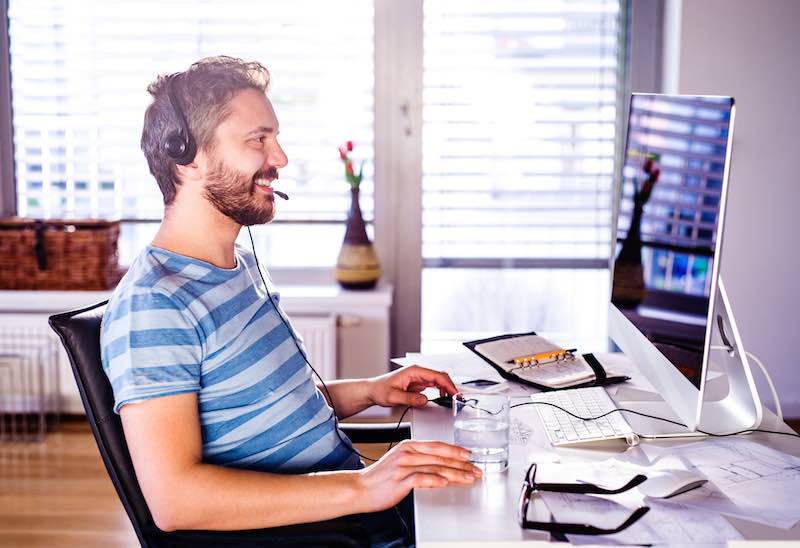 Tips On Home-Based Office Work
In recent months, more American workers than ever before have been working from home. 
Of those, three out of five, or 59%, of U.S. workers would prefer to continue doing their jobs from home. 41% would prefer returning to working in an office setting. (probably those with kids!)
Those who dream of working from home can feel it is the answer to all problems. 
No more commuting and no more traffic jams!  That alone seems like heaven! 
You no longer have to avoid that obnoxious co-worker or continually get derailed by interruptions or mini emergencies. 
While working from home is a pretty sweet proposition, it is not without its challenges. 
And just like any other aspect of your life, it should be approached with careful consideration.
You might say to yourself, "If I could work from home, I would be able to ____." Fill in the blank! 
Like most of us, you might feel that working from home is the "end all, be all." 
And it can be if you take some things into consideration.
Maintain a schedule
Please don't make the biggest mistake of all; that you have all day to accomplish your tasks. 
You don't unless you want to be working until midnight because you lost track of time. 
There are actually more distractions at home than at the office. 
Now, instead of clocking in at a set time, you have the ability to roll over in your comfy, warm bed when the alarm goes off. 
Does it really matter if you start 15 minutes later? Now you have the opportunity to throw in a load of laundry because that takes just minutes. 
And your mom knows you are working from home, so it really won't be an interruption for her to call and tell you about Uncle Joe's plans for the family reunion. And on it goes. 
Minutes add up, and pretty soon, you are scrambling to catch up. Maintain a set schedule and stick to it. 
Create boundaries between your work and your personal life.
Get Yourself Organized
Before starting to fill your office space, take a little time to prepare your space to make for a smoother transition. 
This article will give you some tips to get you on your way: Minimalism Increases Office Productivity. 10 Ways To Declutter and Simplify  
You can lose productivity if the items that you need are not at hand or if you have to search for something you need and can't find. 
Set up a home office, even if it is not in a separate room. Create a designated space for work and nothing else. 
Improve Communication
When you work from home, you will still have times when you need to communicate with others. 
This is an area that can be fraught with danger. When working one on one, you can read a co-worker's facial expressions and body language. 
You also have the opportunity to build relationships and really get to know people. Not so when working remotely. 
It is challenging to interpret tone and meaning from an email. Words can come across as harsh or critical when that was not your intention. 
Until and unless you establish a relationship with a co-worker that needs no explanation, be polite and positive. 
You are part of a team. Ask questions if you are uncertain. 
Pick up the phone if needed. And keep this handy for your emails:

Separate Work From Personal
It might seem like there would be no problem propping yourself up with a few extra pillows and working away from the comfort of your bed. 
Set up a space that will be for work and work only. Having a dedicated space tells your mind and body that it is time for work. 
Sitting on the couch makes it too tempting to turn on the TV for background noise, cause that is what you do when you sit on the couch. 
Keep your work information separate from personal information on your computer. 
If you do not have a separate personal computer, make it a rule that when your laptop is on the desk, it is time for work. 
Personal time on the computer is when your laptop is not in the designated work area. If possible, create a separate user account for work and personal.
For your health, consider incorporating a standing desk that will give you the ability to change positions during the day. 
There are numerous studies on the benefits of standing periodically. Being at home, you are less likely to get up and mover. 
Here are some of the Best Standing Desk For Home Office.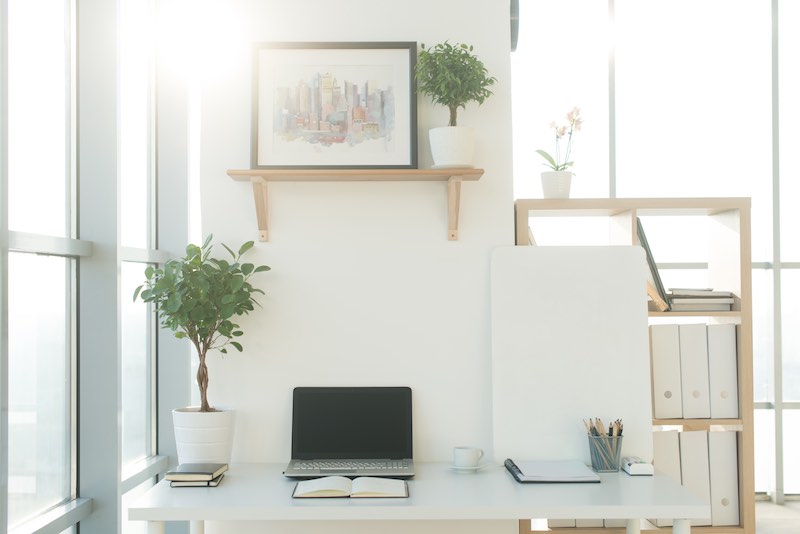 Have A Routine For Day's End
Just as you should have an established routine for starting work in the morning, you should end your workday with a routine. 
You need to create some type of habit that signals that the workday has ended. 
It could be shutting down the computer, or getting out for a walk. It needs to be some routine that lets your mind and body know that your workday has drawn to a close. 
If you don't, the lines between being "on" and "off" get blurred. This feeling of always being "on" can lead to burn-out, and the allure of working from home can fade fast. 
Please don't fall into a pattern of staying up late and trying to get up early to start work. 
It can be incredibly tempting to extend your time in the evening, but it can throw off your sleep patterns to the detriment of the next day's work. 
I have learned from personal experience that I could burn the candle at both ends and still perform at work the next day without feeling tired. 
The stimulation of the workplace and co-workers would keep me wide awake. Working from home is a different story. 
Losing sleep at night will guarantee a rough day at the home office. 
Keep a routine and sleep pattern, so you don't fall into the nap trap. 
Here are ten things you can do at home to improve sleep.
This YouTube video gives additional tips on working from home that you might find helpful
 In Conclusion
Working from home can be a blessing if approached in the right way. 
Try not to think everything will fall into place automatically, and that everything will be wonderful. 
Consider carefully and plan ahead. 
Use modular office furniture to create your designated workspace. 
This is the first key to working successfully as a home-based freelancer, or a remote employee. 
Use the space wisely and use modular items to configure your area so that it works for you. 
There are many advantages to working from home, and if you work smarter, it will turn out to be the "end all, be all" that you thought it would.