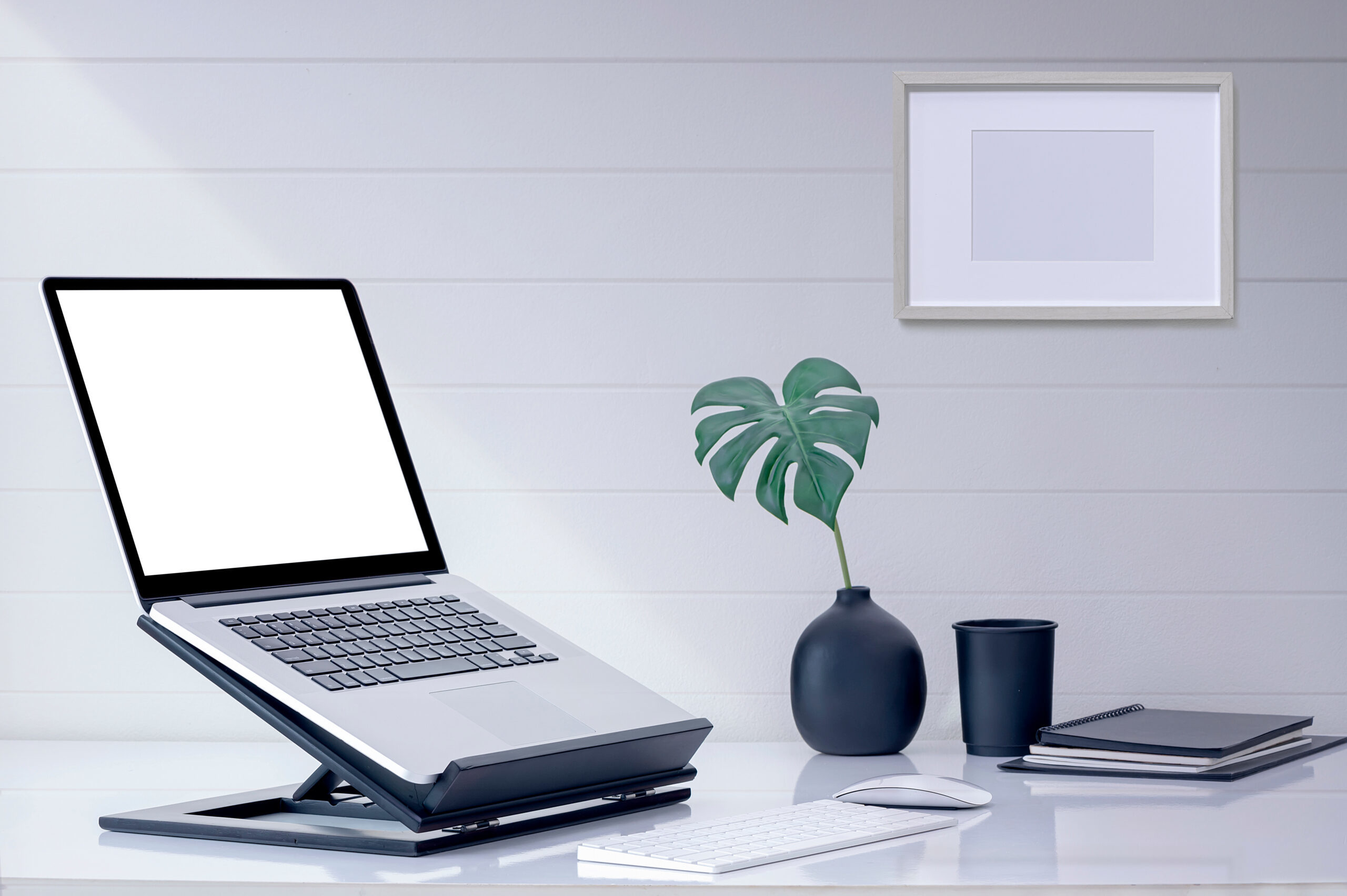 The 5 Best Laptop Stands to Increase Your Productivity
(Last Updated On: September 23, 2023)
You probably use your laptop every day, but unfortunately, laptops are not ergonomic-friendly. Spending long hours with a laptop on your lap, or another type of table could give you a sore back or neck!
A laptop stand can relieve stress on your back, ease the strain on your eyes and decrease overall discomfort during your workday.
In addition to a laptop stand, you could add one of the Best 5 Monitors With Curved LED Display to your arsenal. This would help complete the ideal tools needed for efficient and productive work.
Adding an inexpensive laptop stand to your office equipment will give you a more comfortable experience, especially when you're spending long hours working from your laptop.
We have listed the five best laptop stands and are sure to find one ideal for you.
Reviews Of The 5 Best Laptop Stands For 2021
Product
Name
Features
Rating
Price
Sundance Laptop Stand
Weighs 2.2 pounds
4.8/5
Rain Design mStand
One-piece aluminum
4.7/5
FYSMY Ergonomic 
Holds up to 13 pounds
4.6/5
Nulaxy Laptop Stand

​ 

Weighs 2.27 pounds
4.5/5
Griffin Elevator 
Made from polycarbonate
4.5/5
1. Sundance Laptop Stand
Sundance Laptop Stand, Aluminum Computer Riser, Ergonomic Laptops Elevator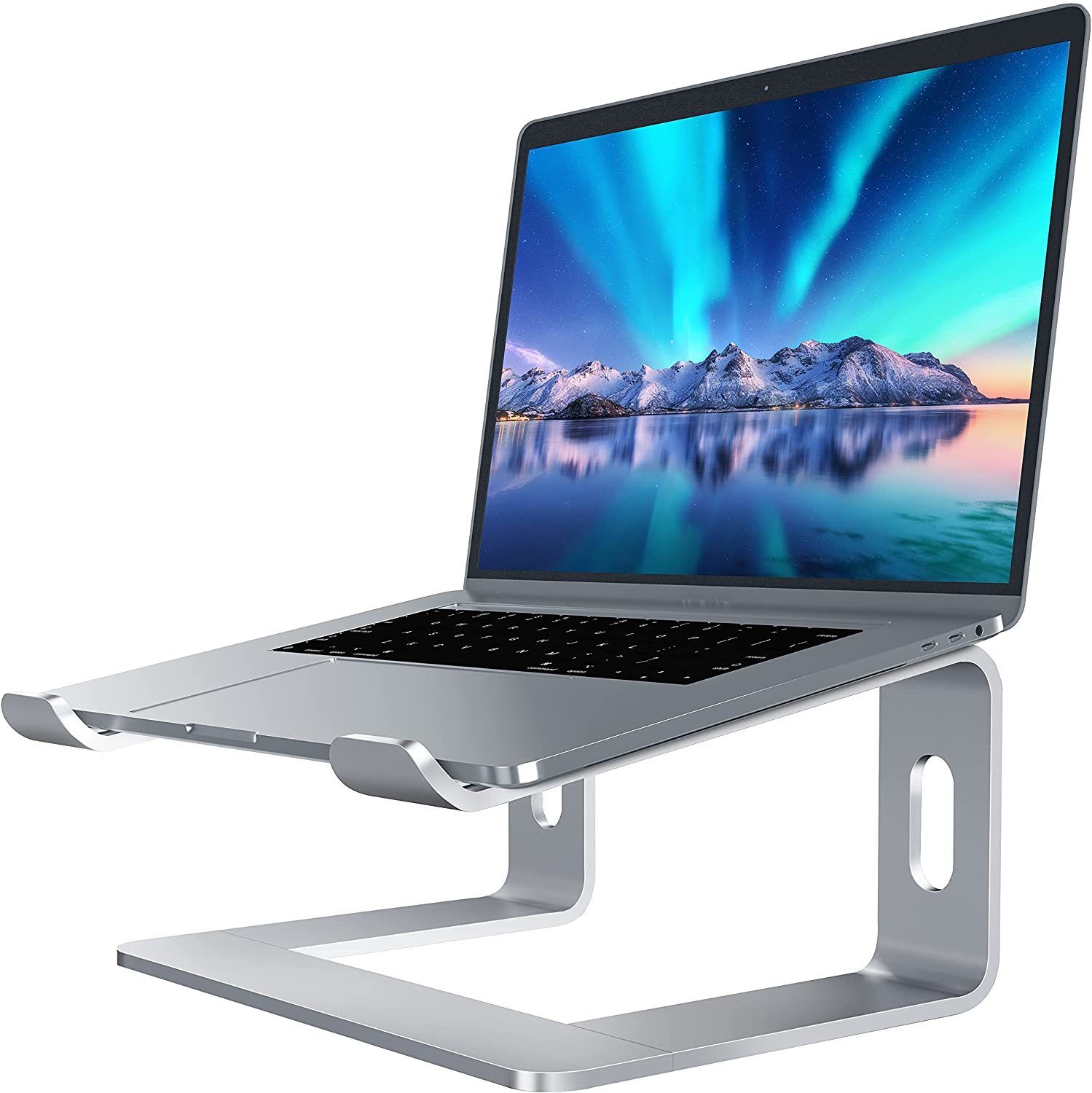 The Sundance laptop stand has a unique minimalist design. When using the Sundance, your laptop is supported with two separate support arms.
Rubber feet hold this Sundance laptop stand in place to free you up to focus on the task at hand. The two top support bars can be detached from the base without any tools, so taking it apart and stowing it in a backpack is easy.
The support arms have open holes for excellent cable management; simply route your cables through the holes. Support arms are well padded so that they won't scratch your laptop or furniture.
The Sundance will be a perfect fit for laptops from 10 to 15.6 inches in size. A ventilated design prevents your laptop from overheating, even after hours of use.
Made from aluminum alloy, the Sundance is both sturdy and portable. Use this laptop stand at the office, meeting room, or home.
Slim and compact, this laptop stand elevates your laptop by six inches to a perfect eye level. There are six stylish colors to choose from.
Specifications:
Weighs 2.2 pounds
10.24 x 8.86 x 5.71 inches
Aluminum
2. Rain Design mStand
Rain Design 10032 mStand Laptop Stand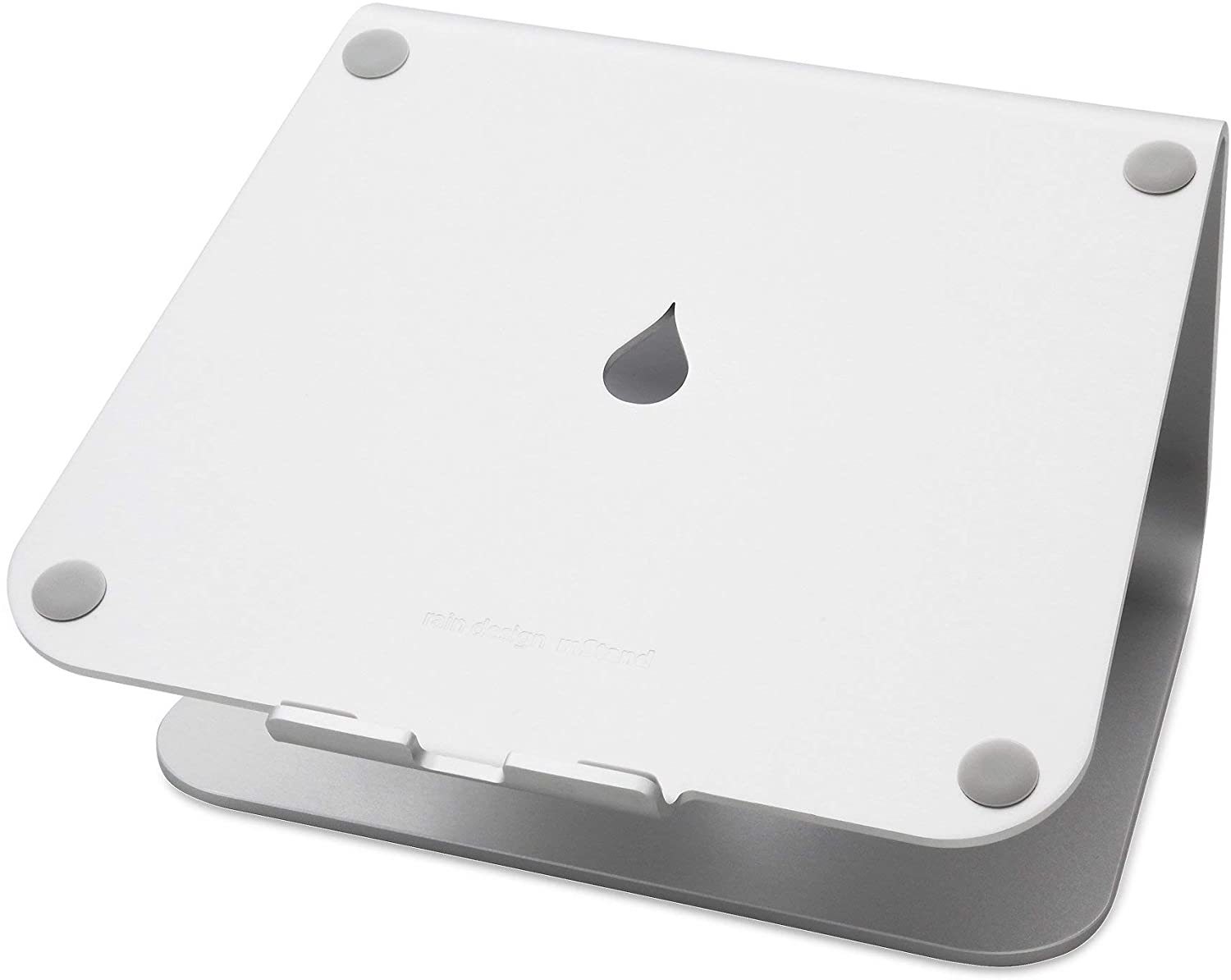 Made of a single sturdy piece of aluminum, the mStand transforms your laptop into an ergonomic workstation. The single-piece design will solidly hold a laptop.
The mStand is bent into a shape perfect for holding most laptops with a depth of under 10.3 inches. Your laptop will be lifted six inches to give you a more ergonomic viewing experience.
The mStand will position your laptop's display to eye level, which will help you to maintain an improved posture while you are working.
The tilt design angles the computer's keyboard so that you can see and have access to the keys. The single piece of aluminum acts as a heat sink to keep your laptop cool during use.
Specifications:
Weighs 3 pounds
8.82 x 5.98 x 9.92 inches
One-piece aluminum
3. FYSMY Ergonomic Portable Computer Stand
Adjustable Laptop Stand, FYSMY Ergonomic Portable Computer Stand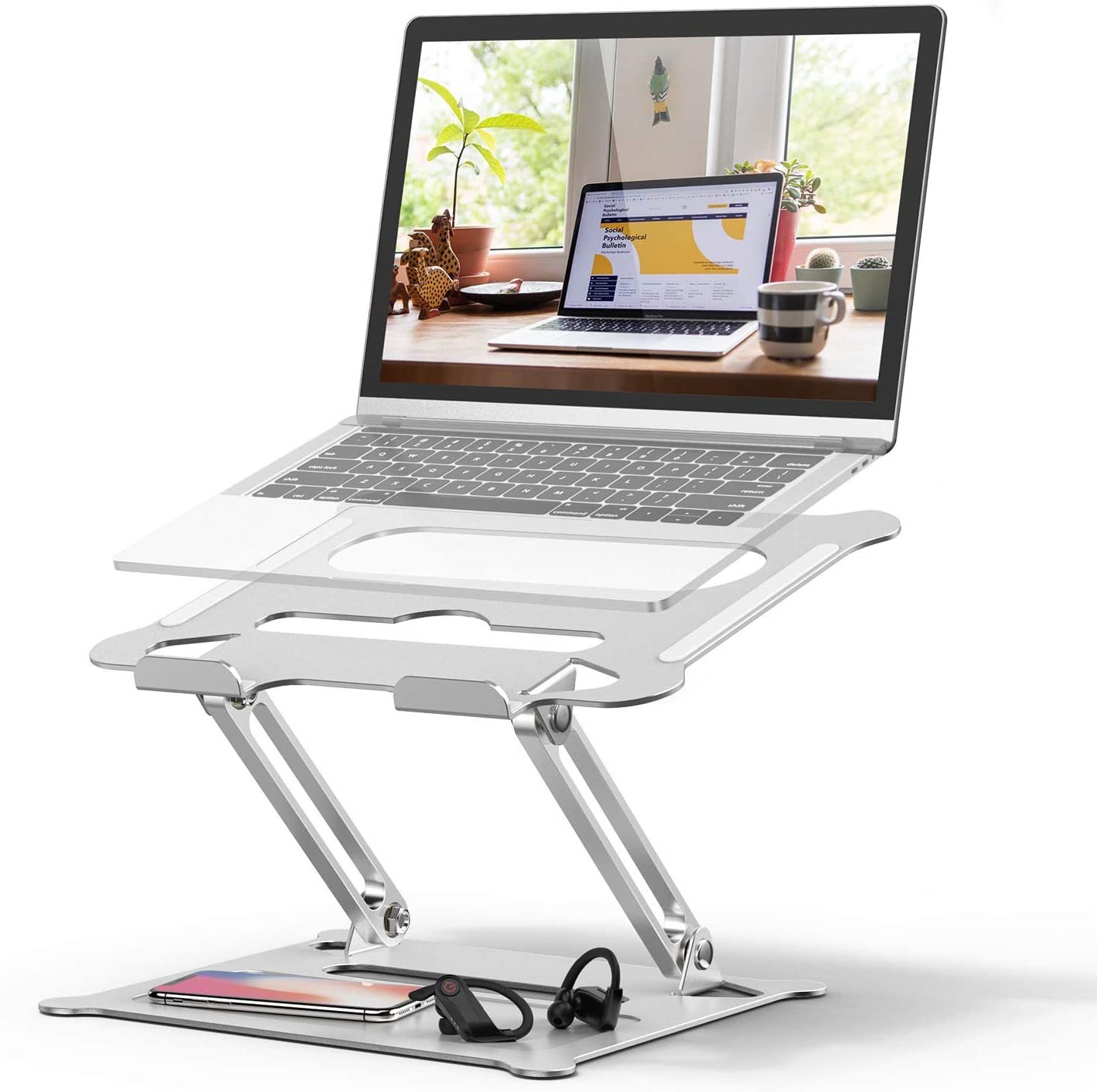 The FYSMY laptop stand is adjustable in both height and angle. Use this advantage to maintain a healthy posture when using your laptop.
There are no tools needed for adjustments, just a push or a pull depending on the adjustment. The FYSMY also folds for easy storage or to take along with you.
Made from an aluminum alloy, this laptop stand is stable and sturdy and will support up to 13 pounds. Silicone pads on the holder make the stand non-slip to keep your laptop in place while you are working.
The aluminum alloy conducts heat away from your laptop and has ample space for ventilation to keep your laptop from overheating.
The FYSMY will hold laptops from 10 to 17 inches and comes in black, gold, or silver.
Specifications:
Weighs 1.8 pounds
8.8 x 10.4 x 7.3 inches
Holds up to 13 pounds
Aluminum
4. Nulaxy Laptop Stand
Nulaxy Laptop Stand, Ergonomic Aluminum Laptop Mount Computer Stand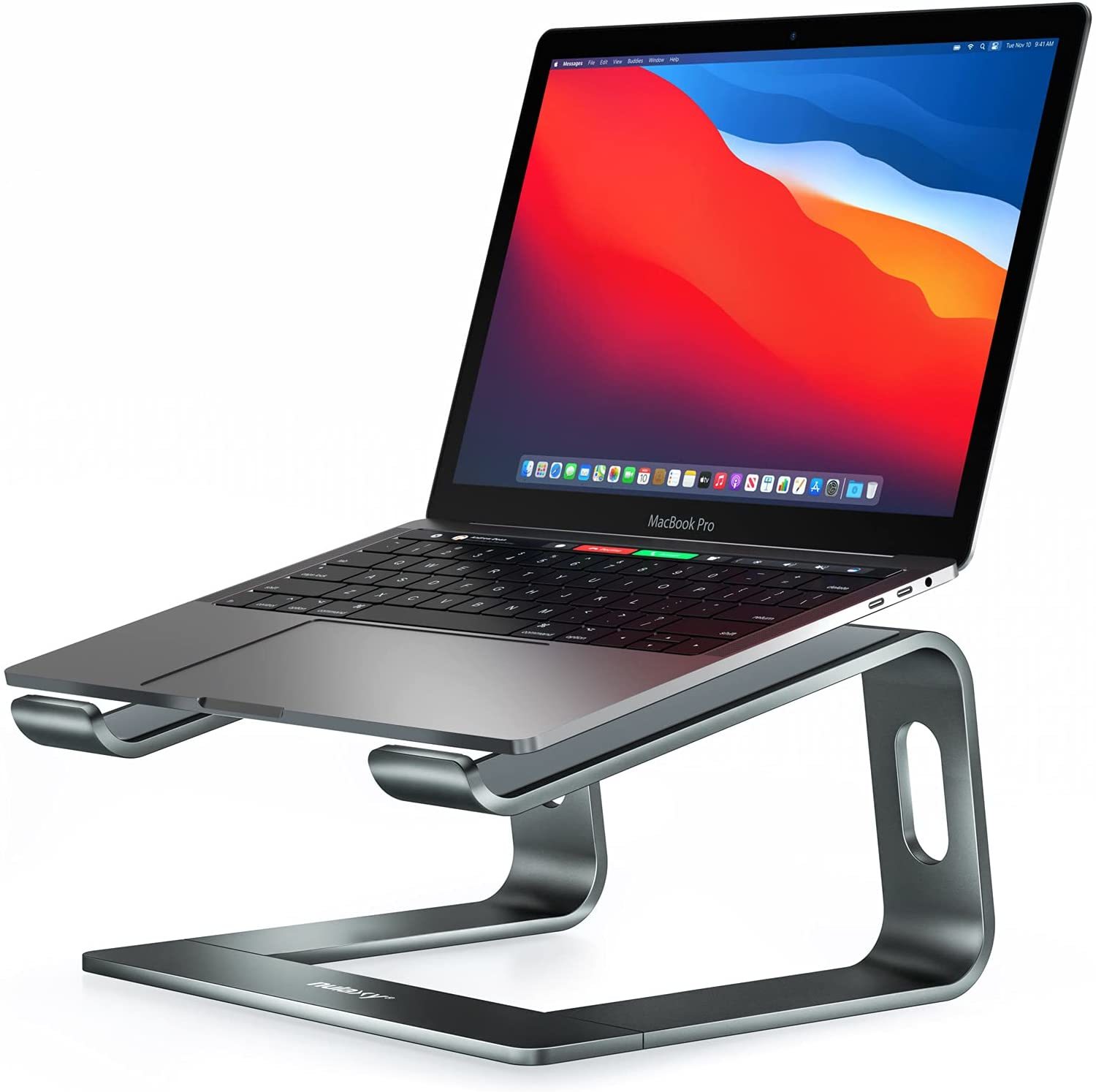 The Nulaxy laptop stand has an open-back design that offers the best ventilation and airflow for your laptop to keep it from overheating during a long workday.
The rubber pads and aluminum alloy act as thermal pads to dissipate heat, too. The Nulaxy is compatible with all laptops that range from 10 to 16 inches.
The stand will raise your laptop screen seven inches to a perfect yee level and reduce eye strain. Made of premium 5 mm aluminum alloy, the Nulaxy is sturdy and stable.
Specifications:
Weighs 2.27 pounds
10.2 x 8.9 x 6 inches
Aluminum
Holds up to 11 pounds
5. Griffin Elevator Laptop Stand
Griffin Elevator Desktop Stand for Laptops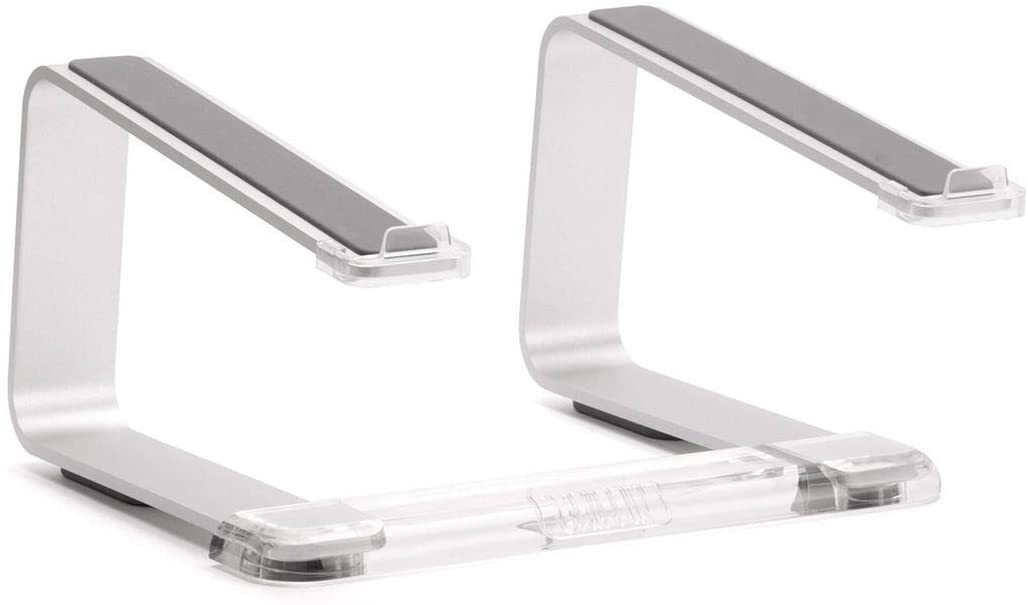 The Griffin will elevate your laptop to a position that makes it more comfortable to use all day long.
The arms of the Griffin laptop stand have premium anti-slip bands made of rubber. They will keep your laptop securely in place while you are working.
Disassemble the Griffin easily and slip it into your backpack for traveling or commuting. The design of the Griffin also saves space on your desktop by elevating your laptop and giving you space underneath for other items.
Specifications
8.8 ounces
6.22 x 10.98 x 1.61 inches
Made from polycarbonate
Why It Is Good To Use A Laptop Stand
As time has gone on, we have learned that working from home or the office, the laptop is invaluable but it can also create physical issues because of poor posture.
Laptops are a one-size-fits-all device, but people are not all one size. If your desk is too low or tall, you might end up hunched over your laptop.
This creates stress on your back and is uncomfortable to maintain all day long and day after day. Over time it can lead to repetitive stress injury.
A laptop stand will keep your laptop elevated just enough to ease that strain on your back, neck, and shoulders.
Even if you use a standing desk, a laptop stand will work for your keyboard from a desktop PC. If you use an external second monitor, you will be able to use a laptop stand to position your laptop in relation to where you need it for your monitor.
An advantage of a laptop stand is that a stand will raise your laptop off the desk area. This will increase airflow around the laptop so that it will not get as hot as sitting directly on a flat surface.
Another bonus is that most laptop stands have cable management features to reduce clutter and keep cables from getting tangled.
Buying Guide For A Laptop Stand
Laptop stands tend to be relatively inexpensive for the value that they bring to your workday. Here are some things to consider when looking for a suitable stand for your laptop.
Ergonomic design
Laptops have changed how we work, and those changes aren't always the best for our physical well-being. When looking for a laptop stand, you might want to choose one that has adjustable settings.
This can give you the versatility to create a more ergonomic workstation. As laptop stands are inexpensive, you might want to consider more than one. If you commute or have flex days, you could have one at home and one at work.
Portability
The majority of laptop stands are lightweight, making it possible to easily take the stand along wherever you set up to work. Some laptop stands will fold or come in two sections. This makes it easy to stow in a backpack or briefcase. Take this aspect into consideration so that you don't get a heavy, bulky stand if portability is important.
Adjustability
Before buying a laptop stand, check to see if it is adjustable or a one-piece unit that does not allow for adjustments. Some stands will be a one-piece unit that raises your laptop six or seven inches off the desk surface.
This might be all that you need. If you want the ability to adjust height and angle, then look for a unit that will allow you to make adjustments.
Material
Some manufacturers will construct a laptop stand out of materials that will help to keep your laptop cool. That is why you will see that some of the better stands are made from aluminum alloys.
Aluminum is light yet strong and helps to disperse heat. There are other stands made from hard plastics, that while they might have strength, cannot dissipate heat like aluminum can.
In Conclusion
Laptop stands are an efficient and economical way to help relieve pressure on your back, neck, and shoulders while working on a laptop.
Laptop stands tend to be lightweight and portable. They help your laptop run cooler and elevate it to a more comfortable level for your eyes. They are a definite asset to your office supply arsenal.
Laptop Stand FAQ's
Are laptop stands good for posture?
A laptop stand is an excellent solution for minimizing the effects of bad posture on your back, neck, and shoulders. Some people resort to using books or other items at hand to raise their laptops to a better position. However, laptop stands are an inexpensive way to get a secure and steady platform for your laptop and encourage better posture at the same time.
Why are laptop stands angled?
Laptop stands are designed to be ergonomic and are angled so that they keep your wrists in a neutral position. The neutral position reduces the strain on your wrists while working.