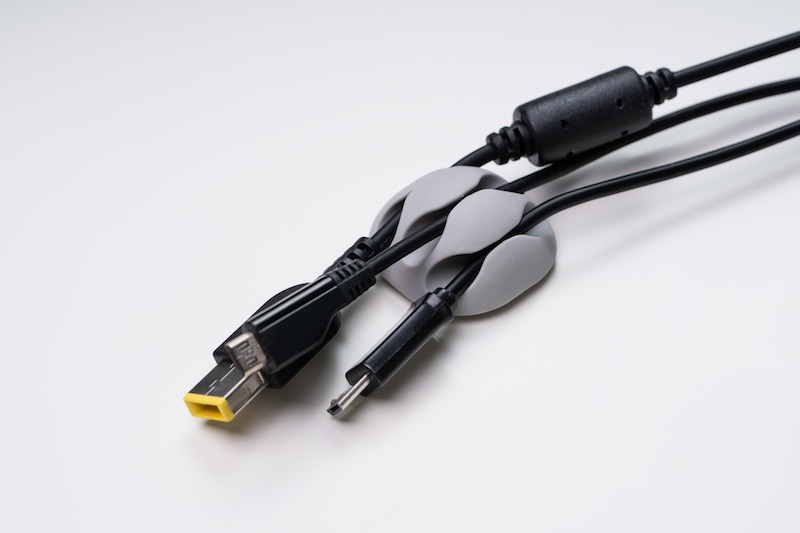 Home Office Cable Management. 10 Tips to Clean Up the MESS
(Last Updated On: May 26, 2022)
Has working from home more in the past year or two made you want to rethink your home office? One of those pesky things that can be annoying is what to do with all those cables? 
And so here we are – talking about home office cable management solutions.
If you're working from home, your space is likely to be filled with wires and cables, and your desk sure is getting crowded. You have your laptop, your desktop, printer, and even phones with you.
To help keep your workspace neat and organized, you should invest in quality cable management accessories.
They're affordable, effective, and can help you be productive at work since it's been proven that messy desks hinder productivity.
Here we go! Check out these 10 awesome ways to manage cables at your home office.
Top Cable Management Solutions
1. Cable sleeves.
This is a great option to keep your cords hidden and organized. They are affordable, durable, and comes in different sizes, so you can find something that fits your cord needs.
The brand boasts of being an expert in the field of cable management.
These cable sleeves have a range available from 10 to 25 ft long. The wiring loom is split so the wires can be loaded quickly. It is also recommended to be used automotive wires, so it is proven durable. 
2. Self-adhesive Cable Clips.
This type of cable clip is very easy to use. You just peel it and stick to any cable that needs to stay in place. The design of this cable management option is so versatile that you can use it as a holder for other stuff like pens, pins, small notes, or anything that will fit in it aside from sticking those cords. 
These cable clips come in 16 different sizes and styles. They are made of an extra-strong sticky pad that holds cords securely without damaging the surface.
3. Reusable Cable Chords.
These reusable cables are perfect for keeping those little chords organized inside your drawers, when your traveling, when you want to keep multiple chords together, or when you want to make them look neat on your desk.
They are multi-purpose and certainly won't break the bank. They are usually sold in bulk, so there's enough for all your chords organization need. 
It comes in a pack of 50, available in various colors, and is suited to any chord type. It is made of flexible fabric material and is self-locking, so it is very convenient to use. 
4. Side-Mounted Desk Cable Holder.
If you are looking for a cable holder to keep your desk, your workspace, or your car tidy, this is the best option for you. The side-mounted desk cable holder can hold many cable wires in place, and it is very convenient to use for multiple charging devices. 
These cable clips can hold up to 11 cables at once in place. It can be side-mounted or can simply be put on desks or walls. It is reusable, flexible, self-locking, and is made of fabric material. 
5. Self-locking cable ties.
These are probably the most commonly used cable management solution because of versatility. It can also be used to lock travel luggage, packages, or drawers. They are disposable but can be used for an extended time—absolutely a great tool to have at home.
The zip ties are made of high-quality nylon material and can be used for various purposes. They are also weather-resistant, fire-resistant, and can be used in temperatures ranging from -40°F to 195°F. 
6. Desk-mounted cord organizing box.
This is another option to have your wires organized on your desk. It is sturdy, easy to install, and can be placed entirely under the desk, so it's not visible if you find looking at too many cable wires irritating.
While this cable box is a bit pricey compared to others, it is guaranteed durable and can store your cables and wires nearly underneath. It also works to prevent fire by preventing dust from accumulating in the power strip.
7. Reusable cable ties.
If you are not a fan of chords, then the more durable cable ties might be the one for you. Their function and use are the same as with the cable ties. Aside from cables and wires, they can also be used to attach and lock items together.
The best thing about Attmu is that they are offering a risk-free warranty, and they are affordable. 
8. In-wall cable management kit.
These wall-in cable management can hide all your cables behind the wall, making your space look totally neat. While they need a bit of drilling, they are very easy to install. This is an excellent option for wall-hanged televisions.
Echogear boasts of easy to install cable pass-through kit. According to them, you can DIY it in 15 to 20 minutes. They have neat designs as well. 
9. Desk cable concealer.
Useful, functional, and net, cable concealer literary conceals cables and hires behind a thick white plastic. These concealers also protect cables from possible damages by keeping them neatly tucked in. 
This is made of high-quality PVC material and can be painted to match your home interior. 
10. Cable sleeve with zipper.
A cable concealer with a twist, cable sleeve with zipper is something unique but does the job of hiding messy cables behind a sturdy material. It is very easy to use a well, just put down the zipper. 
EVEO's cable sleeve is made from premium, flexible neoprene that stretches to fit up to 10 cables and a high-quality zipper that won't unzip easily by your pets.