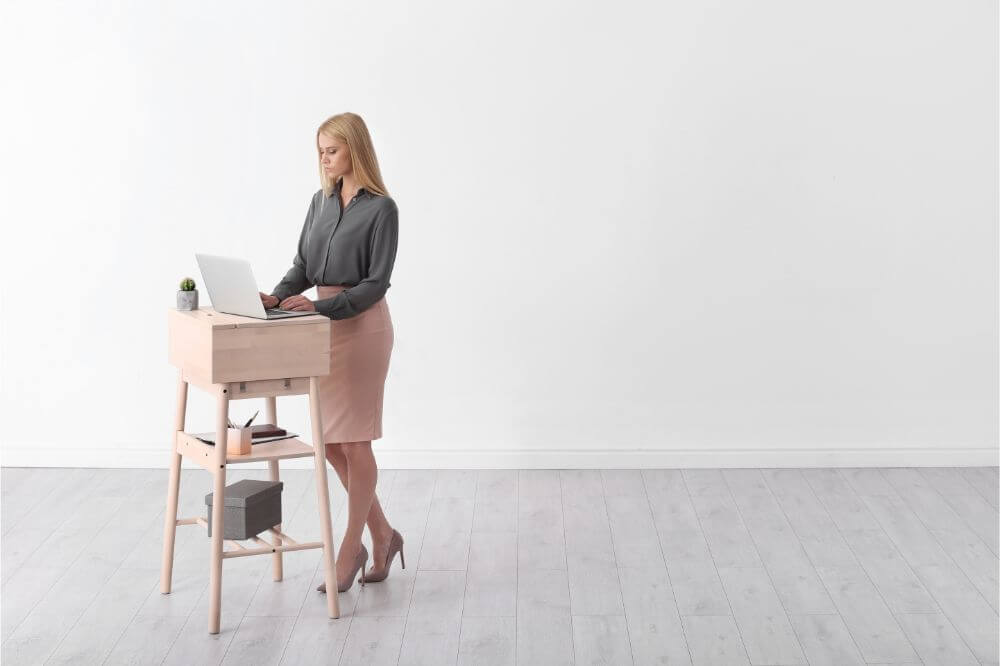 Best Standing Desk – Complete Reviews With Comparisons
(Last Updated On: April 9, 2022)
In this modern world. millions of us use a desktop computer for work, personal use, or both. This usually means sitting down at a desk, but research into sitting down all day and how it adversely affects our health has led to a new concept.
That change is a desk that you use while standing, instead of, or as well as, sitting.
There are many standing desks available so to help you choose the best standing desk we have reviewed 5 of the top-rated ones. To assist you further, we've also created a standing desk buyer's guide and answered some frequently asked questions.
Comparison Chart
Seville Classics OFF65806 Airlift 36″ Electric Height Adjustable Standing Desk
VIVO Black Height Adjustable 36 inch Stand up Desk Converter
Stand Steady Standing Desk X-Elite Standing Desk
Standing Desk Stand Up Desks Height Adjustable Sit Stand Converter
AIRLIFT 36″ Gas-Spring Height Adjustable Standing Desk Converter Workstation
Best Standing Desk Reviews
Seville Classics Electric Adjustable Standing Desk
This standing desk is ideal for those who use two monitors, and like the idea of being able to adjust their desk at the flick of a button rather than having to do it manually.
Product Highlights
The first benefit of this desk will definitely appeal to those who hate having to assemble furniture from scratch because it comes pre-assembled with only the keyboard tray needing to be installed. The tool for this is included, and the instructions make it very clear what you need to do.
Once assembled you will have a keyboard tray which is large enough to accommodate a keyboard, a mouse and mouse mat, and still, have space to spare.
The top section of the desk has even greater capacity, and this is why this standing desk is suitable for two monitors. Its available area is 35.4 inches x 23.2 inches, and that means not only is there space for the monitors, but it can also be used to place your smartphone, tablet, speakers, notepads and other items you want close at hand.
One of the reasons standing desks are great for reducing back, and neck strain is that they can be adjusted to suit the individual. Many desks require you to make the adjustment manually, but not with this one. It has an electrical adjustment system, meaning the height of it can be altered by simply pressing a button on the side.
Finally, because it is connected to a power socket, you can charge up cellphones, tablets, and laptops using the USB port.
What's to like about the Seville Classics Electric Adjustable Standing
It has to be the fact that this desk can be connected to a power socket for easy adjustment of its height and being able to charge the likes of cellphones and tablets. There's even a phone stand where you can place your phone while it charges.
What's not to like about the Seville Classics Electric Adjustable Standing
The wheels on this standing table are not the greatest and seem cheap compared to the quality of the rest of the table.
PROS
Comes pre-assembled
Large surface area capacity
Powered adjustment
Can be used to charge devices
Phone stand
CONS
CHECK LATEST PRICE ON AMAZON.COM
Vivo Adjustable 36 Inch Stand up Desk
This is another desk which can accommodate two monitors and allows you to switch between standing at sitting at your desk to keep your back and neck from becoming strained.
Product Highlights
The Vivo Adjustable Desk is one which will need to be assembled when you receive it, but the instructions are clear, which can't be said for every standing desk you might purchase.
Once assembled you obviously have the keyboard shelf for the keyboard and mouse. This can tilt, but it is not the biggest so you might want to double-check your current keyboard's size against it, which is 25 inches x 10.5 inches.
The upper section measures 36 inches x 22 inches, so it has more than enough capacity for two monitors as well as several other items. An alternative use could be for one monitor, and a laptop such is the large surface area.
At the front of this section, there is a device slot, which is a great feature that lets you place your smartphone right in front of you. We also like the shape of the top section, which is like an inverted 'U' and thus you have surfaces close to your left and right to place items you wish to reach easily.
Adjustment up or down is done manually and is based upon a system of air and springs which you activate with a small lever. The manufacturer provides a full three-year warranty which should reassure you that this desk is robust.
For those who like to color coordinate their workspace, as well the black desk, there is a choice of three other colors, which are dark wood, light wood, and white.
What's to like about the Vivo Adjustable 36 Inch Stand up Desk
Due to the shape of the top section, you almost feel that you are cocooned by this desk and thus everything you need to reach is as close as can be, rather than you having to stretch for them.
What's not to like about the Vivo Adjustable 36 Inch Stand up Desk
Unfortunately, the keyboard tray is a bit too narrow for our liking and should have been an inch or two wider to accommodate a larger keyboard and a mouse comfortably.
PROS
Device slot on top desk
Non-slip padding on feed
Tilting keyboard shelf
Large top section
Choice of colors
CONS
Up and down motion could be smoother
CHECK LATEST PRICE ON AMAZON.COM
Stand Steady X-Elite Pro Standing Desk
If you want a standing desk which is simple, but also extremely robust, then the Stand Steady X-Elite Pro is going to appeal for these reasons and many more.
Product Highlights
We mentioned simple in the introduction, and what could be simpler than a standing desk that comes completely assembled for you? Well, that is how this Stand Steady desk will be delivered, and your only requirement is to add the equipment and whatever else you are going to use it for.
Whereas some desks have two sections, this just has one section which is 28 inches across and 20 inches deep, so there is only really going to be enough space on the desk for your keyboard, mouse and a single large monitor, but for many users that is all they are going to need anyway. You could try it with two monitors but only if they are smaller screen sizes.
Adjustment up or down allows you to use the desk sitting or standing and you adjust it using the lever on the side. The air pump system movement is aided by gliding wheels at the base of the assembly, although it can occasionally be a bit reluctant to move especially if there is any debris where the wheels track so keep this area clean if you can.
One thing that can be said about this standing desk is that it looks and feels durable, so it is likely to last. There is a larger version of this desk which measures 36 inches across, and you also have color options other than black, which are, cherry, white, and maple.
What's to like about the Stand Steady X-Elite Pro Standing Desk
Not every product has to have a million and one features to be effective, and this standing desk proves that point brilliantly. It comes assembled, is easy to use, and basically does what it was designed for, plus it is durable and built to last.
What's not to like about the Stand Steady X-Elite Pro Standing Desk
When you are lifting up the desk, it can sometimes be reluctant to move, which may cause jarring and possibly risk knocking over your monitor.
PROS
Very sturdy and robust
Comes pre-assembled
Multiple height options
Extremely easy to use
Color options
CONS
Fingermarks on surfaces show easily
CHECK LATEST PRICE ON AMAZON.COM
Defy Desk Adjustable Stand Up Desk
With the manufacturer claiming this desk has been height adjusted 10,000 times to test for its durability, anyone who is looking for a standing desk that is going to last, needs to consider this one.
Product Highlights
Those of you who break into a cold sweat when they hear the words 'Requires Assembly' can rest easy, as this desk comes fully assembled and is ready to use right out of its packaging.
To say the surfaces areas are generous would be underplaying it somewhat as both the keyboard shelf and the top platform have impressive dimensions. They are both 37 inches wide, which gives plenty of scope for how you can use them.
The top desk, in particular, has options of either two monitors or one monitor and a laptop plus there will still be room for other items. The top section also has a slot which can be used for either a cellphone or a tablet.
You can raise the desk to multiple positions to suit your own height, or for when you are sitting, and when you do so, the keyboard deck also moves in sync with the top section. The movement is controlled using an easy-pull lever in the sides which operates the pneumatic air cylinders.
To ensure the desk sits securely and does not move when you are typing, each of its four feet have padding to prevent it slipping on any smooth surface it might be sitting on.
What's to like about the Defy Desk Adjustable Stand Up Desk
The amount of surface area that you have available on this desk is amazing. Both the top desk, and the keyboard shelf are 37 inches wide, and this means that you have the space for anything you require on your desk, including two large monitors.
What's not to like about the Defy Desk Adjustable Stand Up Desk
While this desk can be lowered very easily, trying to raise it can sometimes take more effort than it should, which could be an even bigger issue if you use two monitors.
PROS
Comes already pre-assembled
Non-slip padding on feet
Very large surface areas
Tablet/smartphone slot
Multiple height options
CONS
Keyboard shelf seems low when sitting
CHECK LATEST PRICE ON AMAZON.COM
Seville Classics Gas-Spring Adjustable Standing Desk
This is a desk which caters for those who like to have plenty of room on their desk, and who also like to know that the products they buy will last, which the manufacturers 3-year warranty should confirm.
Product Highlights
Although this standing desk does come pre-assembled for the most part, you will need to install the keyboard shelf. This should be a very easy task, despite the poor instructions that come with the desk.
Once fully assembled, you will have a standing desk which can be adjusted for both sitting and for standing. The range of its heights is 6.2 inches at its lowest, and everything in between up to 19.1 inches. This should mean even those who stand taller than 6 feet will be able to use this desk comfortably. The adjustments are made manually using a lever on each side, which allows the pneumatic system to lift or lower the desk accordingly.
The main desktop section is 35.4 inches wide, and 23.2 inches deep so there will be more than enough space for two large monitors, or if you prefer to use a laptop with a single monitor, than can be done too. For even more convenience, a slot, where you can place a smartphone or a tablet, can be found at the front of this top section.
Your keyboard and mouse can be placed on the 35.4-inch shelf underneath, although you can remove this if you which to use your keyboard and mouse higher up on the top section.
What's to like about the Seville Classics Gas-Spring Adjustable Standing Desk
We were highly impressed with the ease with which you can switch between a desk which you sit at, and then being able to raise it and work while standing. It barely took a couple of seconds, with virtually no interruption to our work.
What's not to like about the Seville Classics Gas-Spring Adjustable Standing Desk
Even when sitting on a flat surface, the desk can occasionally move away from you, which can be extremely irritating when you are typing, so you might need to place something underneath it.
PROS
Large desktop surface
Easy to raise or lower
Multiple height options
Device slot
3-year manufacturer's warranty
CONS
Assembly instructions are poor
CHECK LATEST PRICE ON AMAZON.COM
BUYER'S GUIDE
While standing desks are a relatively simple concept to understand, if you have never bought before you might be somewhat confused by what to look for, or what you need to know before buying one. To ease that confusion, we have written a short, but very useful, buyer's guide to help you understand some of the more important features of standing desks, and what types there are. We hope it helps you make your choice with more confidence.
Key Feature #1: Types of Standing Desks
As with any product, standing desks come in different shapes and forms, so to help you, we are going to explain what different types of standing there are.
Fixed Standing Desks
These desks are simple, tend to have small desktop areas and are built only for standing; therefore there is not the option to use it as a sit-down desk. Although there may be a small amount of adjustment possible to its height, it is possible a standing desk may not suit every individual.
Hand Cranked Desks
Probably the simplest and cheapest of all standing desks. They basically consist of a frame, a top desktop, the keyboard shelf, and a winding crank to adjust the top section up or down. They usually have castors to move them around.
Exercise Desks
These take the concept of standing desks being better for your health to a new level. Effectively they are treadmills with shelves at one end which you work at will you walk or jog. Some might see them as gimmicky, and not the best for getting a lot of work done, but they certainly will get your heart pumping.
Sit to Stand Desks
These are the most popular of all standing desks. They come with large desktops which can usually accommodate two monitors, plus there is a shelf for the keyboard and monitor. They can be adjusted quickly for the user to either sit or to stand and work at them. They can be set to multiple heights, and this is done using with a manual lever, or in the more modern versions, by pressing a button which operates an electric motor which raises or lower the desk.
Key Feature #2: Range of Adjustment
It is essential that any standing desk you buy can be adjusted to a height which is appropriate for you, so you must check that it has an adjustment range that will suit. Check the floor to eye level height when you are sitting, and when you are standing, and then ensure that any desk you are considering can be set within that range.
Remember to take the height of any table or fixed desk height that you set it on into account. While most standing desks will have their height adjustment range published, for example, it might say '6.5 inches to 16.5 inches',  but that is only from the surface they are on.
Key Feature #3: Ease of Adjustment
With most standing desks, adjusting the height should be relatively easy, even if it is a very basic cranking desk you are using. The sit-stand type uses a system that employs pneumatics to make it easier. These are operated using levers which release them so you can move the desk up or down.
When raising them, you need to be aware of the amount of weight that is on the desk, as it may take a little bit of effort, but not much. Increasingly, manufacturers are introducing electrics to desks, and with these, all you need do is press the up or down button.
Key Feature #4: Lift Capacity
While standing desks are robust, due to the pneumatic nature of the adjustment system, there is a limit as to how much weight you should have on the desk to safely lift it. The range within which this limit normally sits is varied, so you must check this, especially if you plan to place two monitors on your desktop. At the lower end, you will find desks whose lift capacity is 20 lbs., and at the other end of the scale, they will accommodate closer to 40 lbs.
Key Feature #5: Price
Everyone has a price which they are prepared to spend on a given product, and it is normally the case that that the more you pay, the more, and better, features, a product will have. Standing desks are no different with very basic cranking ones selling for less than $100, and the more advanced ones up at around $300. In comparison to other office furniture, even this upper price range is competitively low, meaning that standing desks are excellent value for money, especially when you also consider how they can benefit your health.
F.A.Q.
Question 1: What Is A Standing Desk?
A standing desk is a desk that the user can stand and use, rather than sitting down, as they would with a traditional desk. The height of many standing desks can be adjusted to suit, including being used for sitting down too.
Question 2: How To Use A Standing Desk
In terms of being used as a workstation, a standing desk can be used in the same way as you would any other desk. The only thing you need to do is adjust the height of it,  which is done using a crank, a lever or by pressing a button, depending on the configuration of the desk.
Question 3: How High Should A Standing Desk Be?
The best advice is that the center of any monitor screen which is being used should be at the same height as the user's eye line. Obviously, standing desks will be on placed on platforms of different heights, so the specific height it needs to be set at will differ according to that.
Question 4: What Are The Benefits Of A Standing Desk?
Sitting down for several hours while you work means your muscles and joints aren't getting any kind of movement, you might be straining your neck or back, and you are not getting any kind of aerobic activity. Using a standing desk lets you move around, including walking and stretching, and this will also stimulate your circulation, which means more oxygen is getting to your brain. It might not seem like much of a difference, but over time, the benefits to your health can build.
Question 5: Do Standing Desks Increase Productivity?
No standing desk can or will guarantee that, but its stands to reason (no pun intended) that if your muscles and joints are under less strain, you are bound to feel better, which can only lead to an increase your productivity. There have also been several studies which compared workers sitting versus those standing, and many of the results showed a significant number of those who were standing increased their work rate and activity.​
FINAL VERDICT
We have carefully considered each of the standing desks we've reviewed, and have chosen as our best standing desk, the Seville Classics Electric Adjustable Standing Desk. It offers a large work area, needs very little in the way of assembly, and it can be adjusted to multiple heights. With you being able to make that adjustment by simply pressing a button, it's enough to seal the deal to be our #1 choice of standing desk.