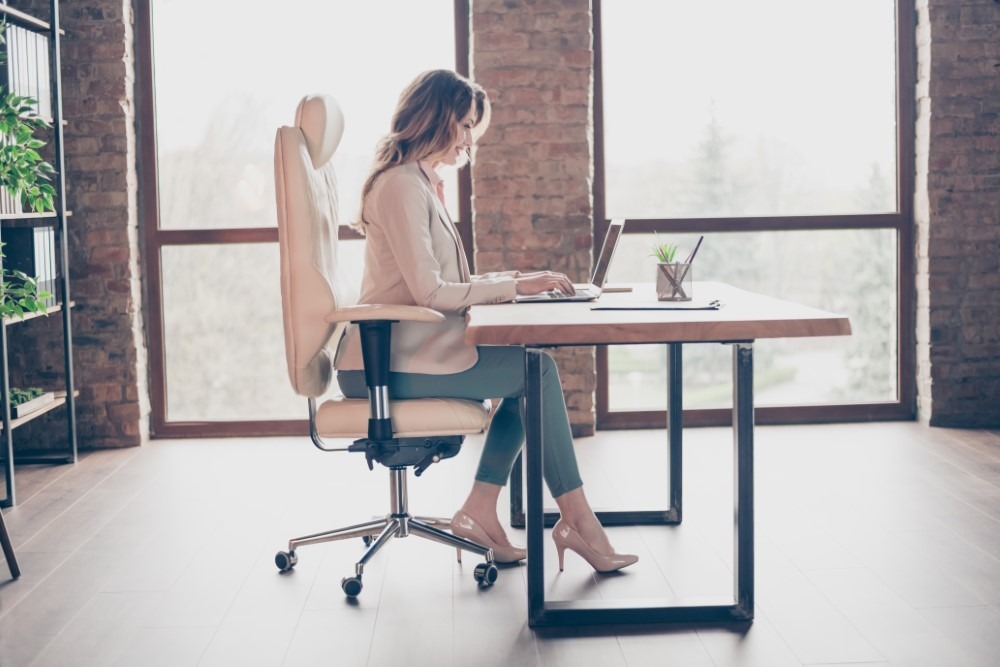 The 5 Best Executive Office Chairs [UPDATED 2023]
You spend many hours a day sitting while working, and those hours can leave you stiff and sore, or you can be comfortable and productive when you have the right executive office chair.
Even if you work from home, as so many of us do now, the strain of sitting for seven or more hours every day certainly takes its toll on your body.
An executive office chair provides you with comfort, improved circulation, and a reduction in aches, pains, and stiffness.
When looking for an executive office chair, the best one to get is the Kcream High Back Leather Executive Office Chair.
A valuable addition to an executive office chair is an Under Desk Ergonomic Footrest. One of these footrests compliments your office chair and is an essential piece of office equipment.
We have put together our reviews of the 5 best executive office chairs that will help to make your workday more comfortable and productive.
# 1 KCream Executive
When looking for a big and tall office chair that combines style, durability, and comfort, you can't get much better than the Kcream Executive Office chair.
The Kcream has a sleek and modern look that adds sophistication to an office setting and compliments any decor that you might have at home.
The soft black faux leather and classic design of this executive office chair not only look good but provides you with comfort and support.
With comfortable armrests, a supportive headrest, and lumbar zones, the Kcream provides you with optimal seating all day long.
This adjustable chair has a backrest that reclines up to 135 degrees and comes with a locking mechanism that holds your desired position.
The title tension adjustment knob adjusts the chair's backward tilt resistance, and the pneumatic seat height adjustment will help you find the perfect height for your legs and feet.
The 360-degree swivel casters on the chair allow you to move smoothly in whatever direction needed, and they also protect your floors from getting scratched.
Features:
Retractable footrest
Holds up to 350 pounds
HIgh back design for comfort
Tilt and lock mechanism
Pneumatic seat adjustment
# 2 Herman Miller Embody
The Herman Miller Embody office chair was designed to deliver excellent pressure distribution, spinal alignment and support the natural movement of your body. Built to mimic a human back, the Embody chair had an inner central spine and flexible ribs.
The Backfit adjustment allows you to position the backrest in line with your body's natural curve. In this way, you will achieve a neutral and balanced posture that will help you to remain focused and comfortable throughout your workday.
You will find that the Embody promotes good posture and will automatically adjust to your body's curve. Whether you are in forward or reclined positions, the lumbar support will make your body feel better and improve blood circulation.
Features:
Back adjustment
Tilt limiter
Adjustable seat depth
Fully adjustable arms
Graphite base and frame
Carpet casters
# 3 Gates Leather Executive
The Gates Leather Executive office chair features soft Brazilian leather on both the backrest and seat cushion. As with many office chairs, the material on the armrests is supplemented with leatherette.
The Gates high-back has a tilt angle with a range of 90 - 120 degrees. The Gates also has an ergonomic Synchro-Tilt Reclining function. You can also adjust the tilt tension and chair height.
Extremely comfortable, the leather provides extra thickness at the headrest and on the contours of the backrest. In addition, the waterfall seat edge gives your legs support during your working day to help prevent aching muscles.
The polished aluminum swivel base had castors to provide mobility. Choose from black, dark chocolate brown, cream, off-white or orange leather.
Features:
Six colors to choose from
Weight limit 395 lbs.
360-degree swivel
Tension knob adjusts resistance when reclining
Large casters roll easily over carpet
Easy to assemble
#4 Yamasoro Ergonomic Executive Office Chair
The Yamasoro Executive office chair is made from premium PU leather that is soft, durable, and water-repellent. The fabric is resistant to fading and easy to clean.
Your back will be supported with high-density foam, and the seat has both foam and springs to give a solid and durable cushion.
A tilt function and a locking mechanism allow you to select the most comfortable position for you. The padded armrests fold out of the way if so desired. The double-layered headrest gives your shoulders and neck a break.
Features:
Comes in black, brown, grey, and white
Foldable armrests
High-density foam and spring construction
Steel five-star base
Weight capacity of 300 lbs
#5 Avios Suede Executive Office Chair
This high-back ergonomic chair from Avios will add a modern yet classic look to any room you use it in. Great to use as an office chair, it will serve equally well in a conference room or executive office.
The adjustable height on the Avios will go from a low of 45.67 inches to 48.65 inches. The high back provides lumbar support that will get you through your workday without aches and pains.
A stainless steel frame gives the chair a sleek and modern look. Hooded casters will not mar hardwood but move easily over carpet. The cover of the chair is soft water-resistant suede fabric. Available in brown or dark coffee.
Features:
Suggested weight limit of 250 lbs.
Height adjustable
Deep seat for comfort
Can be tilted and locked at the desired angle
Ergonomic high back
360-degree mobility
Buying Guide For An Executive Office Chair
Anyone who uses a computer or works at a desk for hours each day knows the importance of having the right executive office chair.
There are many types of ergonomic chairs, so it is essential to know what to look for when purchasing a chair that you will spend a good portion of your day in.
What Features Should You Look For In An Ergonomic Executive Office Chair?
Here are a few of the features a good executive office chair should have:
Seat Height:
Not everyone is the same height, and so an executive office chair should have an easily adjustable seat height.
Chairs that have pneumatic adjustment levels are the easiest to adjust. The seat should range from about 16 to 21 inches off the floor, covering the average range for most people.
You should be able to have your feet flat on the floor, with your thighs horizontal and your arms even with the height of your desk's surface.
Seat Width and Depth:
The chair seat should be at least the standard width, which is between 17 - 20 inches. The depth from the front to the back of the seat should allow you to sit with your back against the back of the chair while leaving about 2 to 4 inches between the back of your knees and the seat of the chair.
The executive office chair that you purchase should also have a forward and backward tilt of the seat.
Lumbar Support:
Lower back support is essential when you sit for long periods. The spine has an inward curve, and when you sit for long periods of time without support for this curve, it can lead to slouching and strain the lower spine.
Look for lumbar support in an executive office chair, both in height and depth, to get the proper fit.
Backrest:
Look for an executive office chair that has a backrest that is between 12 and 19 inches wide. You are looking for support of the natural curve in your spine.
The backrest should be adjustable in forward and back angles. It should also have a locking mechanism that holds the angle that is most comfortable for you.
Swivel:
For your convenience, an executive office chair should swivel 360 degrees. This rotation will make reaching various areas of your work surface accessible without straining.
FAQ
---
Is it difficult to put an executive office chair together?
No, it is not difficult to put together an office chair. When you purchase a quality chair, it will come with detailed instructions and will require a minimum of standard tools to put it together.
---
Does the type of chair you sit in during an eight-hour workday affect your health?
Absolutely! In the past few decades, we have learned there is a direct correlation between aches and pains and the type of chair you work from. An ergonomic executive office chair promotes a sitting posture that helps align your shoulders, hips, and spine. This reduces strain on the body and prevents musculoskeletal conditions.
---
Can an ergonomic executive office chair increase your productivity?
Yes, they can. One of the significant benefits of an executive office chair is that it positively affects blood flow. They aid in the proper circulation in your legs and arms. Feeling the comfort and support that an executive office chair offers helps to increase productivity and work quality.
(Last Updated On: September 23, 2023)