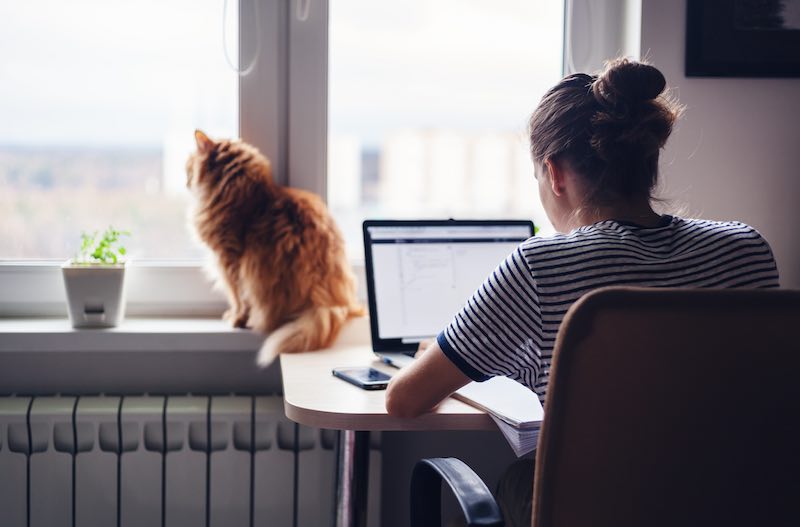 10 Things You Need to Do to Survive Working From Home
(Last Updated On: September 23, 2023)
Are you working from home or would you like to? Working remotely has a lot of benefits, including flexible hours and the absence of a commute.
Companies find that remote workers are just as productive as their counterparts in a brick-and-mortar setting.
If you are one of the fortunate workers who work remotely, or are thinking about doing so,  here are some tips to help you thrive and create a productive workplace when you are working from home.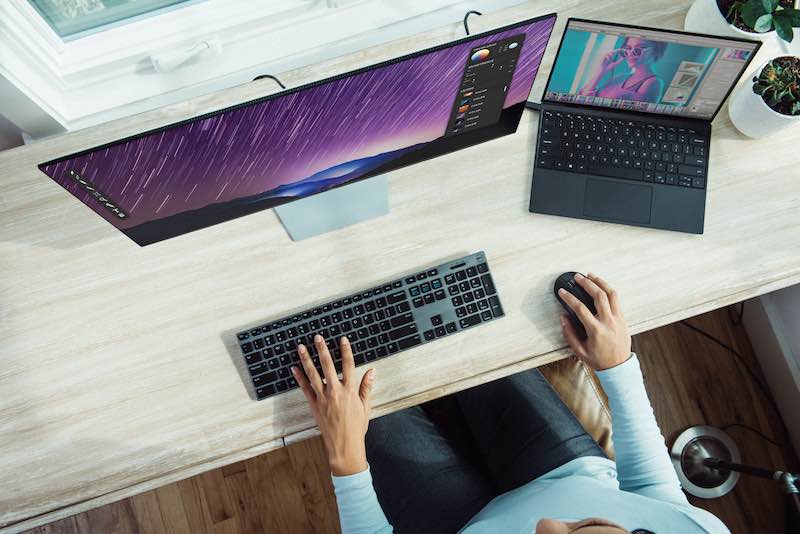 Maintain Regular Hours
Just as if you had to commute and show up at a brick and mortar office at a specific time, so too should you keep regular hours. Working from home has the wonderful benefit of allowing for flexibility, more so than in a physical office. It can sometimes afford the remote worker the ability to extend your day or start earlier and quit sooner.
Even though you have more flexibility, try to maintain regular hours so that your mind and body knows when you are in "work mode." You can use a time-tracking app on your phone or laptop that helps you to stick to your schedule. 
A time-tracking program will also help you discover when you are your most productive. Once you figure that out, use that information to your advantage. If you are more productive in the morning, try not to schedule online meetings during that time.
Whatever your hours are when working remotely, maintaining regular hours will help you be more productive and not get off track.
Establish a Routine
Maintaining regular hours is a great start, and if you add a routine to that, you will be able to accomplish even more. Not to compare yourself to Pavlov's Dogs, but his experiment showed that you could establish those "triggers," like the bell used in Pavlov's experiment. A famous example of conditioning, Pavlov demonstrated that when a bell was sounded each time the dog was fed, the dog learned to associate the sound with the presentation of food. 
Using those triggers can go a long way to get yourself in the mindset that helps you tackle the day's tasks. It might not be the best idea for you to roll out of bed and work in your pajamas. For others, it may be just fine. You know yourself better than anyone, so give yourself every advantage that you can. If you find that getting up and dressing in semi-professional clothes signals your mind that it is time to get down to business, then that should be one of your triggers to use. 
Having an organized office space helps establish a routine, and you can create a minimalist office by using desk organizers and space-saving accessories. 
Listening to calming background music could be one of your triggers that signals it is time to focus. Since you are working in a home office, you can choose any playlist you love listening to. 
If the first cup of coffee is your trigger, then make that your morning workday routine. Look for an existing habit you have, and start your workday after it.
Establish Ground Rules for Your Home Office
If you work remotely and are the only occupant of your home, this may not apply to you. However, if you have a spouse or children at home, there should be a clear set of rules that pertain during your work hours. 
Kids should know what they can and cannot do during your work hours. While you are still working, it would not be the best time for noisy video games or other activities that would be distracting for you. 
You may need to negotiate quiet time, meeting time, or sharing equipment if you have another adult working from a home office. 
Another thing you should be aware of is that just because you are working remotely, that doesn't mean you are not working. Friends or family members should not assume that you can be called to help unclog a kitchen sink, let someone's dog out, or a service person in.
Schedule Breaks and Take Them in Their Entirety
Just as you would if you were at a physical location, take the breaks allotted to you by your employer. These breaks can help clear your mind, give your eyes a chance to rest, and re-energize you. 
Know what the policy is pertaining to lunch and breaks, and be sure to take them. If you are self-employed and work from home, create guidelines for those times and stick to them. 
The standard is usually a 45-minute lunch and two 15 minute breaks. During this time, get up from your desk or set your laptop aside. This is a great time to move, stretch and get your blood circulating.
Leave Your Remote Location at Least Once During Your Work Day
Interestingly, sitting in the same position can create as many aches and pains as doing physical labor. It is truly a breath of fresh air to leave your home office a least once during your workday. 
The fresh air and natural light are invigorating and can refresh your mind and body. Even if you work at a brick and motar location, the advice still applies to getting outdoors once during your workday. 
Pop out the door or step out onto the balcony at your apartment and remind yourself that there is a whole world out there.
Not only that, but you can also gain several health benefits, when you stop to stretch, and get a breath of fresh air.
Set Yourself Up For Success
Remote workers may feel that if they are not part of the office work force,  they should acquire needed work items themselves. Just as workers in a brick and mortar establishment, you will need specific tools to do your job efficiently and effectively.
Ask for the tools you need to get the job done, whether it is the correct type of monitor, keyboard, printer, or desk chair. Your organization may have a budget for remote employees, so ask if that option is in place.
Using ergo mouse, standing desks, and other accessories that keep you from being totally stationary will make you more productive.
Set Up a Dedicated Office Space
Not everyone who works remotely has the luxury of an extra room that can be converted into a home office. If that is your situation, it is still a good idea to designate a desk or table for work only. 
When using your laptop on the desk or table, it is work time. If you use the laptop while sitting on the couch, it is personal time. 
Try to make points of differentiation between work and personal time. Do the same for workspaces. These differentiations help you to know when it is time to switch from work mode to off-the-clock mode.
Keep in Touch With Bosses and Colleagues
It is easy for remote workers to fall off the radar or feel like they have. Working from home can give you a feeling of isolation and disconnection from your colleagues. Check to see if there are team messaging apps that your colleagues use, and be sure to join in. 
Fellow workers are valuable resources, and it is a good practice to keep those connections strong. Touching base periodically lets others know that you are out there and still contributing to the team's success. 
Depending on who you report to, make sure to touch base during a project or give brief updates on what you are working on. It is important to maintain those connections and socialize with your co-workers, even remotely.
Contribute During Meetings
Along the same lines as the suggestion about keeping in touch, attend any video conferences or conference calls even if they impact you only in a nominal way. Speak up during the meetings so that others know that you are on the call. 
Make your presence known so that your co-workers know you are engaged in the projects or initiatives your organization is involved in. 
When working remotely, it is sometimes necessary to over-communicate. Let others know your schedule and know when tasks are completed. These interactions can be brief, but be sure to make them.
Know That Your Remote Experience Differs Greatly From On Location Workers
The reader can easily misinterpret emails and texts. Projecting the right tone when using a "blank" medium like emails can be very difficult for a remote worker. 
If you are brief in your correspondence, you can come across as disengaged and short-tempered. It takes discipline and focus to successfully work at home, which can sometimes be brusque to others. 
Good communication starts with having relationships with those colleagues you might seldom see, and are essential to being part of a team. Your experience working remotely is not the same as theirs in a physical location. 
They will have a different perspective than you do and different connections to each other. Pick up the phone so that co-workers get to know you and have a frame of reference for your texts and emails. 
Visit the office once in a while at lunch break and bring some donuts if possible. Again, as a remote worker, you will have some perks to be home and some challenges. Learn to be part of the team even when you are not physically present.