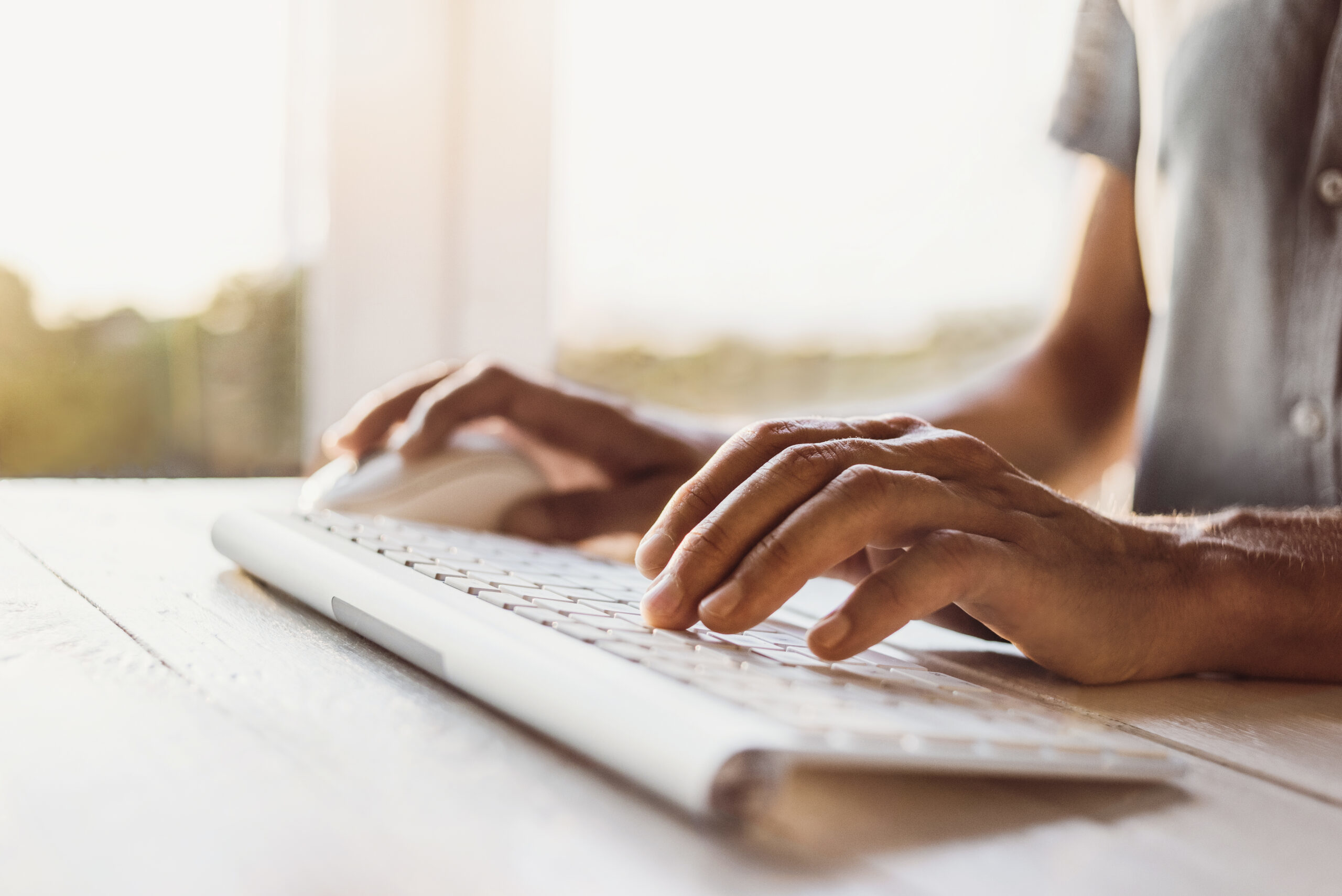 The Top 5 Wireless Keyboards WithTouchpads
(Last Updated On: April 9, 2022)
Wireless keyboards with touchpads can streamline both your work and entertainment needs. Touchpads can facilitate the user dragging, navigating, tapping, typing, and zooming anywhere on their PC or connected smart TV.
In reviewing the top 5 wireless keyboards with touchpads, we found that the Logitech K600 TV Keyboard was by far the best device to streamline work and play.
To go along with the wireless keyboard with touchpad, you might also like to add one of the Best 5 Monitors With Curved LED Display to enhance your viewing experience.
Here is our review of the Top 5 Wireless Keyboards With a Touchpad:
Product
Name
Features
Rating
Price
Logitech K600 
Has control up to 49 feet away
4.9/5
Rii i4 Mini
Numerous function keys for easy navigation
4.7/5
Fintie Ultrathin
Compatible with iOS, Windows 10, 8, 7, Vista, XP, and Android
4.7/5
Logitech K830
Controls

TV-connected PCs

4.6/5
Microsoft

N9Z-00002

Supports gestures
4.5/5
1. Logitech K600 Wireless Keyboard with Touchpad
Logitech K600 TV – TV Keyboard with Integrated Touchpad

The best among our selections, the Logitech K600 TV keyboard is not only the most intelligent way to control your TV, but it is also the most fun and convenient way to do so.
It does not get much easier than to sit back and navigate grid layouts with the D-pad. You can control the cursor with definite precision from the touchpad when up to 49 feet away.
Type to search for content or enter even the most complicated password. You can also browse the Internet quickly and easily from the Logitech touchpad keyboard.
Use the dedicated media and navigation keys to play and pause movies, control the volume on your smart TV and immediately launch home and search screens.
Not only that, you can connect the K600 to your smart TV, PC, and mobile devices and switch between them with the touch of a button. It does not get much better than that!
Key Features:
Touchpad plus D-pad
Has control up to 49 feet away
Has a unifying receiver
Connect up to 3 devices
2. Rii i4 Mini Wireless Keyboard with Touchpad
Rii i4 Wireless Mini Bluetooth Keyboard with Touchpad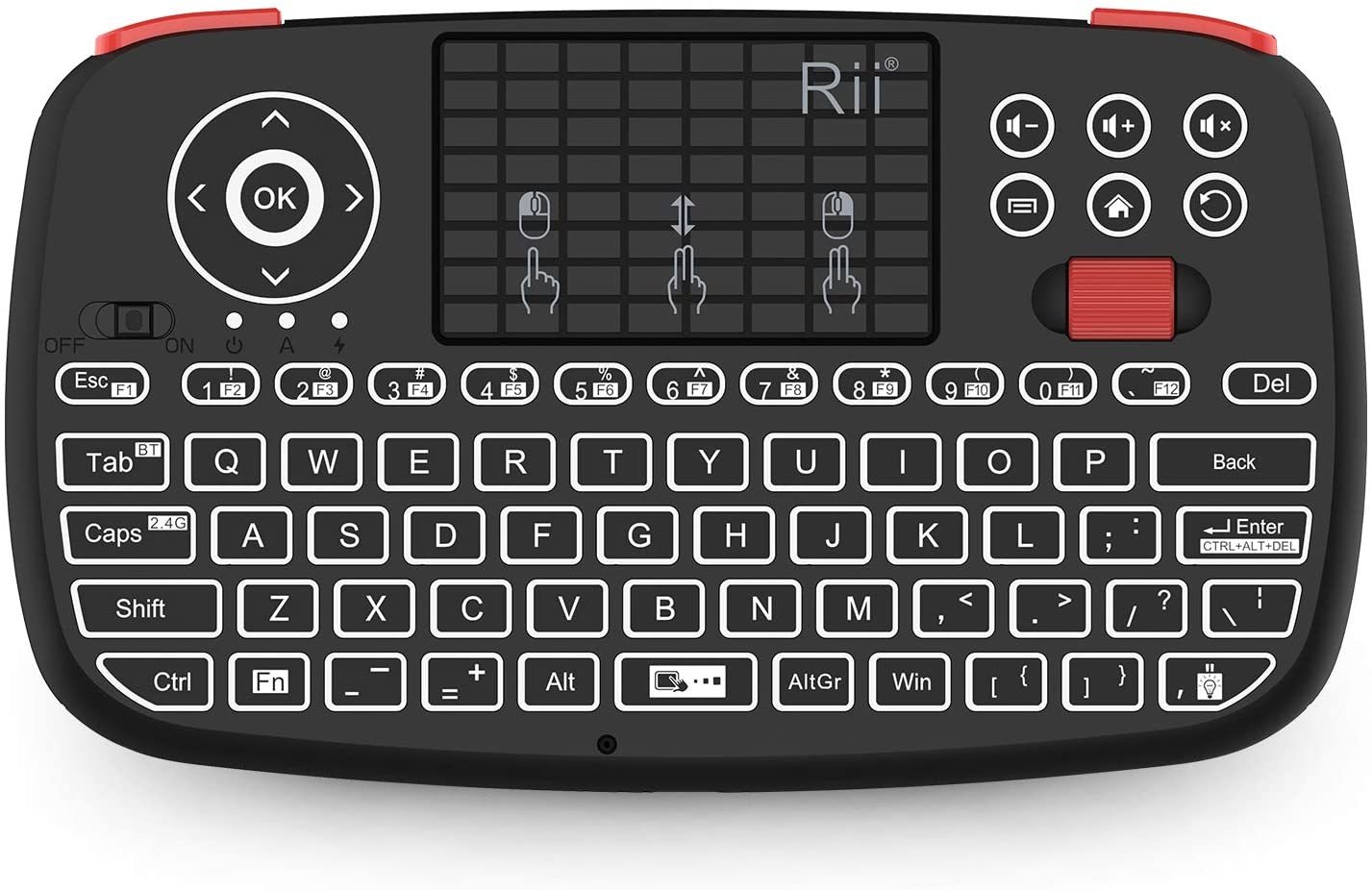 If you would like to try a budget-friendly version of a wireless keyboard with a touchpad, you should give the Rii a try. This mini keyboard has Bluetooth 4.0 built-in.
Just pair the Bluetooth keyboard with your computer for immediate use. The rechargeable lithium-ion battery is also built-in.
Use your Wii mini with Windows, Mac OS, Linux, Android, a Smart TV, Xbox, or PS4.
Convenient and lightweight, this mini wireless Bluetooth keyboard is ideal for gaming and travel.
Equipped with an LED backlight, you will be able to use the Rii even if you have the lights off for better viewing.
Key Features:
Portable and lightweight
LED backlight
Numerous function keys for easy navigation
3. Fintie Ultrathin
Fintie Ultrathin 4mm Wireless Bluetooth Keyboard with Built-in Multi-Touch Touchpad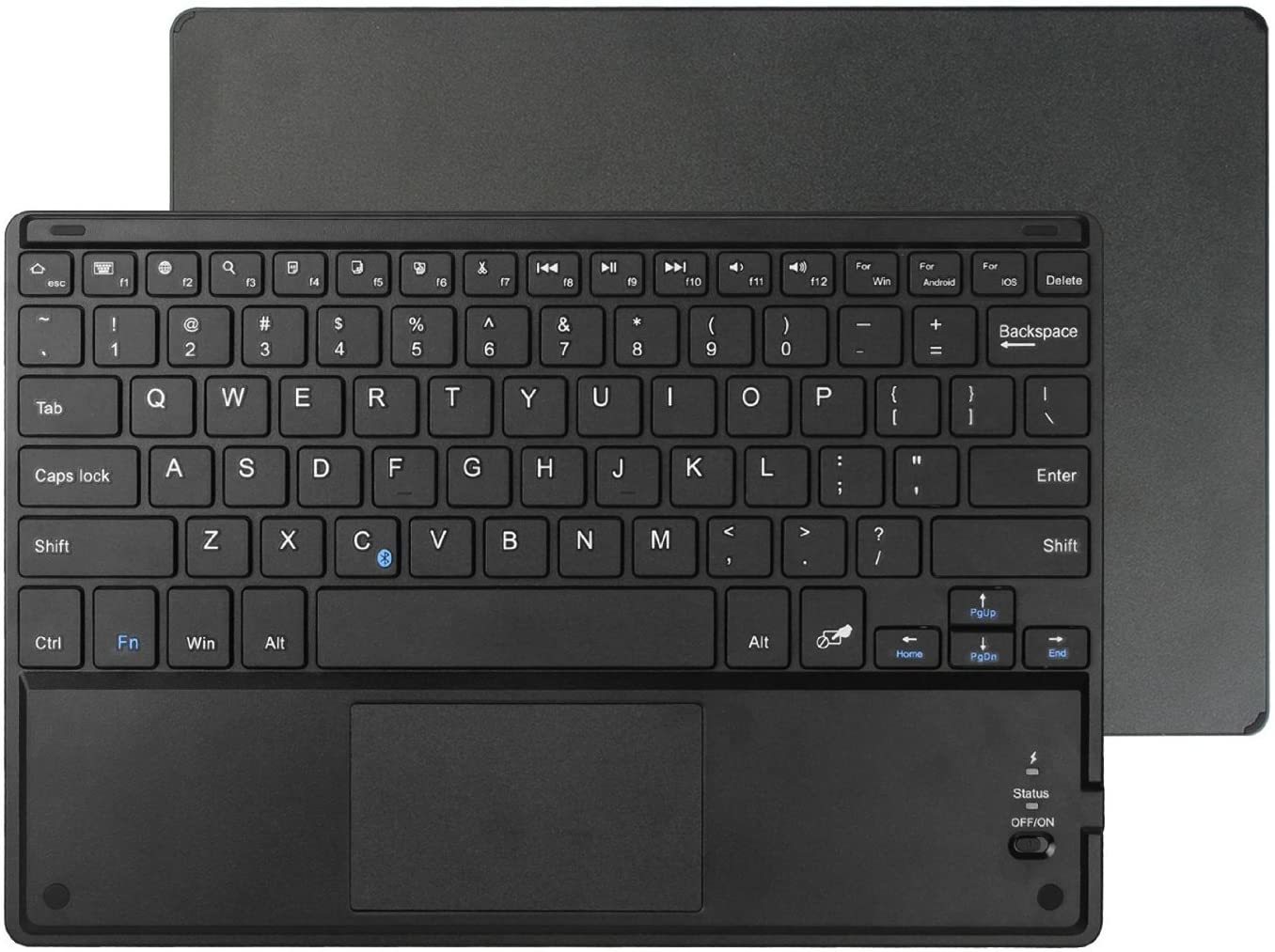 The Fintie Ultrathin wireless Bluetooth keyboard provides a cable-free and clutter-free connection. You will be able to operate the Fintie from 32 feet away with the built-in touchpad.
Sleek and slim at only about 4mm thick, the design makes for easy portability. Lighter than a standard magazine, you will be able to take the Fintie wherever you go.
Split keys and scissor switches will make your typing easy and as comfortable as on a laptop.
Key Features:
Compatible with iOS, Windows 10, 8, 7, Vista, XP, and Android
Switch between systems freely
33 feet of wireless working range
4. Logitech K830 Wireless Touchpad Keyboard
Logitech K830 Illuminated Living-Room Keyboard with Built-in Touchpad

Watching Internet entertainment on your TV or controlling a presentation in a dark room is a whole lot easier with the Logitech wireless touchpad keyboard.
You can see and type quickly with the backlit keyboard that automatically brightens or dims according to the ambient light. The K830 streamlines navigation by combining two devices into one.
The touchpad is responsive with accurate cursor control and multi-touch gestures like swipe, scroll, and zoom.
With a 33 foot wireless range, you will be able to work with Bluetooth Smart Ready devices.
Key Features:
Automatic sensor dims or brightens the backlight
Controls TV-connected PCs
33 feet wireless range
Shortcut keys
5. Microsoft All-In-One Media Keyboard
Microsoft N9Z-00002 All-in-One Media Keyboard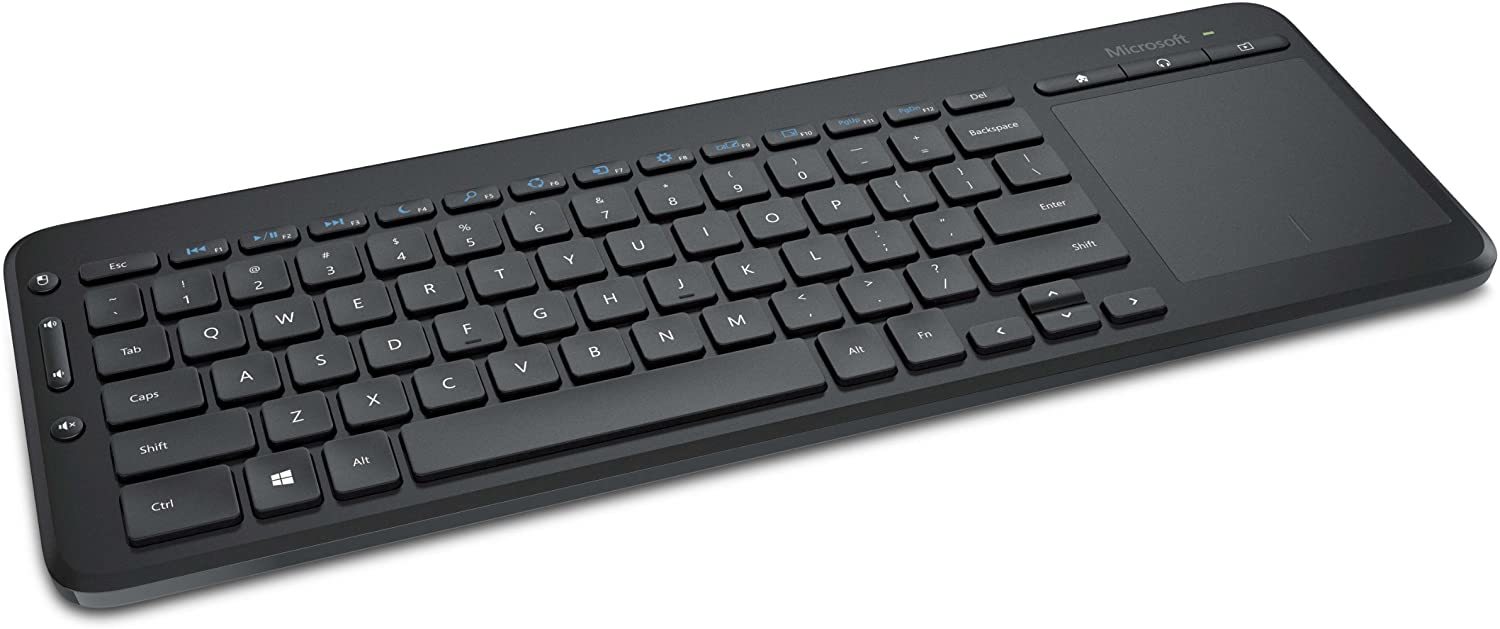 The Microsoft N9Z All-In-One Media Keyboard provides an integrated multi-touch trackpad for effortless navigation. You will be able to control a PC connected to a large display or HDTV from across the room with this slim and light keyboard.
The N9Z will provide a smooth typing experience. There is a good set of media-oriented function keys and hotkeys. The integrated touchpad has mouse buttons that support gestures, including ones for Windows 8.
Weighing less than a pound, this lightweight keyboard connects via a wireless adapter that fits into a computer's USB port.
Key Features:
Budget-friendly
33-foot wireless range
Supports gestures
Buying Guide for a Wireless Keyboard With a Touchpad
There are a couple of points that you should consider before purchasing a wireless keyboard with a touchpad. These tips should help you to choose the right one for your needs.
Full-size or Portable Wireless Keyboards With a Touchpad
If the keyboard will stay on your desk, or even your lap, all day, then you will probably want to go with a standard-size keyboard rather than a mini one.
However, if you plan on being on the go in an office setting, traveling, or even using the keyboard in various rooms of your house, then a lightweight mini might suit your needs better.
Distance You Will Be From Your Smart TV
Know the distance that you will need your wireless keyboard with touchpad to be able to operate from. Some of them will work from a distance of 33 feet, and others will perform from 49 feet.
If the distance is an important factor for you, be sure to double-check the range of the keyboard before purchasing.
Keep in mind, too, that the range, no matter the distance, will depend on the reliability of the wireless that you are using.
Will You Need A Backlight Feature on A Wireless Keyboard with Touchpad?
How awful would it be to realize just before you are set to give a presentation in the office that you won't be able to see the keys on your wireless keyboard once the light goes down? It would be a disaster!
While you may only use it periodically, there is no substitute for seeing the keys on a keyboard in low (or no) light conditions.
Even in your living room, if you turn out the lights for better ambiance during a movie, you will want to be able to pause, stop or go back should you choose to do so with the least amount of inconvenience.
Some keyboards will adjust themselves automatically according to the ambient light in the room. If this is a factor for you, be sure you get a backlit wireless keyboard.
Do You Want a Rechargeable or Battery Operated Wireless Keyboard With a Touchpad?
Your keyboard will need its power source, and the two most common sources are rechargeable and battery-operated.
Budget-friendly wireless keyboards will use AA or AAA alkaline batteries that will last anywhere from months or a year before needing replacement.
Those types of batteries are also readily available. However, they die when you least expect it, and so you will need to make sure you have spares that you keep with the wireless keyboard.
Rechargeable wireless keyboards are a bit higher-end. There is no need to buy or carry batteries, and you can recharge them while you work.
The downside is that most wireless keyboard rechargeable batteries are non-serviceable. So if the battery conks out, you will have to replace the entire keyboard.
In Conclusion
Wireless keyboards with a touchpad give you freedom from cables and cords. You can work or play farther away from your computer and replace the remote control on your smart TV.
These keyboards are reasonably priced, with some that are budget-friendly enough that you could buy one just to try the concept out and see if it will work for you.
FAQ​​​​
What is a touchpad keyboard?
A touchpad is a device that allows for controlling input positioning on a computer display screen.
A leading cursor controlling device in laptops, a touchpad works by sensing the user's finger movement and downward pressure on the pad.
How does a touchpad work?
A touchpad contains several layers of material. You touch the top layer of the pad when you use it. Underneath that top material in layers that have horizontal and vertical rows of electrodes that form a grid.
Next comes a circuit board that the electrodes layers are connected to. Charged with a constant alternating current (AC), the current is interrupted when your finger approaches the electrode grid, and the circuit board detects the interruption.
Some touchpads contain two particular places where applied pressure will correspond to the left or right mouse button.