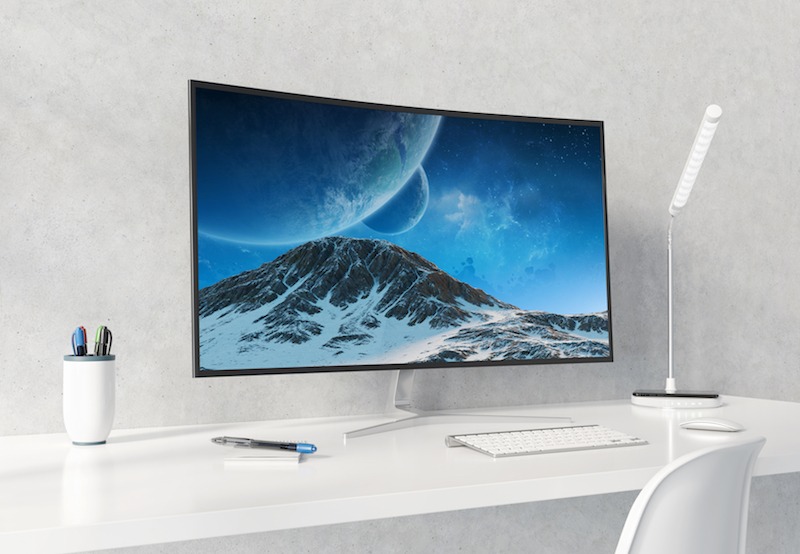 Best 5 Monitors With Curved LED Display
(Last Updated On: September 23, 2023)
Although curved monitors or the monitors with curved LED displays have been around for a while, they are becoming more mainstream as they gain popularity and the price for a curved monitor comes down.
Curved monitors are providing a more immersive experience for not just gamers, but for the office too.
We have listed the best 5 curved monitors with an LED display that you could use in your office at work or home.
There is a lot to like about the Sceptre LED curved display screen. It has very good image quality and an impressive grayscale performance.
Having a 144 Hz refresh rate, the Sceptre is more than double the standard refresh rate. With its anti-flicker, the Sceptre will provide you with a crisper picture by preventing the backlight from flickering periodically.
The Sceptre has a 24-inch curved monitor that gives you an immersive experience when using the monitor for video games. 
Blue light shift mode provides a warm light screen to ease the impact on your eyes when working long hours. 
The screen can also tilt 15 degrees backward and 5 degrees forward to give you the optimum viewing angle. 
At a price that is friendly to your wallet, the Sceptre 24 inch curved LED monitor delivers a superior viewing experience for both work and gaming. 
An ultra-slim profile on the Samsung 32 inch curved computer monitor measures less than .5 inches thick. 
This gives you plenty of desktop space, and the glossy white, sleek design adds a modern look. 
The curved computer monitor gives you smooth images, whether you are working on spreadsheets or fighting zombies. 
Inspired by the curve of the human eye, the Samsung curved-screen monitor will provide you with panoramic views that create comfortable and immersive viewing experiences for work or play.  
The Energy Saving Plus will reduce screen brightness automatically with a fluid transition. It will save both power and the strain on your eyes. 
Samsung's color technology delivers a 5000:1 contrast ratio for vivid colors, deep blacks, and bright whites. 
The matte black finish and sleek red accents complement the bezel-free face of this curved monitor for pc. 
Excellent stability is achieved with the penguin feet base, with the monitor still maintaining a minimal footprint when compared to most monitors. 
An adjustable height, tilt, and swivel makes it easy to get the perfect angle for viewing. If you are working, the direct current backlighting minimizes eye strain and fatigue by reducing flickering. 
When gaming, the AMD FreeSync will synchronize the display to provide the smoothest, fastest, and most visually stunning experience possible. 
The AOC offers outstanding imaging quality that is not often found in this price range.
With the Sceptre C275W-1920RN, you're getting a 27-inch monitor that's thin, light, and sleek – and has everything you want to match a modern office or home entertainment desk. 
It features a slick, premium design, has a 75Hz refresh rate, and a nice-looking IPS curved panel that delivers excellent image quality. 
As with Sceptre brands, the curved screen is designed to mirror the human field of vision closely. This gives the viewer a higher level of clarity and immersion. 
The LED display delivers sharper contrasts of light and darks and vivid, vibrant colors. 
Complete with an HDMI and VGA port, this curved monitor will also tilt backward and forward. 
The edgeless design, built-in speakers, and the ability to use a VESA wall mount will free up your working area and eliminate cable clutter. 
Featuring an ultra-slim and sleek profile, the Samsung CF390 monitor measures less than 0.5 inches thick. 
Make a stylish statement while staying productive with the 24″ curved screen. The simple circular stand will add a modern look to your space. 
You can reduce blue light emissions and any flicker by using the Eye Saver Mode. 
A simple button lets you control the blue light and enables you to read documents, play games, watch movies, and edit photos for long periods. 
You can experience a comfortable and pleasing view without worrying about eye strain or fatigue. 
To save power, the Eco-Saving feature will reduce screen brightness. The Samsung curved monitor is also Mac compatible. 
Today's Changing Workforce
The average worker experience today looks nothing like it did just a few years ago. Increasingly, we are becoming a workforce of remote workers. 
There are advantages to being able to do so, and it seems that companies are also seeing the advantage to have a remote workforce. 
This article outlines 25 Key Remote Work Statistics for 2020 shows the changing landscape of the work world and the direction our work environment is moving towards.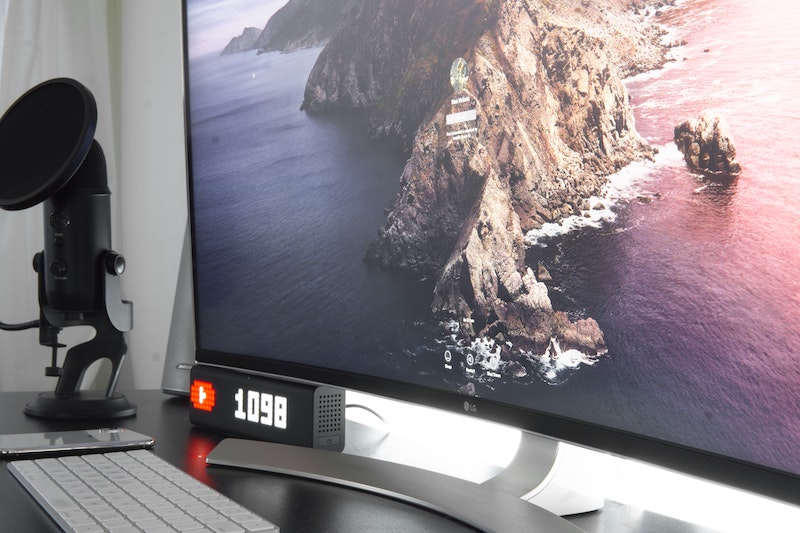 Immersive Experience
In today's world, where we are so connected to our devices, people seek ways to enhance their viewing experience, and manufacturers are eager to respond with products that will do so. 
It seems that the latest trend to improve that viewing is with "immersive" experiences. By "immersive," it means that the viewing experience is so riveting that you can forget you are staring at a screen.
But how is this type of experience created? The images being seen need to replicate real life for the viewer to become so immersed that they can feel as if they are genuinely in the moment. 
Monitor technology has turned to ocular perception to help achieve this immersion. Ocular perception refers to the fact that you see the world in three dimensions; length, width, and height. 
If you were only able to perceive things in two dimensions, everything would appear to be flat. 
This is where curved monitors employ all three dimensions to create a viewing experience that is as close to reality as possible. 
A curved monitor also takes advantage of peripheral vision. A flat-screen monitor, without peripheral vision, just can't offer the same immersive experience.
With any screen, the larger the monitor, the more distortions there are. Flat screens tend to have more distortions, and these issues are minimized on a curved monitor. 
The explanation for this disparity is the physics of light projection. Images on a flat-screen project their images in straight lines at the viewer and past the sides of the screen. 
A curved monitor, because of the shape, projects everything at the viewer, and distortion is lessened.
Easing eye strain is also a factor in the rising popularity of curved monitors. The curvature of the monitor allows your eyes to take in everything at once, without strain. 
Depending on the size of a flat-screen monitor, eye strain occurs when the screen is larger than your natural field of vision. You use your natural field of vision every day. 
When you can take in a screen in its entirety because of the curve, it feels natural and comfortable. In other words, your eyes can do their job comfortably with a curved monitor versus a flat one.
Another attribute of a curved monitor regarding an immersive experience is that it delivers a superior field of view. 
Unlike a flat monitor, a curved one directs light from all angles towards your eyes. Again, you can take in the objects on the screen without exerting your eyes. 
Because your eyes have a larger field of view, a curved monitor will feel larger than a flat screen, and this contributes to your feeling of an immersive experience.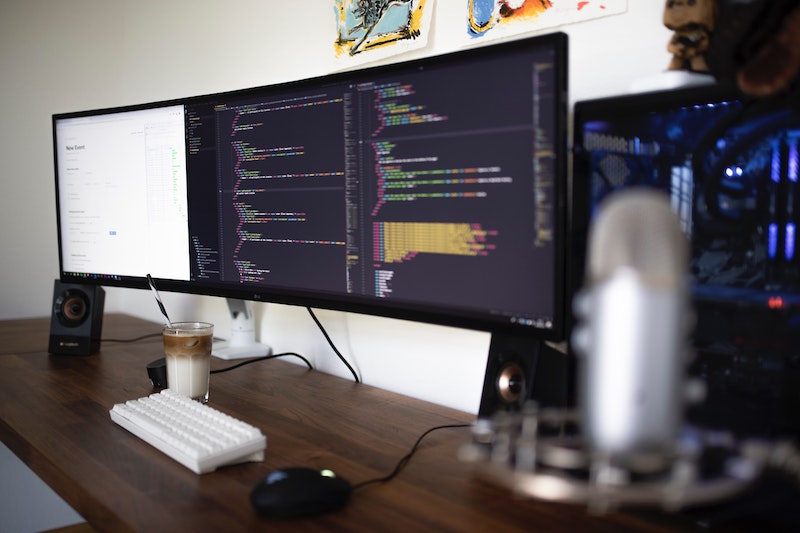 Curved Screens For Work
A flat-screen monitor will work for almost everyone and is pretty much the standard. Until now, curved screens have been thought to be for serious gamers or avid movie watchers. 
That idea has been changing as the price of curved monitors comes down and more people are trying them in their offices at work and at home. 
More and more office workers are finding the advantage of curved monitors for productivity and ease of accessing information. 
With a large, flat-screen display, you tend to use the center of the screen because it does not have parallax distortion like edges tend to. 
A curved screen does not have the same distortion, and so more of the screen is used.
Productivity is increased when various open windows don't need to be hidden to see other windows, and folders and apps don't need to be shuffled around the display.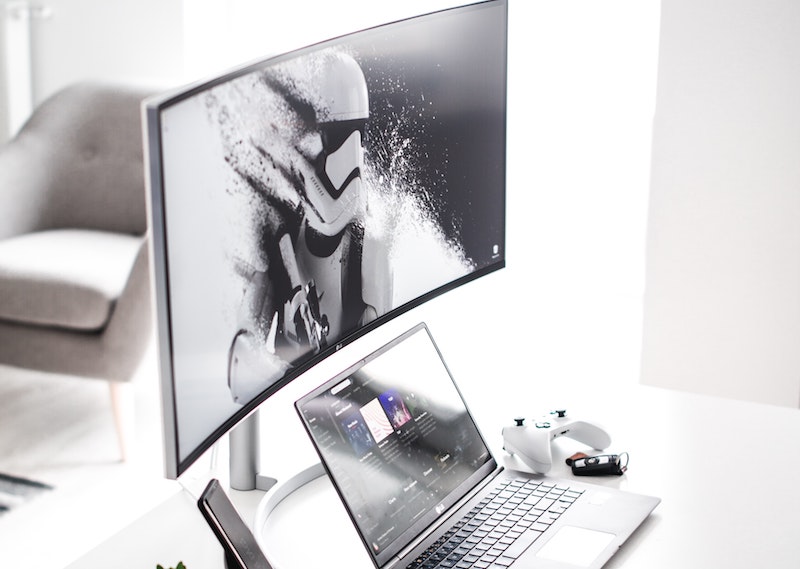 FAQs
How is a curved monitor measured?
Unlike a flat-screen monitor whose size is measured by the distance from one corner of the screen's viewable area to the other, curved monitors are measured differently. 
Curvature is measured by the radius the curve would deliver if it formed a complete circle. The value of "R" is used to indicate the size. The smaller the "R" value, the higher the monitor's curve.
How far should you be from your monitor? 
The short answer is that you should sit from 20 to 40 inches away from the monitor's front surface. 
Some factors will determine precisely how far away. For instance, the size of the monitor and your level of comfort will also come into play. 
Where your monitor is placed, on a desk, on the wall, or on a monitor arm can also be a factor.  
If you use a monitor stand, like one of these, 5 Simple Design Computer Monitor Stands, it will also determine how close you should sit. 
Do Curved monitors reduce eye strain?
Yes, curved monitors can reduce eye strain by making viewing a more comfortable experience for your eyes. 
In the article, we mentioned the various ways that a curved monitor relieved stress on your eyes and why that was the case.
What size monitor is best for office work?
When considering what size would be best, consider how much space will be available on your desktop. 
If you don't have many workspaces, you might want to consider Monitor Arms for holding one (or two) monitors and freeing up your desk space. 
Monitors come in various sizes, and you will need one that will display all that you need it to without being overly small. 
Generally speaking, a flat-screen monitor that ranges from 22″ to 27″ would work well for most office work. 
If you are thinking of getting a curved monitor, you will need at least a 30″ to get all of the benefits that the curve can bring. 
How long does it take to get used to a curved monitor? 
If you have primarily used a flat-screen monitor, it can take you a bit of time to get used to the experience of a curved monitor. 
You should allow yourself about two weeks for your brain to make the adjustments. 
Don't give up on a curved monitor before you have allowed yourself enough time to adjust to the viewing style that will be easier on your eyes in the long run.