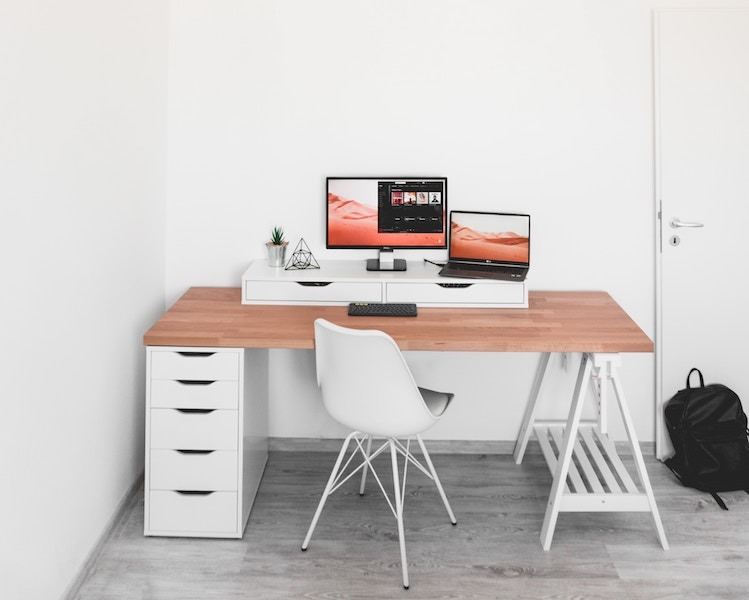 5 Simple Design Computer Monitor Stands
(Last Updated On: April 9, 2022)
There is nothing worse than a sore back. Unfortunately, many of us work in office settings with computers, which means that our necks are craned awkwardly downwards much of the day.
If you're tired of having a stiff, sore neck, you may benefit from investing in one of the computer monitor stands available on the market.
To help you decide if a monitor stand is suitable for your minimalist office or home workroom, we've compiled a list of some of the best stands.
We've also added a buying guide to give you more information about the criteria you need to use when picking your favorite. 
Product Reviews
1. Husky Mounts Premium Monitor Stand  – Improved Ergonomic Design
With an improved ergonomic design, the Husky Mounts monitor stand works to reduce back and neck strain.
This stand offers the option to raise your computer monitor or laptop 3-5 inches higher than its normal height, allowing your neck to rest in a comfortable position while you work. 
The stand's sleek design includes non-slip rubberized legs and a vented work surface, accessories that provide plenty of space to prevent the overheating of devices.
In terms of weight, this stand can hold up to 44 pounds, offering unique utility use. For example, multiple stands can be stacked to create a multi-level storage solution for computers, accessories, and game systems.
Made from durable steel, the stand won't move, shake, or buckle under the weight of your devices. 
Pros:
Adjustable height
Sturdy, rubberized legs
Can hold up to 44 pounds
Can reduce neck and back pain
Cons: 
Might be too small for large screens 
2. FITUEYES Computer Monitor Stand – Plenty of Space to Store Accessories
This handy monitor stand is available in two sizes and one color. It is large enough to accommodate laptops, printers, and standard desktop computers.
It has plenty of space to store accessories as well as support screens and devices. The classic black coloration and sleek style make it an excellent addition for simple office design.
The stand can hold up to 33 pounds and is made of high-quality MDF material that is both strong and durable. Its legs are sturdy and equipped with non-slip feet to keep the product secure once positioned. 
Pros:
Can hold 33 pounds on the surface
Available in two sizes
Made of MDF material
Features non-slip feet
Cons:
The surface is not vented 
3. AboveTEK Premium Monitor Stand – An Stylish Organizational Tool
Perhaps the most modern monitor stand on our list, the AboveTEK stand, is a one-piece, crystal-clear electronics mount that adds style to any room.
This high-quality acrylic riser gives your laptop or desktop an extra three inches of height, bringing it to an ideal position for the health of your back and neck. 
It can hold up to 55 pounds on its surface and support a device up to 30 inches in size. In addition to bringing your device to eye-level, it also serves as an organizational tool.
Its beveled and smooth, rounded edges are gentle but sturdy, supporting the stand and preventing it from moving. 
Pros: 
Crystal-clear and stylish
Boasts a one-piece design
Can support 55 pounds
Aids in good back and neck health
Cons: 
4. Klearlook Computer Stand – Promotes Optimal Posture
Boasting an adjustable width, this computer stand is perfect for every kind of device, including large desktop monitors. The slight elevation of this stand promotes optimal posture and keeps your screen at eye-level for easy reading.
The monitor stand has space underneath that can store keyboards, hard drives, USB drives, or any other personal items.
The stand is made of ABS and metal, allowing it to support 55 pounds of weight without sagging or wobbling.
In addition to storage space underneath, it also features a built-in phone stand and a shallow drawer for storage. Its base is covered in a non-slip matt that secures the product in place. 
Pros: 
Made of durable ABS and metal
Adjustable width
Built-in phone holder and storage drawer
Supports 55 pounds 
Cons:
May be too weak to support certain computer models
5. Bambloom Monitor Riser – Built With Strong Materials
The Bambloom monitor riser is a spacious, high-quality monitor stand that offers both style and functionality. Built with heavy-duty materials, it's crafted from only the highest quality MDF to resist warping and cracking.
The included storage drawers are made of solid, all-natural bamboo and designed to slide in and out with ease.
The minimal design as a one-piece unit removes the complicated assembly process and offers a simple set up instead. 
Pros: 
Resists cracking and warping
Built-in storage drawers
Easy setup
Cons:
Functions Of Computer Monitor Stands
When you think of ergonomics, you probably think of adjusting your chair and decluttering your workspace. But ergonomics includes more than just that – it's also your monitor position. 
Computer monitor stands are intended to raise your monitor to your eye level, thereby making computer work easier and more accessible. This, in turn, reduces neck pain and eye strain, creating a more productive workspace.
Choosing A Monitor Stand According To Your Needs
Size
When choosing a monitor stand for your computer, it's essential to ensure that your device fits centrally on the stand's surface to avoid balancing issues.
Monitor stands come in a variety of sizes, meant to fit a range of desktops. Should you struggle to find one that fits perfectly, opt for one that is a bit bigger than what you need. 
Weight limit
Monitor stands come with weight limits. These limits are meant to prevent damage to your stand from being subjected to too much weight.
Most weight limits are between 44-55 pounds, so be sure to check the amount of weight you are looking to support before your final purchase. 
Storage features
Some monitor stands come with unique features. Often, this includes phone and electronics drawers or extra shelving for miscellaneous accessories. If you need space for important extras, it may be worthwhile to find a monitor stand with built-in storage. 
Conclusion
Computer monitor stands are functional, stylish, and great for solving posture-related ailments. When buying, look for size, weight limits, and extra features. Life is busy, so we've done the work for you; check out our recommended monitor stands above.