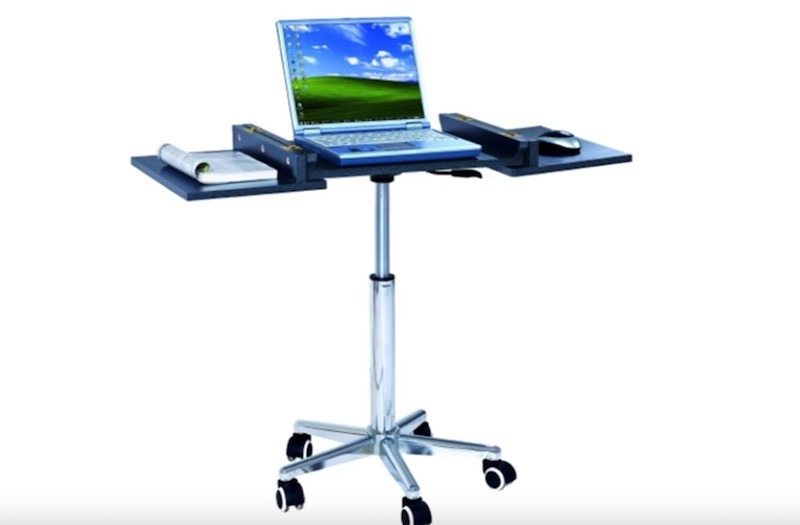 Top 5 Modern Office Workstations On Wheels
(Last Updated On: April 9, 2022)
Thanks to today's technology and handy inventions, getting your work done from anywhere is possible.
Anything involving a word processing system, email, or communication can be completed on phones, tablets, computers, and even certain styles of watches!
In the case of computers, though, work can be made easier with additional products – like the workstations on wheels. 
Product Reviews
This Seville classics manual workstation makes relocating your workspace easy. The entirety of the workstation is made of durable metal material that is both stable and lightweight.
The base of the workstation features a pair of 1.5″ wheel casters to eliminate heavy and/or awkward lifting, while the tabletop of the station can be adjusted and has been finished with a layer of powder coating.
The tabletop can be lifted to up to 33″ inches high and is large enough to hold most full-sized laptops and devices.
Pros:
Unit is on wheels for easy moving
Adjusts to a height of 33."
Cons:
Manual adjustments can be difficult
Developed by Techni Mobili, this workstation is a multi-functional, highly-portable work surface option.
It's made of a combination of powder-coated steel and MDF wood panels that have been covered in a layer of moisture-resistant laminate.
The workstation is a classic black and has plenty of shine. The stand is on wheels, making it easy to move and also features a storage space for small accessories and necessary items.
Besides, the tabletop can tilt and move up and down so that you can find the perfect position. The workstation can support up to 30 pounds. 
Pros: 
Tilting/height-adjustable tabletop with a raised edge to prevent items from falling off
Made of solid wood and steel parts
Supports 30 pounds of weight
Cons: 
Another great model from Seville, this classic workstation, is one of the brand's most popular.
This model's tabletop can adjust to a height of 35″ and can tilt until nearly vertical, with dual stopper ledges on both the top and bottom edges.
The table uses a manual adjustment knob and has been crafted from welded metal and wood. It also features a set of casters that ensure a smooth glide and easy relocation.
In addition to casters, the workstation also boasts a handy side table that is the perfect size for a mouse. 
Pros:
Attached mouse-sized side table
Stopper ledges on front and back edges
Can adjust to a height of 35."
Cons: 
The manual adjustment may not suit all tastes
The second Techni Mobili product on our list, this particular workstation, has three tiers and tons of functionality.
The three tiers spoken of include a pullout tray for keyboards, the main platform to hold your devices, and a third level that can be used to keep other items and stay organized.
It even features a built-in CD rack, and the third level can be set up in three different ways. The workstation has been carefully crafted from MDF panels and PVC veneer. 
Pros:
Built-in CD rack and storage shelf
Made of high-quality materials for guaranteed longevity
Moisture-resistant and durable
Cons:
Too small for some large devices 
Tatkraft's handy portable workstations – or station on wheels – are great for anyone looking to put a bit more physical activity into their day.
The workstation, which is made of top-quality, durable materials including metal, can be tilted to 160 degrees and rotated 360 degrees.
The workstation is set on four wheels that can turn and has an adjustable tabletop that can reach a height of 39″. There are two color options: white and black. 
Pros:
Rotates 360 degrees and tilts to 160 degrees
Four 360 degree rotating wheels for easy transport
Adjustable height can reach 39."
Cons:
So lightweight that tipping is possible 
Modern Office Workstations on Wheels vs. Standing Desks 
The terms "workstation" and "standing desk" are often used interchangeably. The two are, however, different. Standing desks are very tall desks that one must stand at. 
Despite looking a lot like standing desks, the workstations are generally smaller.
Most of them are small desk-like stations that may or may not contain storage space and extra shelves. They sit on top of a desk; a laptop or device is then set on them.
Not all workstations look like this, though. Some of them resemble standing desks more than traditional workstations. This can cause some confusion with the interchangeable terms.
Who Uses Workstations on Wheels and Where? 
Workstations are used in a variety of settings. Most commonly, they're found in offices and professional settings that have numerous employees all working in the same space.
They can also be used when only one or two employees share a space; they are ideal for those who have back problems or who can't sit for long periods.
Also, workstations can be used at home, too. Students often find a ton of benefits in having a workstation to complete homework on, and those who work from home tend to appreciate them, as well. 
There are no limits to where they can be used. So long as there is space for a workstation to be set up, the workstation can be used. Again, popular locations are within offices. Some schools have even started using them as a way to encourage their students' general health.
How Can A Workstation on Wheels Help You?
Reduces body aches and pain
Since workstations on wheels encourage users to stand, there is a high chance that any pain in relation to sitting will be reduced. This is especially true when it comes to back pain.
When we sit too long, our nerves and muscles are compressed and cause pain. We're often slouched as well. With a workstation set at the appropriate height, we won't be slumped over. 
Keeps the body strong
Simply standing doesn't seem like much physical activity. But it still requires more effort than just sitting. When we stand, the muscles in our lower body and legs are forced to be used.
Alternatively, when we sit, they are relaxed. Keeping the muscles strong by standing more enhances the health of the muscles and joints. It also adds to the recommended 60 minutes of physical activity that each adult should get per day. 
Reduces fatigue
If you go to work on little-to-no sleep or only a few hours of sleep, you're likely to struggle with feelings of fatigue as you sit slouched behind your desk. With a standing desk, you're less likely to fall victim to fatigue.
This is because you aren't as relaxed, and your body is actively working to hold you up. In addition to reducing physical and mental fatigue, this will also improve concentration.
Conclusion
So, to recap, workstations on wheels are handy contraptions that are made to support devices and promote health at the time.
There are hundreds of great workstations on the market, but a few of the best are those made by Techni Mobili, Seville Classics, and Tatkraft. 
Workstations on wheels are different than standing desks, and users include everyone from office workers to designers and those who work with technology. They can be used almost anywhere and benefit the body's health and reduce fatigue.