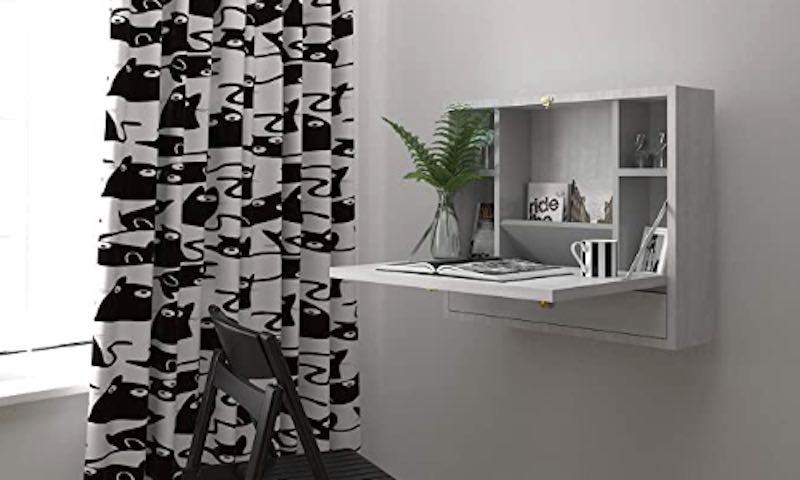 Save More Space in Your Home Office With This Floating Desk
(Last Updated On: April 9, 2022)
Maximizing Space In A Minimalist Home Office
Using a Wall-mounted floating desk has become very popular as a way to take up a minimal amount of floor space in a home office.
Floating desks can save floor space and are especially helpful in apartments and in smaller spaces. 
When you need to maximize the use of the space , then space-saving furniture is a must.
Later in this post, you'll find our review of Tangkula Wall Mounted Floating Desk.
Save Floor Space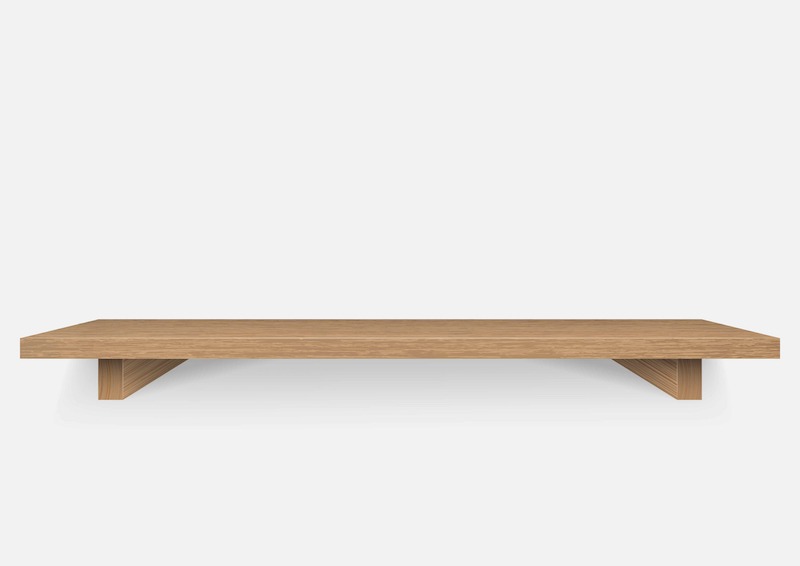 With so many of us working from home, you need to utilize all of your options for conserving space. 
Your home office furniture needs to fit in with your existing decor and still have a desk area for you to work from. 
Traditional desks can be quite cumbersome and take up a lot of real estate in your home. 
A desk also tends to be a permanent fixture that you have to arrange your other furniture around. 
While there are advantages to a desk, you might find that having a less obtrusive arrangement will work best for you.
A Wall Mounted Floating Desk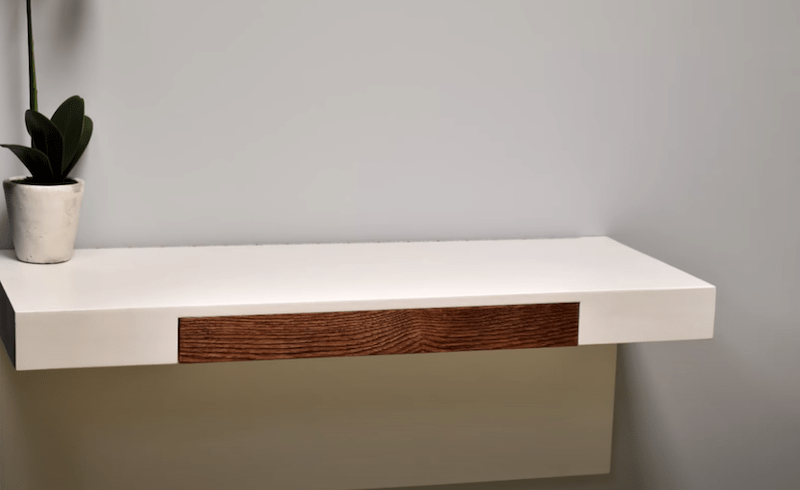 Just what is a floating desk? A floating desk is a workspace that only takes up a small fraction of space that a traditional desk does. 
A floating desk saves space and takes up no floor space at all, which can be a great advantage if floor space is at a premium. 
A great feature about a floating desk is that they don't have any legs. They appear lightweight and airy rather than weighed down and heavy like a traditional desk. 
This means that they take up a lot less room.  A floating desk will mount to an existing wall in your home or apartment.
They are much more affordable than a regular desk, and having one can free up floor space.
Many people find that their productivity increases when their workspace is less cluttered, and they are working in an area that is clean and open.
When you are working from home, although it might seem like a dream come true, there are still  10 Things You Need to Do to Survive Working From Home. 
Having a minimalist office at home can be the one of the best things ever, and a wall-mounted folding desk can be part of making that dream a reality.
Pros and Cons of Floating Desks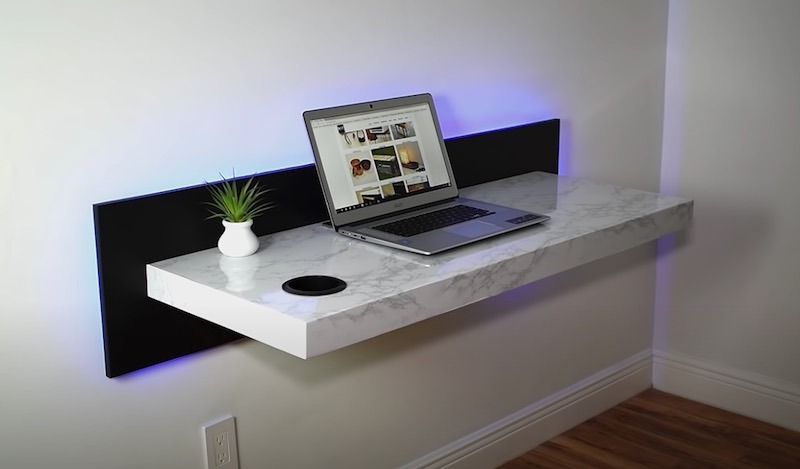 Pros:
A Floating Desk Can Be Adjusted To Your Height
One of the great features of a wall-mounted desk is that the height is not fixed, as it is with a traditional desk. 
Rather than having to have an adjustable chair, you will be able to hang the desk on the wall at a height that suits you. 
This is a huge advantage no matter your height because you can customize your desktop to what fits your needs best. 
Remember that your desktop should allow room for your legs while sitting. 
It should also be low enough that your wrists rest comfortably in front of you when using the desk.
A Floating Desk Saves Floor Space 
A floating desk does not have any legs, and so does not take up floor space. 
When using the desk, just bring over the chair you will be using and put it back at the end of your work day.
A Floating Desk Fits Almost Anywhere
Because a floating desk is so compact, it can be integrated into all sorts of spaces in your home. 
With a traditional desk, you must sometimes dedicate a corner of a room or a portion of your living space to the desk itself. 
A wall-mounted floating desk can be placed in a kitchen, living room, wide hallway, or bedroom without the desk interfering with the room's primary function. 
Again, a floating desk takes up no floor space, and you don't have to dedicate a separate room for your home office.
A Floating Desk Comes In Various Sizes
Floating desks are the new home office space-saving furniture. 
These simple desks come in a variety of shapes and sizes. Some are designed to fit in between existing shelving units and others will fit in a corner. 
You can configure your living space so that the desk works for you, and you have control over how much real estate you give to your home office desk.
 A floating desk is aesthetically pleasing and can work with your existing decor.
A Floating Desk Is DIY Installation
If you decide to make a floating desk your minimalist office desk, the good news is that they are easy to install. 
You will need just a few tools to install one. A floating desk will come with the hardware brackets and screws needed for installation:
Measuring tape

Stud finder

Drill and drill bit

Level

Screwdriver
Your desk will come with directions for installation that will walk you through the process.
Cons
A Floating Desk Has A Smaller Work Surface
A floating desk does not take up as much space as a traditional desk. Conversely, you will not have as much desktop space.
If you usually work on a laptop, a floating desk will work for you. If you have lots of papers and projects, it might not suit your needs.
A Floating Desk Will Not Hold As Much Weight
Floating desks will not hold the same amount of weight that a traditional desk will, so if you need a surface that will hold heavy equipment, a floating desk will not do the trick.
A Floating Desk Is Not Easy To Move
Once you have mounted a floating desk wall unit, moving it will not be a simple process. Choose carefully beforehand the location you think you would want the desk in. Try putting your desk chair in that area and using it as if the desk were in place.
Again, once hung, a wall-mounted unit can be moved to a different location, but it will not be quick and easy to do, so choose wisely before hanging.
Floating Desks Support A Minimalist Office Style
At Go Minimalist Office, we like to share products that work and support a minimalist office lifestyle. 
Designating an area for your work that takes up minimal space will be vital when working from home. 
It is a bonus that you can shut the desk when work time is over as it gives you a mental break while showing the wall unit's clean lines.
Here at GMO, we have chosen the Tangkula Wall Mounted Floating Desk to answer the question of how to maintain a minimalist office while at home.
Made from durable MDF material, the Tangkula will be reliable and sturdy. The bright white finish will go with any decor. 
It gives a crisp, light, and airy feel to whatever room or area you place it in.
Storage Space
Inside the mounted wall unit, there is storage space for office supplies, including an angled shelf that can hold your laptop when not in use. 
Under the desk area, there is a pull out drawer for pencils, pens, and all the other accouterments you might need to have handy. 
Fold Up Desktop
For us, the beauty of the Tangkula Wall Mounted Floating Desk is that it folds up and has a safety latch to hold it in place. 
Once folded, the style and design are minimal and comes away from the wall a mere six inches. 
With a fold-up desk, you can have all office and desk implements out of sight at the end of the day. If you have little ones in the house, your laptop is out of harm's way when the folding desk is in the upright position.
Compact, it is the ideal solution to save space.
Features:
Made of premium MDF -a sturdy and durable medium density fiberboard that rivals the affordability and versatility of plywood and similar engineered wood products
Wall-mount design makes the desk more convenient and saves space
Safety lock holds the desktop in a closed position when not in use.
Additional storage space
Clean lines and stylish design
Multi-functional uses as a desk or cabinet
Suitable for many spaces; living rooms, hallways, bedrooms and kitchens
Easy to assemble and easy to clean surface
Specs

Color: White with gold lock and drawer pull
Fold size: 23.5" X 6" X 20" (LXWLH)
Unfolded size: 23.5" X 20 " X 20" (LXWXH)
Weight of each shelf: 11 lbs
Weight capacity of the desktop: 44 lbs
Net weight: 22.4 lbs
Assembly Required
The Tangkula wall mounted desk comes unassembled. 
Once assembled, you will need to mount the desk unit on the wall. Having decided the ideal spot, you will need to attach the unit to the wall. 
We spoke beforehand that it is best to choose your spot carefully before hanging the unit.
If you are lucky enough to have a handy friend, invite them for pizza and an assembly party. If not, we have confidence that you can do it yourself.
How To Hang A Floating Desk
Gather your tools and your patience, and here is how you install a hanging wall mount desk.
You will need:
The Tanqkula wall mounted floating desk assembled
Measuring tape
Floating shelf brackets (included with the Tangkula)
Screws (included with the Tangkula)
Stud finder
Power drill
Screwdriver
Level
Steps To Hang A Wall Mounted Floating Desk
Step 1: Make sure there's enough space
Measure the area where you want to install the desk. 
You want to make sure that there is enough space to accommodate the width of the desk unit. 
Allow yourself enough room for your chair and move in and out from the desk easily.
Step 2: Locate the studs
Use a stud finder to locate the studs within the area you have chosen to hang the desk. 
Measure the distance between the center of each of the studs and mark these locations on the wall side of the floating desk.
Step 3: Drill the holes
Drill the holes in the wall side edge of the desk at the points you marked on the unit. 
You will want to use a drill bit that is wide enough to accommodate the brackets securely. 
You want them to be able to push easily into place on the desk unit, but you don't want them to have any wiggle room.  
Make sure to hold your drill straight and drill parallel to the desk's broadside. 
Drill halfway between the top and the bottom to ensure that there is an equal amount of wood on either side of each hole.
Step 4: Place the bracket
Once you have drilled the holes on the desk unit, place each bracket to its corresponding hole. 
Check to make sure that it fits within the desk unit. Next, measure the distance from the bracket's wall mount to the screw holes on its shaft. 
You will use this measurement to make points on the bottom side of the desk where you will attach screws.  
At each of these points, drill pilot holes. Again, use a drill bit that is slightly smaller in diameter than your screws.
Step 5: Adjust the height.
This will be a significant step. You will need to select a comfortable height for your desktop. 
Remember to allow enough room for your legs to fit underneath, and your wrists rest comfortably on the desktop when it is in use.
Decide beforehand, too, what type of chair you will use at the desk. 
If it has arms on the chair, allow for the arms to fit underneath the desktop when in the down position. 
Once you have determined this, use that measurement and measure upward from the floor and mark each of the studs' height.
Step 6: Level the brackets
Next, place a bracket at the desired height over a marked stud. You want to make sure the screw hole in the shaft is facing downward. 
Once you have done this, drill pilot hotels through the faceplate and into the stud beyond. 
You will then hold the bracket in place for the other side and use the level to make sure that its position is straight. 
Mark this position, and attach the second bracket.
Step 7: Get some help
You are almost finished! This is where you are going to need an extra pair of hands. 
Slide the desktop onto the wall-mounted brackets. 
Push and hold the desktop against the wall. Have that extra pair of hands hold the desktop in place while you locate the pilot screws on the underside of the desk. 
Put screws into each of them. These screws will go through the wood and enter into the bracket's screw holes and secure the desktop in place on the wall.
Step 8: Take a selfie!
Celebrate! You now have your minimalist office space!
In Conclusion
Creating a minimalist office at home using a wall-mounted floating desk will give you the space you need while not taking up floor space. 
It will save you valuable space but does have a few limitations. For example, once in place, you won't be able to easily adjust the height or move it to a different area. 
There is not a lot of storage space in a wall mounted folding desk, either. 
While these might be a consideration, a wall-mounted folding desk fits precisely into the perimeters of what a minimalist office space should be. 
It takes up little room, holds the essentials, has clean, crisp lines, and does not intrude on the rest of your living space.
An affordable, practical solution that would be a welcome feature in any minimalist home office.