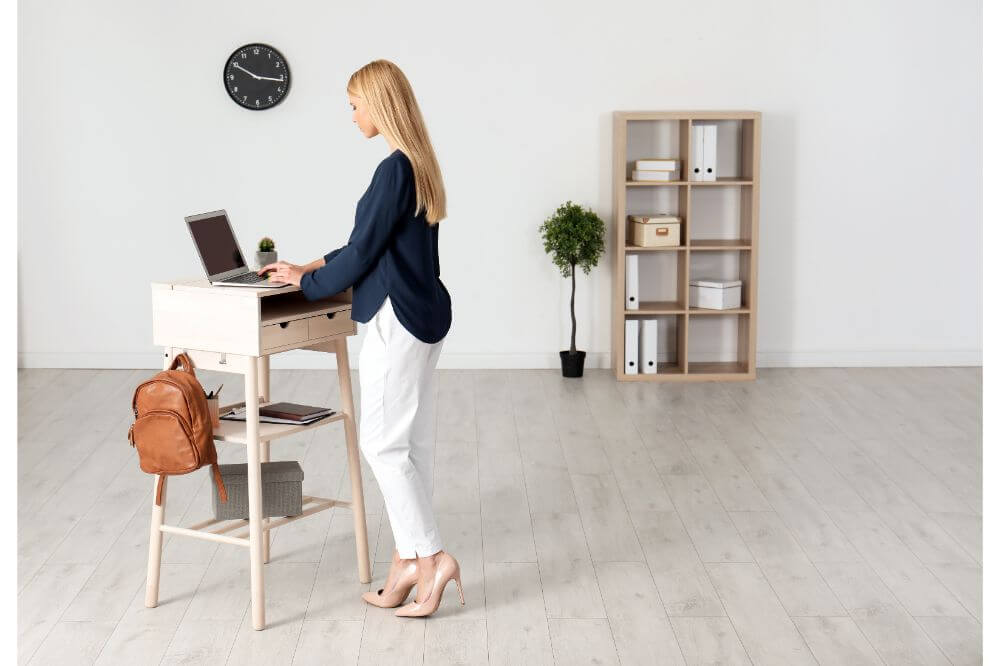 Best Standing Desk For Home Office: Complete Review With Comparisons
While there can often be a lot of comment and publicity about your welfare at work and the steps your employer should take, the same principles also apply at home. By this we mean if you work from home using a computer, or even if you spend long periods of time sitting at your computer desk.
One way to potentially improve your workstation in terms of your health is a standing desk. If you are considering buying one, our reviews of the best standing desks for home offices will highlight 5 of the best to help you choose the right one for you.
Comparison Chart
| | | | | |
| --- | --- | --- | --- | --- |
| | | | | |
| Seville Classics Electric Adjustable Standing Desk | Sdadi Mobile Adjustable Standing Desk | FLEXISPOT Stand Up Desk Converter 28 Inches Standing Desk Riser | VIVO Stand Up Height Adjustable 32 inch Desk Riser, Sit Standing Converter | Mount-It Ergonomic Adjustable Standing Desk |
| | | | | |
Best Standing Desk For Home Office Reviews
Seville Classics Electric Adjustable Standing Desk
This is a standing desk which is easy to set up, simple to use, makes for a great workstation, not least because its height can be adjusted by simply pressing a button.
Review
Those of you that prefer not to have to build their office furniture will be pleased to know this desk comes pre-assembled. The only exception to that is the keyboard shelf which you need to install. The keyboard tray can tilt which can make using a keyboard more comfortable, and this can also be used for your mouse.
The upper desktop section is generous in terms of the surface area with dimensions of 35.4 inches x 23.2 inches. With this, it should be big enough for two monitors or, as many people do, have just one monitor along with a laptop or large tablet alongside it.
Obviously, one of the main reasons a standing desk is used is the ability to set it at multiple heights. In most cases, you need to this manually, but with this Seville Classics desk, it is done electrically. Pressing the adjustment button will raise or lower the desk with zero effort.
As it is powered, the desk can also be used to charge your mobile devices as it has a USB charging port. Another useful feature is the slot on the upper desk into which you can place a tablet or smartphone.
A measure of how confident the manufacturer is of the durability of this standing desk is the fact that they include a 3-year warranty with your purchase.
Sdadi Mobile Adjustable Standing Desk
It is often said that the simplest solutions are the best solutions, and if you agree with that, then you will certainly be interested in finding out more about this adjustable standing desk from Sdadi.
Review
We mentioned simple solutions in the introduction, and when it comes to a standing desk for a home office, there can be few that are simpler than this one. We say that as a positive, especially if you are someone who wants a standing desk, which is very easy to set up and use.
It does require self-assembly, but even if you're not exactly a DIY expert, it should take no more than 15 to 20 minutes, especially as the instructions and the tools you need are included.
Once complete, you will have a standing desk which has a keyboard shelf and an upper desktop. The keyboard shelf can be tilted and can be used for either a standard keyboard or a tablet. This is due to the stopper at the front of the shelf, which keeps these items from sliding off.
The upper shelf is the same size as the keyboard shelf with dimensions of 23.6 inches wide, and 11 .8 inches deep. This should be able to accommodate most monitors.
Height adjustment is possible on both shelves, and each can be adjusted individually with height ranges between 27.5 and 45.9 inches for the lower shelf, and 27.5 inches and 47.4 inches for the upper shelf. This gives you a considerable amount of options to set it up exactly as you like.
If you wish to move the desk, it should be easy to do thanks to the casters on its base, and for those who like color choices, there are four of them, which are black, dark grain, light grain, and oak.
FLEXISPOT Stand Up Desk Converter 28 Inches Standing Desk Riser

You can transform your traditional desk into an active sit-stand workstation with FlexiSpot's desk riser.
Review

This unique standing desk converter sets itself apart from other desk risers with a one-of-a-kind, U-shape design that expands your desk's workspace.

The Flexispot converter gives you more space to get more things done.

The converter is perfect for writing, drawing, for comfortable laptop use, and has the space for a full-sized keyboard and mouse.

You can operate the desk converter with a single hand to adjust the desk height to a level that suits your needs.

The one-step attachment and release gives you the option to use the desk riser with or without the keyboard tray.
VIVO Stand Up Height Adjustable 32 inch Desk Riser, Sit Standing Converter

Vivo's desk riser provides an on-demand standing position throughout the day for the freedom to get out of your chair to relieve muscle tension and reduce stress.
Review
This dual tiered design allows you to customize your work area and to increase productivity throughout the day.

The converter is sturdy and will hold your monitor and laptop. The Vivo will raise and lower with a smooth adjusting pneumatic spring lift with just the squeeze of a handle.

The top surface of the converter measures 31.5" x 15.7" and gives you room for a monitor and laptop. The keyboard tray is 31.3" x 11.8" and will hold the keyboard and mouse.

You can remove the keyboard platform if you want, and just use the top platform. This converter is also compatible if you have a monitor mount.

Your body will thank you when you give it the chance to stand off and on through the day, rather than constantly sitting, which can have adverse health effects. The Vivo makes it easy and convenient to switch up your stance during your work day.
Mount-It Ergonomic Adjustable Standing Desk
This is a modern-looking sit-stand desk which will appeal to those with a PC and who want to use two monitors, especially as you have options in terms of how you can set up those monitors.
Review
Whereas the majority of standing desks that can accommodate two monitors have you merely stand those monitors on the main desktop, this does it differently. It uses monitor mounts which means you are not losing as much working space as the mount is fixed to a bracket which is barely 2 inches across.
The other benefit of this mount is that you can have the monitors configured either in the traditional landscape orientation or, if you prefer, you can turn them 90° and have them sitting in portrait mode. Regardless of which you choose. You make minor adjustments to the monitor positions any time you choose to, including swivel and rotate.
You have two working surfaces, one of which is the keyboard shelf at the front. The larger surface area is the main one you will work on, and its dimensions are 24 inches across by 16 inches deep, so you have plenty of space available. Height adjustments to the desk are done manually, and this is spring assisted. The height range is between 6.5 inches and 18 inches.
You also receive a wrist pad with this desk, which can provide much-needed support, especially when you are using your keyboard for long periods.
FINAL VERDICT
Having reviewed our 5 standing desks, we now have to pick our #1 choice, and to be fair, all of them have their merits. Having given it considerable thought our best standing desk for a home office is the Mount-It Ergonomic Adjustable Standing Desk. Its monitor bracket is an excellent feature, which means you have most of the desk surface to work on. Easy height adjustment, a modern look, plus the complimentary wrist pad, all add up to make it our top standing desk for home office.
(Last Updated On: April 9, 2022)