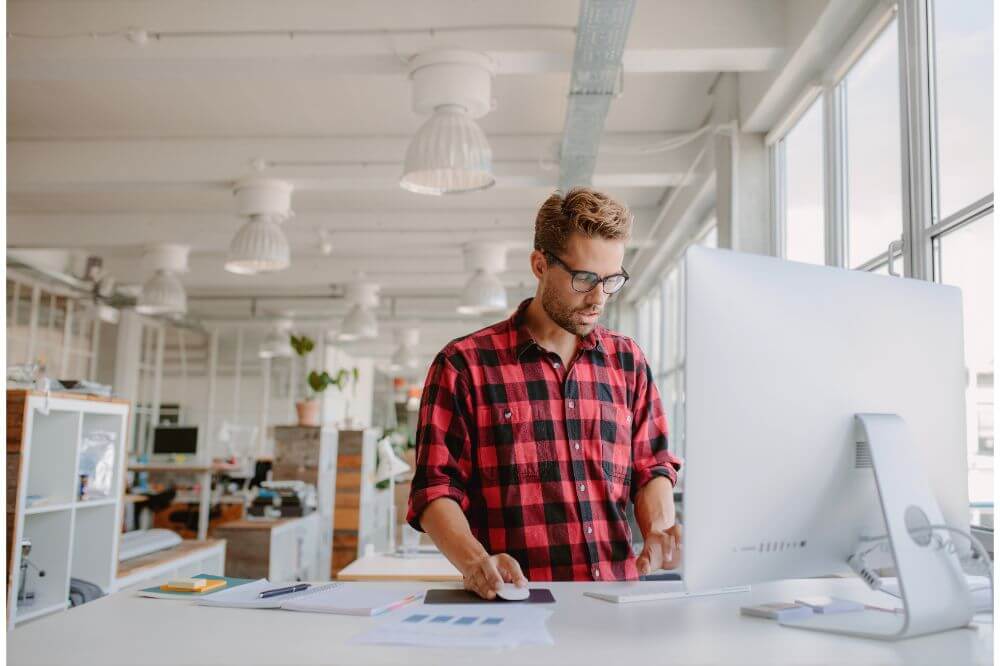 Best Choice Products Adjustable Standing Desk Review
This is a great combination of a traditional sized desk, and a standing desk meaning you can have lots of workspace, and can also seek to benefit your health at the same time.
Best Choice Products Adjustable Standing Desk
Although it looks more like a traditional office desk, this can be regarded as a new kid on the block due to it only being available for sale since March 2019. It is brought to the market by Best Choice Products, who do not specialize in any particular product type, but they do have an excellent reputation for the wide range that they do supply, including standing desks.
This adjustable standing desk requires assembly, and although it is marketed as 'wooden', that refers more to its styling rather than it being made from real wood, given that its materials include steel, PVC, and MDF
Who Is This Product For?
Many standing desks are obviously meant for use with computers or laptops, and while you can certainly do so with this desk, it can be used for other tasks such as writing or studying. That being said, anyone who wants a desk with plenty of space to work with will love the fact that this desk is 59 inches wide.
The potential health benefits of using a standing desk have been well documented, so anyone who wants to avail themselves of those will have an interest in using this desk.
With a wood effect finish to the desktop, those of you who want their office furniture to be every bit as coordinated as the other furniture in their home or office will prefer this desk to those which are plain or black in color which tends to be the norm.
What's Included?
As the desk is self-assembly, then it obviously comes with each individual piece that is required. This will be the desktop, the metal legs and frame, and the instructions. One thing to bear in mind is the supplier states that the desk will come in two packages, rather than a single package.
Overview of Features
One of this desk's biggest appeals, literally, is the large desktop area. With a width of 59 inches and a depth of 29 inches, you should have more than enough space for a couple of monitors plus all the other items you would usually use at a desk such as paperwork, your computer keyboard, your mouse and even a filing tray, for example. There is also a cable management system so that all the wires from those devices do not get tangled or in your way.
If you ever wish to use the desk in another room, it can be easily moved by tilting it and then wheeling to wherever you plan to use it. There is a wheel on each of the two back feet, so that is why you'll need to tilt it.
If the desk is staying where it is but you plan to adjust its height, this is every bit as easy. You have a height range of between 29 and 46 inches and to set the desk at these, or any other height in between, is a simple matter of pressing the lever under the desktop. This lever unlocks the desk and allows you to move the desk up or down and lock it in place once you release it.
How to Use It
As is usually the case with standing desks, this one is very easy to use. Once assembled you then obviously need to decide what you are going to use it for, and what is going to be placed on it. Assuming one of those items is a monitor, you will want to check what height you need to set the desk at for when you are sitting, and for when you are standing.
To adjust the desk to either of these heights, you simply press the lever underneath and move the desk up or down accordingly. Once it is at the correct height, release the lever, and the desk will be locked in place.
The desk is portable so if you want to move simply tilt it so that the weight is on the castors and then move the desk to wherever you wish it to be positioned.
Alternative
If you need even more desktop space than this Best Choice one can offer, and if you want to take away the manual aspect of adjusting the desk, then we have a great alternative for you in the shape of the Vivo Electric Height Adjustable Stand Up Desk.
It has a massive desktop space of 63.1 inches x 31.5 inches which lets you use three monitors should you wish to do so, plus you'd still have lots of room for your keyboard, mouse, etc. Its height adjustment is done by an electronic controller which is positioned just under the desktop. This means you can set the height without even getting out of your office chair, for the ultimate in simple and easy convenience.
Conclusion
This is a standing desk which is very easy to assemble and use, with the added advantage of providing you with a very large workspace, meaning you can use it with multiple monitors, and all the desktop accessories and devices you wish.