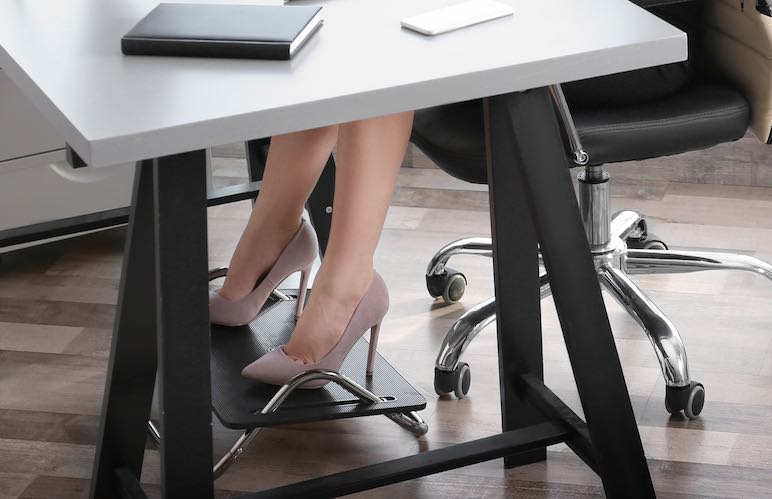 Best Under Desk Ergonomic Footrest For Your Home Office
(Last Updated On: April 9, 2022)
You may be feeling some of the ill effects that working from your home office without an under desk ergonomic footrest can cause. 
Using an ergonomic footrest for correct posture will go a long way to easing chronic aches and pains associated with continual sitting throughout your workday.
A footrest for your home office is an essential piece of equipment that is small in size but big on impact, and we have listed five of our favorites below.
The best of the best under desk ergonomic footrest for your home office is the Leermart Adjustable Footrest.
Review of The Best Under Desk Ergonomic Footrests For Home Office Settings
With an ergonomic teardrop design, the Everlasting comfort footrest will alleviate the discomfort caused by sitting for long periods.
You will be able to place your feet in various positions on the memory foam to help reduce pressure on your feet and improve circulation. The Everlasting works great under your desk in your home office.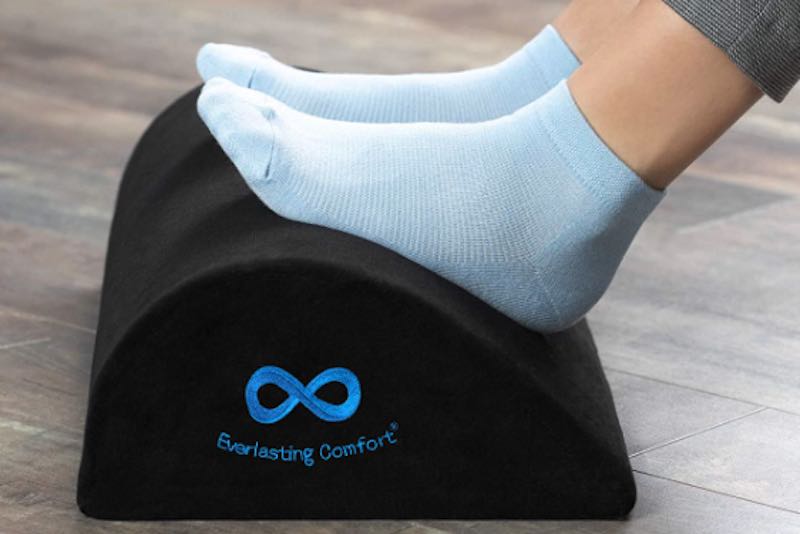 The memory foam in the footrest will conform to the contours of your feet. Slip off your shoes while in your home office, and let the foot support your feet throughout the day.
If you feel that you need a bit of a change during your workday, flip the Everlasting footrest over and use it as a rocker to keep the blood flowing. When required, remove the cover of the Everlasting footrest and machine wash. 
Features
100% Memory foam
Foam responds to body heat to cushion your feet
Cover is soft plush velour and machine washable
Non-slip gel rubber bottom stays securely in place
Ergonomic design
Can use as a rocker for your feet
Can use under your knees when lying down to ease back discomfort
The Mind Reader has an ergonomic angled and adjustable footrest that is textured to provide a massage surface for your feet.
Slip the Mind Reader under your desk in your home office and adjust it to the angle and height that you find most comfortable.
The footrest will lift and angle your legs, feet, knees, and ankles to a position that reduces your body's stress.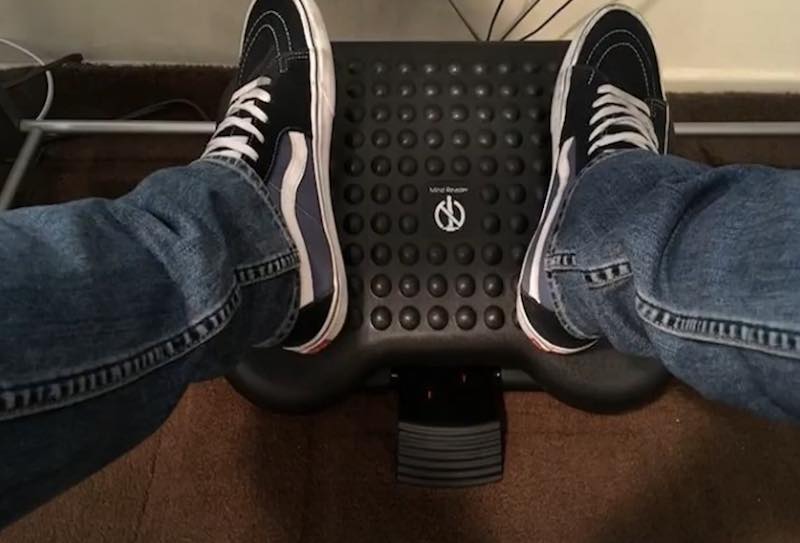 Having your legs positioned in such a manner will help reduce neck and back pain is aggravated by long hours of sitting at a desk.
The Mind Reader's surface is designed with a rounded, pebbled texture to provide a massage-like experience.
Just remove your shoes and gently slide them over the textured surface to stimulate your feet and get the blood circulating. 
Features
Folds flat for easy storage
Height and angle adjustable
Foot massage pebbled surface
Clean by wiping off
Lightweight construction makes it easy to move from place to place
Height adjustable at one inch, three inches, and six inches
The Strong Tek footrest has the distinction of having been designed by a former NASA scientist.
This ergonomic footrest helps to elevate your feet, legs, and knees to improve your circulation.
Made from wood with a contoured rocker bottom, the rocking footrest has anti-slip grips that enable it to roll and tilt but not slip or slide.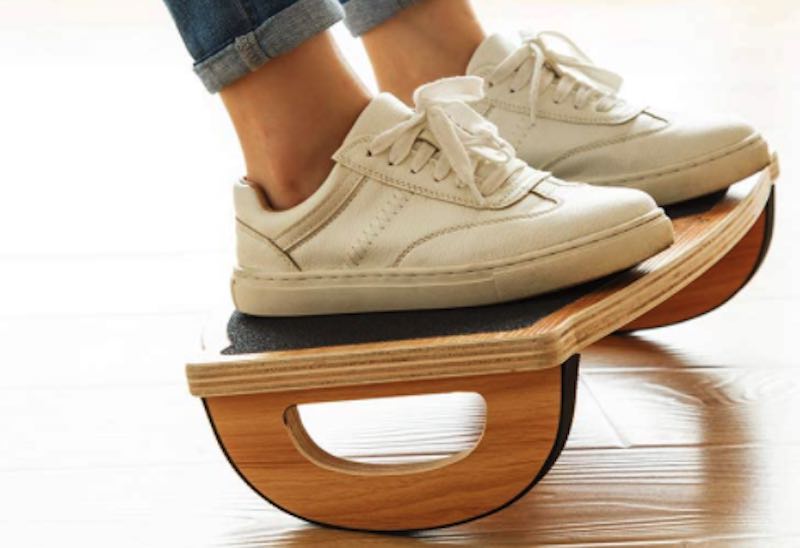 The slip-resistant surface has a grip surface that helps you maintain control to use the footrest for your full body weight at a standing desk.
Crafted from heavy-duty Lauan hardwood plywood, the Strong Tek will last a long time and help reduce the aches and pains from sitting for long periods. 
Features
Made from strong hardwood plywood
Anti-slip rubber grip bottoms
Non-slip surface
Rolls forward or backward
Can be used with sitting or standing
This adjustable under desk footrest for your home office has a variety of ways that you can adjust the footrest to support your feet, knees, and legs.
There are a four-level height adjustment and several tilt angles that allow you to find the right setting for your feet and legs.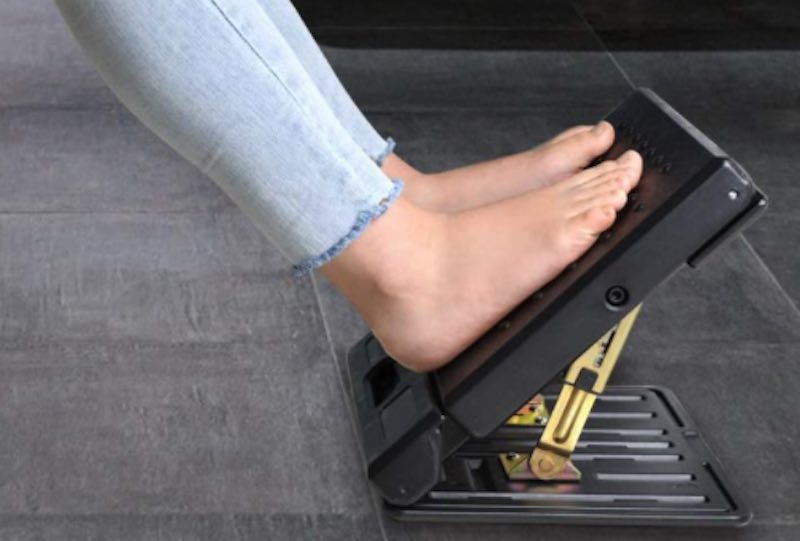 Non-slip pads on the feet of the rest keep it in place. With the way the footrest adjusts, you can place your feet on the rest or lay the backs of your legs along the rest.
The footrest also comes with a cushion that can be attached or detached. With the cushion on the footrest, you can support your legs and feet comfortably.
Features
Folds flat for storage or easy carrying
Four different height positions
Massage beads on the surface of the footrest
Cushion can be attached or detached from footrest
Easy to adjust between heights 
From Eureka, this ergonomic footrest for your home office is a rest that has a floating adjustment for 0 to 20 degrees. Use your feet to choose the angle that feels best for you.
The pebbled surface works great as a foot massage. The titling process has just enough resistance to give your calves a bit of a workout throughout your workday.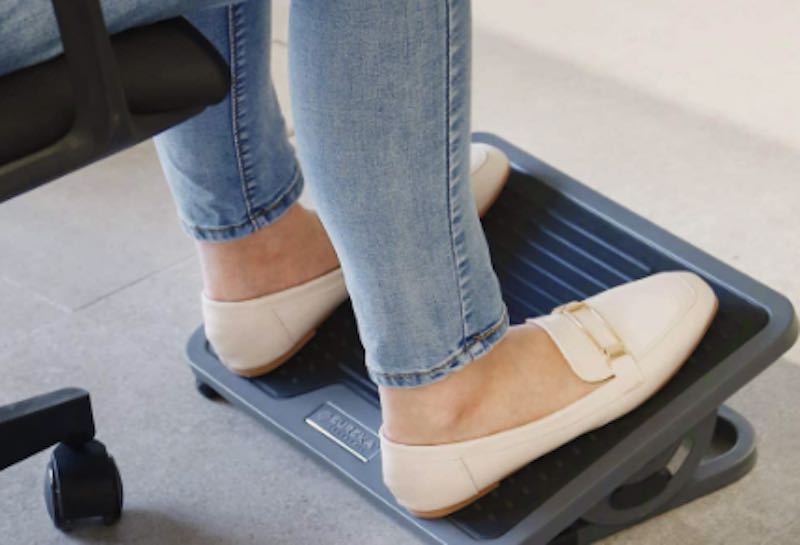 Support good posture and help alleviate leg fatigue during your workday. The sturdy and stable metal frame will give maximum stability to the Eureka footrest. 
Features
Surface massages your feet
Rocking motion prompts blood circulation
Rubber feet keep from scratching the floor
Grey and black color fit any decor
The Home Office – A More Static Environment
Many people who now work from home are new to the "home office." You might have thought it was a temporary move and that you would return to the office once the world normalized.
It now looks as if that process will take longer than thought and that some people's "new normal" will be working from home here on out. 
Very few people had a home office to set up shop in, and so just improvised with items they had on hand at home. In the past, you might have gotten up and walked down a hallway to consult with a colleague.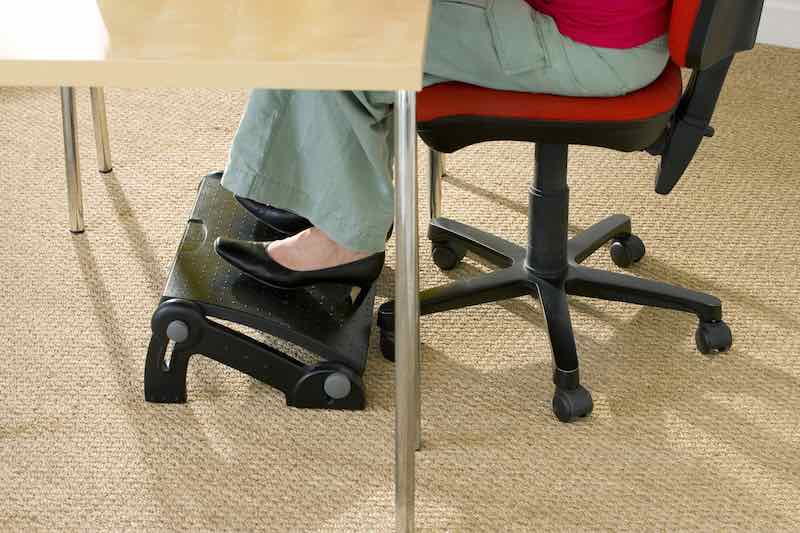 You may have left the building for lunch or gotten another type of physical activity during your workday. Now, you are moving less and are most likely in a smaller space than you were before.
While you are probably making do and have yourself set up at this point, it is still good to enhance your office equipment with a footrest for your home office. 
Home office ergonomics are essential to consider and remedy if you have an issue. Your body interacts with all of the office tools and the space that you work in.
Ignoring little aches, stiffness, or pain can lead to musculoskeletal disorders that can be hard to heal. You are working for a living, and it is not fun to work to pay medical bills related to not having ergonomic tools in your home office.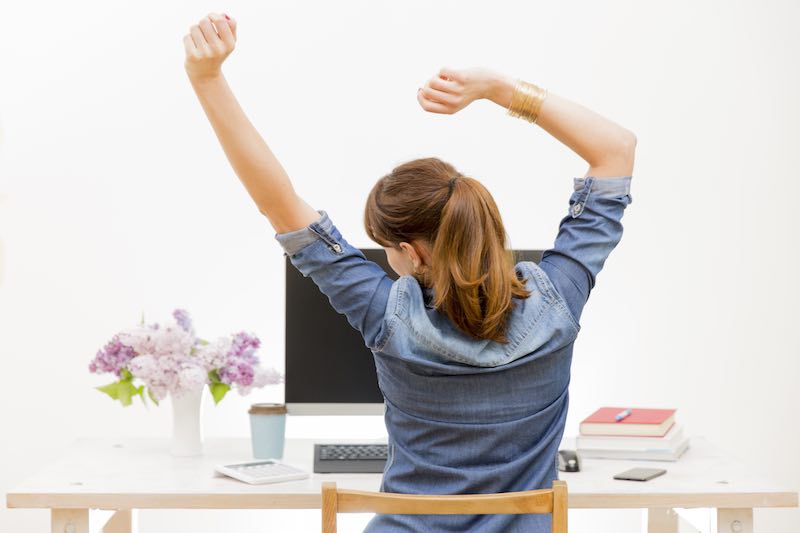 If you have an employer, they may be able to supply ergonomic tools, like a footrest for your home office.
If you are an independent contractor or freelancer, it may be your responsibility to secure those items yourself. It is in your best interest to give yourself every advantage when working from your home office.
Knowing that there are 10 Health Benefits of Ergonomic Office Furniture can save you from having physical issues because you don't have the right office tools. 
You want to avoid getting "office syndrome." It is vital to your good health to know what office syndrome is and how to prevent it.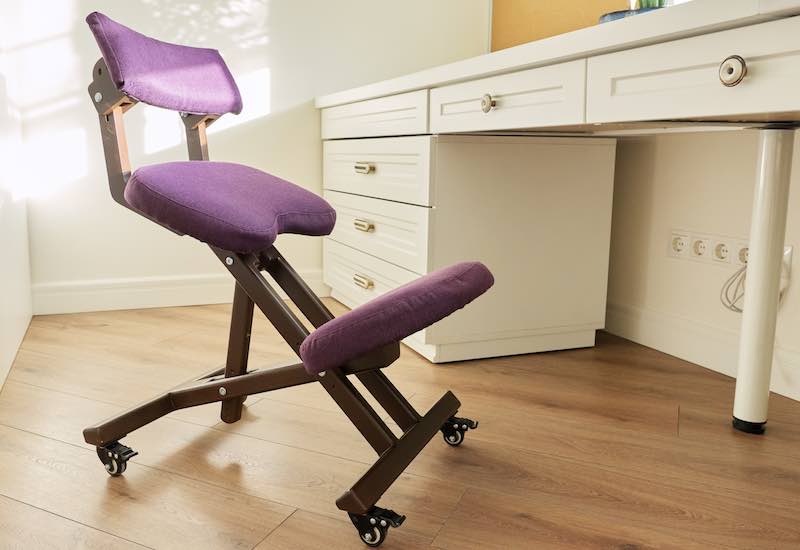 Office syndrome is the pain that is constant in your back, neck, hips, and shoulders. It does not seem like sitting for extended periods should be hazardous to your health, but it is. 
You know that continually sitting for hours on end is not the best thing for your physical health. It stresses both your body and your mind. It would be best to move away from your computer to stretch or stand every so often during the workday. 
The human body functions best when in motion. The Mayo Clinic recognizes that there are risks to sitting too much. 
Your body uses less energy when sitting, and extended sitting can lead to health concerns. Obesity, increased blood pressure, high blood sugar, and abnormal cholesterol levels are a few of the issues that can arise from extended sitting.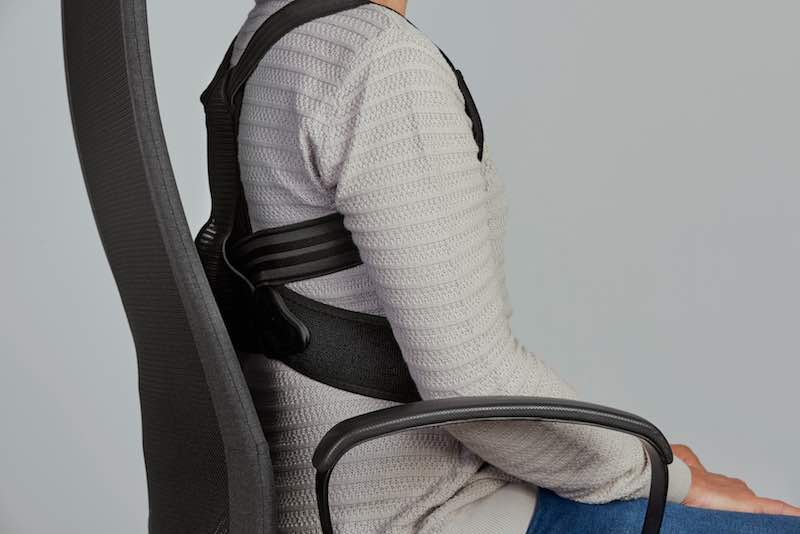 There are ergonomic office chairs that help you sit and stand desks that enable you to stand while working. Desk converters also get you on your feet and allow you to take advantage of a vertical position. 
There is another aspect of your physical health that needs attention, and that is your posture.
A straightforward and inexpensive way to help is by using an ergonomic footrest for correct posture.
It is a small item that can have a significant impact. Use this checklist to see how you are doing to achieve and maintain good posture: Correct Posture Checklist. 
Maintaining the right body posture helps to:
Protect your from musculoskeletal disorders
Improves blood circulation throughout your body
Decrease back and neck pain
Helps your muscles work more efficiently
Keeps you from developing "tech-neck," which is head down, slouching position
Improves your breathing
Reduces mental fatigue
When sitting for long periods, the critical things to an ideal posture are:
Keep your back as straight as possible.
Avoid rounding your shoulders or having them in the forward position.
Try not to arch or round your back.
Keep your shoulders relaxed and back.
Form an angle of 90 – 100 degrees with your elbows
Your knees should be at the height of your hips.
The thighs should form an angle of 90 – 100 degrees with your torso.
Your legs should be relaxed, uncrossed.
Calves need to form an angle of about 90- degrees with your thighs.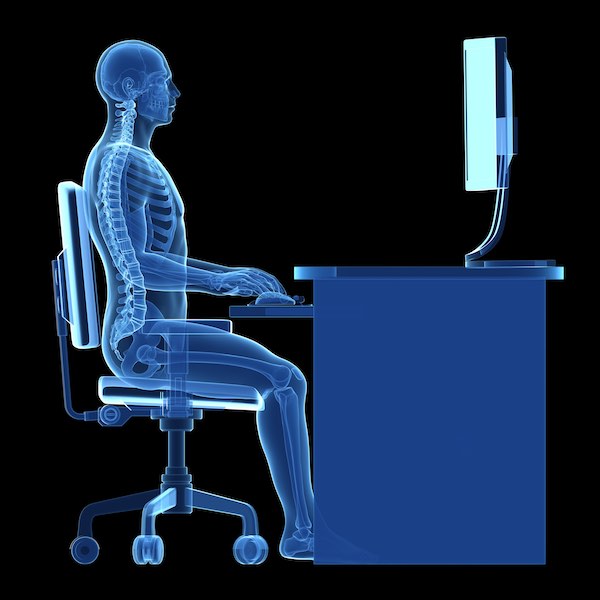 In 2018, the American Podiatric Medical Association: (APMA) surveyed 1,300 adults. They found that 75% of those surveyed had issues with their feet.
Some problems were just troublesome, while others were painful. Half of those surveyed said that their foot problems limit their activities in some way.
If you work from a home office, you might think that your feet will have little effect on the rest of your body since you are mainly sitting during the day.
But your feet will influence your posture, which impacts your back, hips, knees, shoulders, and neck. An ergonomic footrest will help you during your workday, and there are some other things you can do to promote healthy feet.
Wear Shoes That Fit Well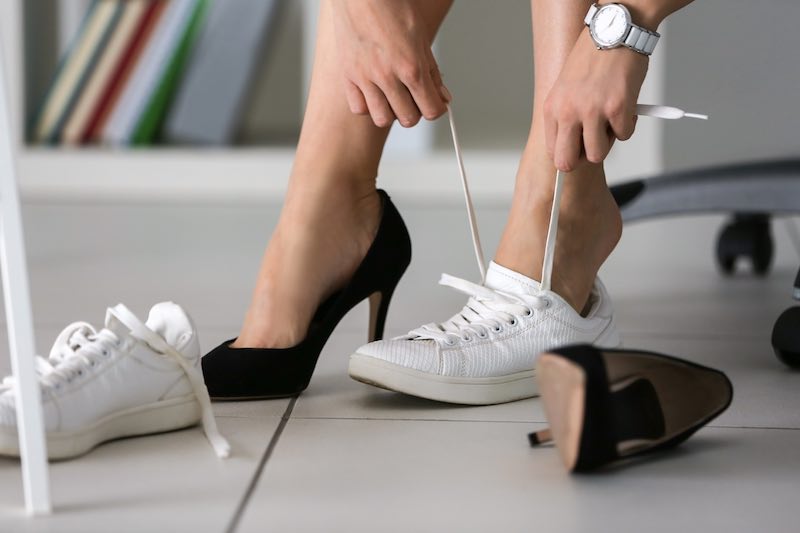 Foot pain affects the rest of your body, as you tend to move less when your feet hurt. A body in motion is healthier than sedentary, so check out your footwear if your feet hurt. 
Look for shoes that fit you well, provide cushioning, and are comfortable. It is best to swap out shoes rather than wearing the same shoes every day.
While working from a home office, you might tend to shed your shoes; make sure that they are not too tight, pointy, or high in the heels when you do wear them.
Periodically Soak Your Feet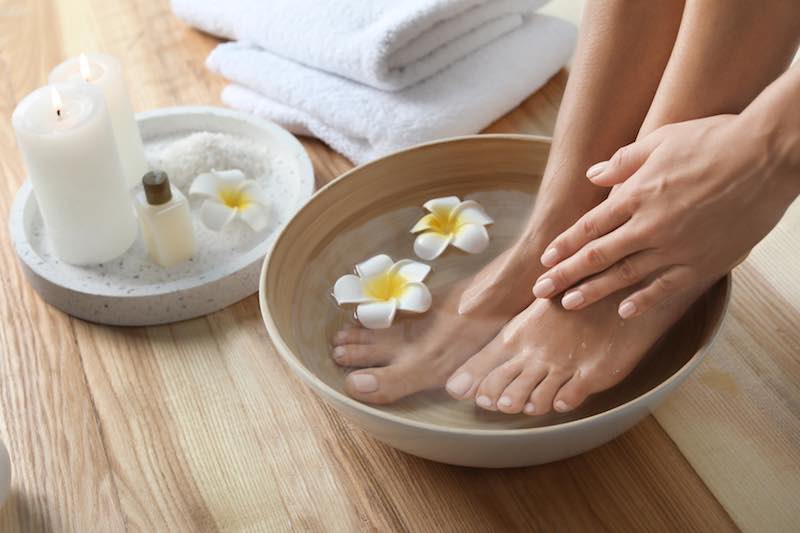 Soaking your feet regularly helps ward off harmful bacteria and fungal infections like athlete's foot.
A foot bath will soften up calloused skin and help to keep your skin smooth. Dry your feet thoroughly after washing, especially between your toes. 
Maintain a Healthy Weight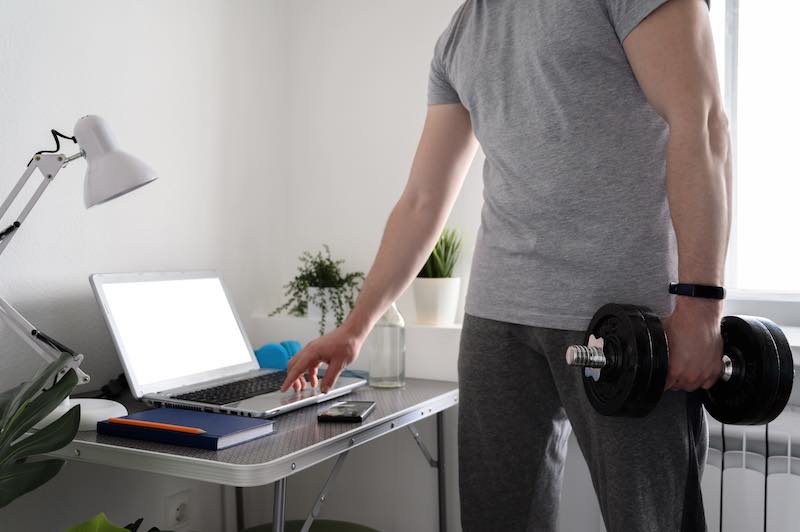 Foot pain and weight gain are often linked. The APMA says that in their 2018 survey, 74% of people who were overweight reported foot problems.
A person who is overweight can tend to experience heel pain, plantar fasciitis, and tendonitis. 
Change Your Socks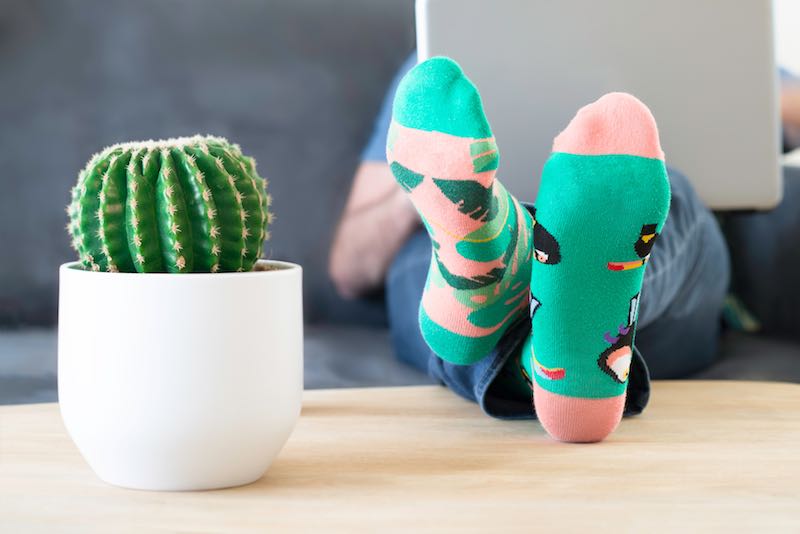 Wear clean socks every day to cut down on bacteria. Take your socks off once or twice during the day to let your feet air out.
Moisturize Your Feet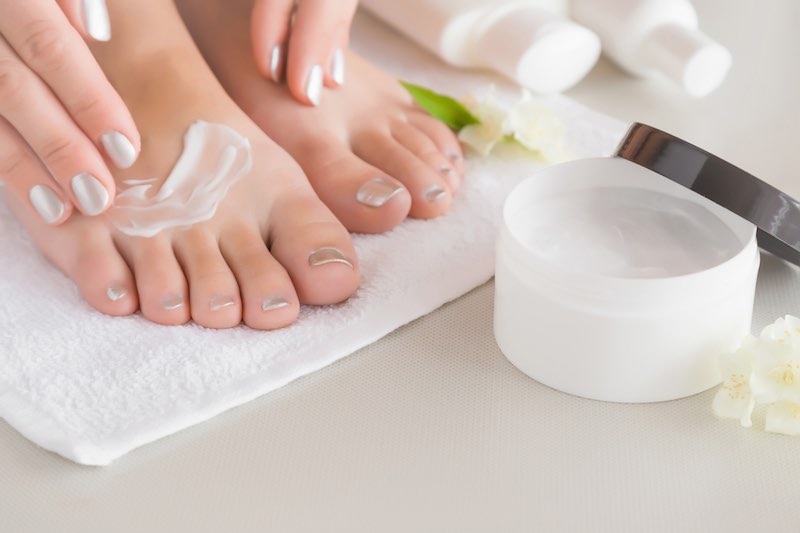 Keeping your feet moisturized with lotion or podiatric cream will keep the skin from drying out and cracking. It is best not to moisturize between your toes, as it can be counterproductive. Bacteria and fungi thrive in wet, moist environments. 
If You Have Foot Pain Consult an Expert
Occasional pain that goes away may not be an issue, but if it is persistent, consult a podiatrist, an orthopedist, or a physical therapist to diagnose and treat the problem. If the pain affects your daily life, it is time to get help.
In Conclusion
If you work from home, an ergonomic footrest is an easy, inexpensive piece of office equipment that can make working from home more comfortable.
An ergonomic footrest can help promote good posture and ward off back and neck pain. That makes this tool well worth having in your home office.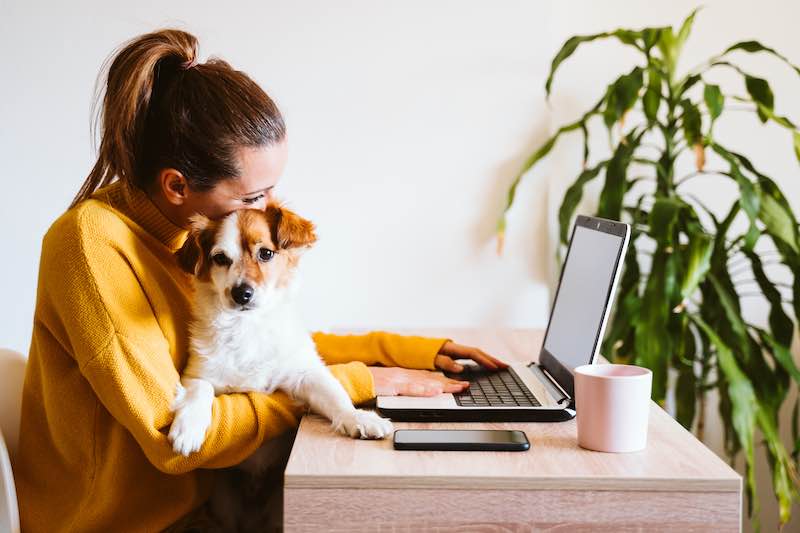 FAQ
Why is a footrest important?
By sitting with your feet dangling or at odd angles for extended periods, you can develop varicose veins. A footrest can reduce back tension and alleviate stress on your neck.
Can a footrest help if you have knee pain?
According to the Mayo Clinic, using a footrest can help with knee and joint pain, especially if your chair or desk's height does not allow you to rest your feet comfortably.
Are ergonomic footrests expensive?
No, they are not. Ergonomic footrests are under $75, and the majority are under $50. While cost is a factor when choosing, you save in the long run by avoiding pain and physical issues that might send you to the doctor.