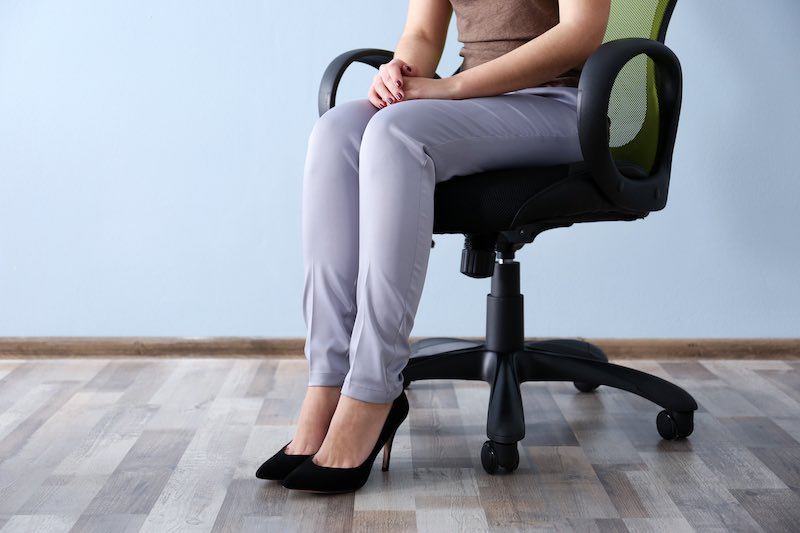 Our Pick Of the 10 Best Ergonomic Chairs Under $300
(Last Updated On: September 23, 2023)
The Importance of An Ergonomic Chair
If you spend hours at a time at a desk, you are probably no stranger to back pain. Improper support from your chair can lead to discomfort and can have long term consequences.
Preventing these issues can be as simple as upgrading your chair to one of the best ergonomic chairs available.
With a high-quality chair designed for ergonomic support, you can prevent back pain and give your spine the support it needs.
Ergonomic chairs are designed to provide users with proper support to improve posture and spinal alignment.
This helps to reduce pain and the chances of spinal problems later on in life.
It can also help existing problems from being aggravated by a lack of correct support. 
Please keep in mind that using an ergonomic chair does not exclude other ways to improve your posture, like posture correctors and physical exercise.
Our List of Best Ergonomic Chairs on a Budget
If you want an ergonomic chair that looks as good as it feels, this is the one for you.
The leather and PVC material comes in white, black or brown, and provides you with a sleek and stylish design.
You can tilt the chair forward or back to prevent or allow rocking, and the height can be adjusted four inches.
This chair comes with smooth-rolling casters to allow for easy movement, and a 360 degrees swivel to let you turn as much as needed at your desk.
It can handle up to 275 pounds in weight and comes with enough padding to make it perfect for home or work.
You also get a one-year limited warranty to make sure you are covered if something goes wrong.
Pros
360 degrees swivel
Can take up to 275 pounds in weight
Sleek leather finish
One year warranty
With fourteen different color and style options to choose from, there is something for everyone with this Flash Furniture ergonomic chair.
A ventilated mesh back provides you with lots of air flowing for the hotter days to prevent sweating or overheating while working.
Its back also provides you with support for all-day comfort and proper spinal alignment.
Padded armrests provide additional comfort for a well-needed break, and easily flip up to be out of the way when needed.
The seat itself is leather and has a waterfall front edge design to make it more comfortable for the knees.
You can easily adjust and lock the height of the chair, as well as utilize the tilt tension knob.
That will make it easier or harder to rock in the chair, depending on your preference.  
Pros
Good support for comfort and spinal alignment
Waterfall front edge design for comfortable knee resting 
Mesh back for ventilation
Tilt tension knob
Designed to align with the natural curve of your spine, this chair comes in four different colors and features a mesh back for ventilation.
You can use it all day long at home or work, and the airflow through the back creates a perfect mix of support and temperature regulation. You can rotate 360 degrees on a secure base, and easily roll from one spot to the next on high-quality wheels.
Armrests are included to provide comfort, as well as improve your general posture. You can adjust the height of the chair three and a half inches and can easily be adjusted and locked into place to secure your settings.
You also get a thirty-day money-back guarantee and a one year warranty.
Pros
Mesh back for ventilation
Aligns with your spine's natural curve
Secure and sturdy base
One year warranty
The Smugdesk chair is ideal for high quality, ergonomic chair for an affordable price. You get a perfectly designed chair for supporting your back and promoting proper posture, at a fraction of the cost of similar models.
The back is supportive for your spine, while also being breathable for higher airflow and ventilation. This will prevent overheating and keep you comfortable all day long.
A headrest and armrests make it easy to take a moment to yourself and relax, and a five claw base keeps you stable and steady.
This chair will hold up to three hundred pounds and can easily be adjusted to get the perfect height. There is also a 30-day money-back guarantee and a one year warranty.
Pros
Comes with a comfortable headrest
Mesh back for ventilation
Stable five claw base
Promotes proper posture
One year warranty
This sleek leather chair offers you style and support at a very affordable price.
You can choose between black, white, and brown PU leather to go with your home décor or office and a five claw base provides for extra stability.
The entire chair is over-padded to provide lots of cushioning for all-day use, and a waterfall front edge makes it more comfortable on your knees.
The chair is BIFIMA certified and can hold up to 250 pounds without issue. You can easily adjust and lock your height position and control the amount of tilt you want in your chair.
The chair can tilt up to 120 degrees and can rotate around 360 degrees. The entire thing is also constructed in the United States for quality assurance.
Pros
PU leather finish
Waterfall front edge for greater comfort
BIFIMA certified 
Designed to fit with the natural curve of your spine, the mesh back allows for you to lean into it without getting overheated or sweating.
This makes it perfect for all year use and hours on the job. The five claw base provides you with plenty of stability, while also making it easy to move on the caster wheels.
The armrests make it easy to get a relaxing minute to yourself while not letting you slouch or hurt your back.
The height is easily adjusted with a lever and locks in place when you find the perfect spot.
You can swivel 360 degrees and tilt up to 125 degrees. There is a one year warranty in case anything goes wrong and great customer service if you need it.
Pros
Mesh back for ventilation
Tilt-up to 125 degrees
Five claw base
One year warranty
If you need more than the average seat offers, then Big and Tall has you covered.
The seat is extra wide and offers more thickness in the padding to prevent flattening or deforming.
Five claws on the base create greater stability, and the 400 pound or 500-pound weight capacity makes it perfect for any size.
Padded armrests provide greater comfort, and a curved backrest makes it ideal for promoting better posture.
The backrest is also meshed to provide greater airflow and make it easier to stay cool. That means you can relax and not worry about sweating after hours in the chair.
You can easily adjust the height of your chair and lock it into place to stay where you want it.  
Pros
Greater weight capacity
Padded armrests and a curved backrest
Thick cushion seat
Mesh back for ventilation
Easy to assemble and control, this Duramont ergonomic chair is ideal for everyday use.
A headrest and armrests are included to provide extra comfort and support during downtime, and a mesh back makes it easy to let air flow and prevent overheating or sweating.  
Five claws are included to provide greater stability and the whole thing has a 330-pound weight capacity.
You can rest assured that the backrest will give you enough lumbar support, while also promoting better posture. The headrest is adjustable and gets the perfect placement.
You can also adjust the height and tilt of the chair by utilizing two different levers. The chair reclines up to 120 degrees, and there is a 90-day money-back guarantee.  
Pros
Reclines up to 120 degrees 
330-pound weight capacity
Mesh back for ventilation
90-day money-back guarantee
Features to Keep in Mind When Choosing an Ergonomic Chair
To make sure that you are getting the best ergonomic chair for your needs, there are certain features you need to consider.
Support
Ergonomic chairs need to provide you with quality support to create proper spinal alignment. Lumbar support will prevent back pain, and proper seat depth and height can make it easier on the knees, hips, and shoulders.
Stability
Stability is crucial in any chair, but especially one on wheels. You should look for high-quality construction that will be able to hold your weight and support you as you move.
Swivel base, castors, and adjustment locks all need to be functioning correctly and able to handle years of use.
Adjustability
Not everyone is the same height or build, so adjustability is crucial. From chair height to lumbar support and everything in between, you need to be able to customize it to work for your body and fit your needs. Otherwise, the ergonomic chair can end up being no better than a standard desk chair.
How to Adjust
Firstly, you will need to adjust the height of the chair. You want to create a ninety-degree angle with your forearms and shoulders to provide the proper posture when typing. You want your feet to be able to touch the ground and sit flat. 
Your thighs and feet should also create a ninety-degree angle. If you are very tall or short, you may also need to adjust the seat pan depth. This will allow you to gain the proper knee placement on the chair without being too far on or off the seat.
Lumbar support is a massive part of an ergonomic chair. Being able to properly align your spine with the curve of the chair will give you the best results and make it far more comfortable.
You can also adjust the arm and headrests to make sure that when you lean back to take a break, you are supported and comfortable.
Conclusion
In today's world, most of us spend hours a day at a desk.  It is crucial to have the proper support from your desk chair.
An ergonomic desk chair promotes greater overall comfort, including improved concentration and endurance through long hours of seated task work.
It is well worth the money spent to invest in a chair that will promote better health.