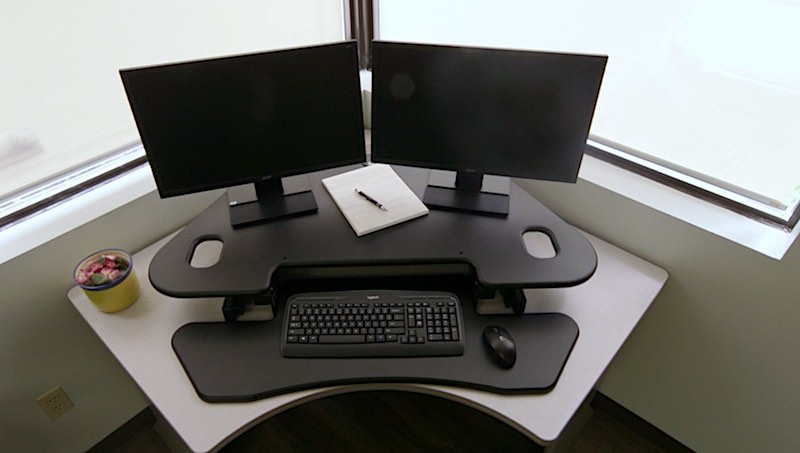 Best Height Adjustable Corner Standing Desk Converters
(Last Updated On: April 9, 2022)
Rather than sitting at a desk all day, the health benefits of standing are easily within your reach by using a height-adjustable corner standing desk converter.
A corner standing desk converter is an effective way to protect your well-being from a day spent in the ache inducing sitting position. 
You don't have to invest in a new desk, and you can move an adjustable corner standing desk converter to wherever you need it to be.
FlexiSpot Is The Best Corner Standing Desk Converter
In our opinion, the FlexiSpot corner desk converter is far and away the sturdiest and easily operated converter to have at your place of work or home office.
You will be able to stand comfortably at the FlexiSpot desk converter; whether you are five feet in height, six feet tall, or anywhere in between. 
This convenient converter has 12 different height levels to help you shift comfortably from sitting to standing and back again. 
The Flexispot has an easy one-handed adjustment to raise and lower the converter. 
A straight up and down movement for the desk converter means that the FlexiSpot does not increase its footprint when in the raised position, so you save space on your desk. 
An extra-deep keyboard tray will fit a large keyboard, mouse, and mousepad. A unique feature of the keyboard tray is that you can remove the tray if so desired.  
You will have enough space for two monitors and the converter will support up to 35 pounds. 
Although the FlexiSpot's design is for a corner desk, you can use it on a standard desk as well.
While the FlexiSpot is the least expensive of the corner standing desk converters that we reviewed, that is not why we chose it as the best. 
It was selected as the best desk converter because we agreed with the other almost 300 reviewers who gave the FlexiSpot a 4.8 star out of 5-star rating. 
So 86% of the people who purchased the Flexispot gave it the highest 5-star rating. 
It certainly speaks for itself when those using the standing desk converter rate it higher than the VariDesk, which is the most expensive converter. 
Features
Can be used with monitor arms
Designed for a corner desk, but can be used on most any desk
Supports 35 pounds
Straight up and down movement
Promotes better posture and less stress from constant sitting
The Rocelo desk converter will help ease the back pain and stiffness that comes from sitting all day at a desk. 
This converter saves space in a home office, too. Designed to work as a standing desk converter for a corner, this riser will do well wherever you place it. 
Built to optimize the space, the extra-wide 46″ work surface will hold two monitors or a laptop and includes a deep keyboard tray. 
Use this converter on the top of the corner of your desk or cubicle. Conserving space, the Rocelo moves straight up and down, not out towards you. 
That means that it takes up less space, and you don't have to reposition your standing area when the converter is in the up position. 
Position the riser to any height from five inches up to 18 inches to get the height that is right for you. 
Features
Grommet hole for cable management
With an additional monitor mount, you can install up to three monitors
Easy side paddle height adjustment levers
Supports 45 pounds
Gas Pistons provide smooth adjustments up and down
The VariDesk converter features a heavy weighted base that gives the entire unit greater stability. 
Made with thicker gauge steel and a durable 3D laminate finish, the VariDesk has a spring-assisted lift and patented form-wrapped steel mechanism that protects you from any pinch points. 
Position two monitors on the converter's upper level that has a lower tray for your keyboard and mouse. 
Height settings from 4.5 inches up to 17.5 inches will offer you the ability to choose the perfect height to work from when you are standing. 
The 36-inch wide corner model will give you the space needed and, at the same time, not take up much space on your desk. 
Features
No assembly required
Eleven height settings
Supports up to 35 pounds
Spring and air-piston lifts
Weighted for stability
Specifically designed to work in a corner, the Mount-It! converter is a very generous 48 inches in width. 
Gas springs help you to easily adjust the height from a low of seven inches up to 17 inches high. 
The keyboard tray will hold your keyboard and mouse side by side. A nice bonus is a slot on the converter that will hold your tablet or phone within easy reach. 
The triangle tabletop Mount-It! It has anti-slipping padding at the bottom to keep the workstation from sliding and protects your table or desk from scratches. 
The heavy-duty steel construction prevents wobbling while using. You can easily position two monitors or a monitor, laptop, and tablet on the converter's top level. 
Features
Comes in black or white
Supports 33 pounds
Eight height settings
Keyboard can is removable if desired
Adjustable Corner Standing Desk Converter Buying Guide
Alternatling between sitting and standing is a good choice for those who do most of their work on a computer at a desk. Here are a few things to consider when you shop for one. 
A Corner Desk Converter Is a Cost-Effective Solution
When you are looking for a corner standing desk converter, there are a few things to keep in mind. 
A desk converter's beauty is that you don't have to invest in a whole new desk; you can just use the desk you have now. 
My desk is my favorite. The drawers are the right size for all of the office supply items and all necessary files. 
I would not be a happy camper to give up the desk that works so well to get the benefits of standing off and on throughout the workday. 
Not only that, if you work from home, the cost of a standing desk would be on you. With a desk converter, you will be able to keep your current desk or worktop and they are within reach financially. 
It is the best of both worlds! You won't have to move, dispose of or donate the existing desk you are using; it can stay in place. 
When it comes to shipping, a desk converter can come right to your door, and the desk converters we reviewed are shipped free from Amazon.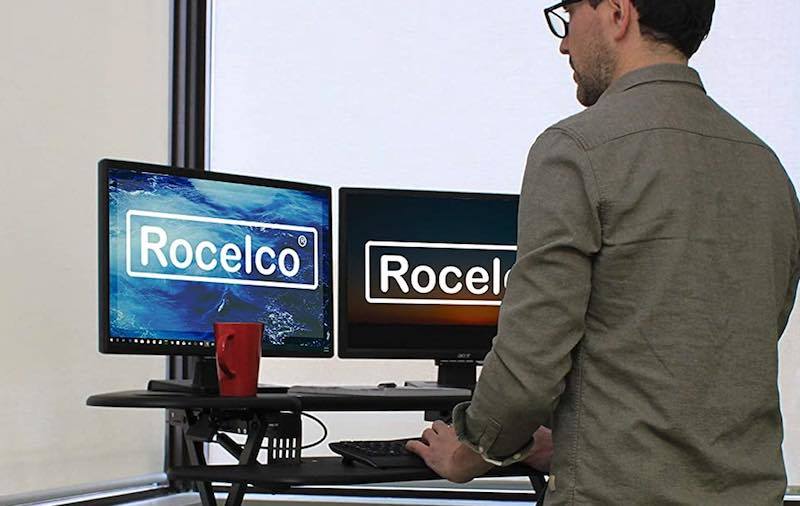 Check To See if Assembly Is Required
Unlike a standing desk, which can be large and bulky, most of the desk converters come in a package you can handle yourself and have minimal assembly.
You may need to clip the keyboard tray in place, but that is all required. Most desk converters do not require you to use any tools to assemble the unit and get it in place.
Check The Size of The Corner Desk Converter
The worst thing to do would be to get a converter that would not hold all of the items you need it to hold. 
It would be very frustrating to have a converter that held one monitor, and the other monitor had to stay desktop when raising the converter. 
You want the converter to be large enough to hold both monitors if you use two. 
Measure the space that the items you use now take up and ensure that the converter is at least that large. 
Some converters will accommodate a monitor arm, which would mean that space for two monitors would be negotiable. 
So if you like the converter, but it has a smaller desktop, check to see if it will hold a monitor arm as that would serve the purpose.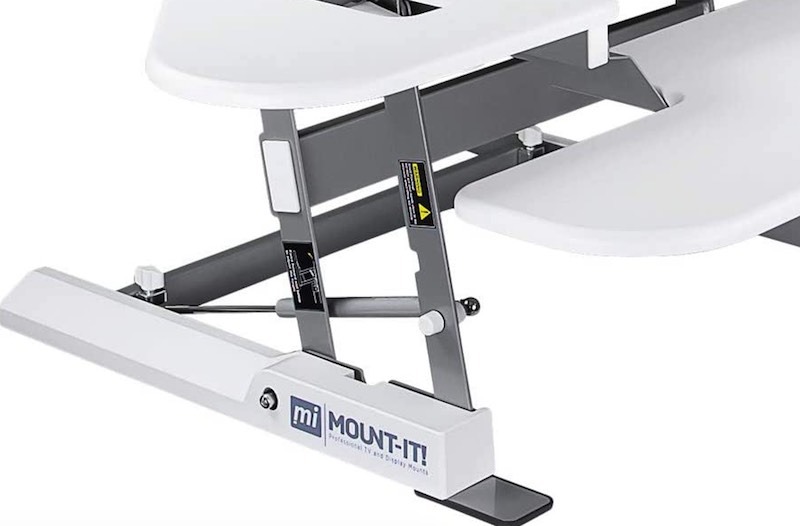 Check To See How The Corner Desk Converter Adjusts
Typically, the adjustable X type design seems to work more smoothly than a desk converter model that uses the Z type design to raise and lower the unit.
If your desk converter does not easily adjust, you will probably tend to spend more time sitting than if it was easy to use. 
The transition from sitting to standing should be effortless. It should also be easy to find your preferred height each time you use the converter.
Take Note of How High The Corner Desk Converter Will Rise
Most desk converters have the average person in mind. Some of the converters have predetermined heights, and others will allow you to stop at any position that best suits you. 
The majority of desk converters will accommodate for heights of up to 6′ 1″, but it is best to check before buying if the desk converter will rise to the height that you need.
Check To See Where The Release Is Located
Several reviewers using a desk converter complained that the location for release of their converter is on either side of the unit towards the back. 
This meant that to release and raise or lower the converter, they had to lean forward to do so. 
That was a pain in the back for most reviewers, especially those who were not very tall. The best spot for the releases to be located is along the sides near the unit's front.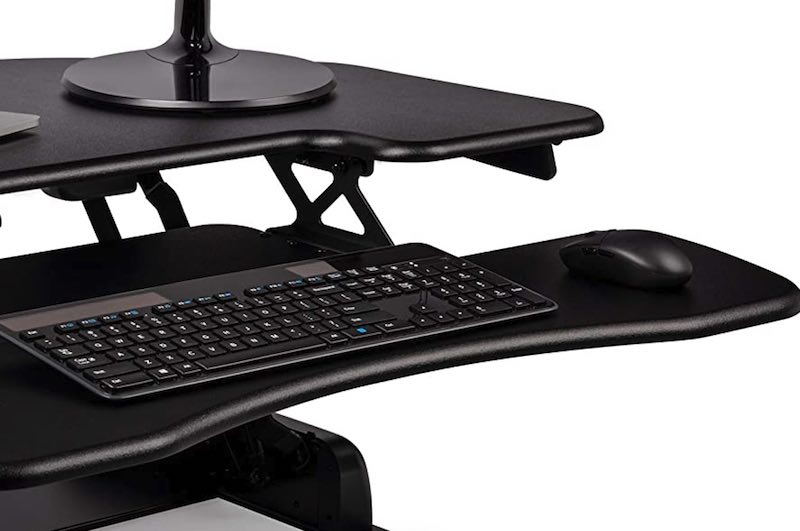 Does The Corner Desk Converter Raise Straight Up Or Towards You?
The real estate of your desk may be limited, as most of them are. If you decide to purchase a corner desk converter, you will want one that raises straight up rather than out towards you. 
This function takes up less space on your desk. By raising straight up, there is no need to move items on the desk or change your own position once you are standing. 
A Corner Desk Converter Should Be Sturdy
An average computer monitor weighs about ten pounds and some are less than that. 
If you figure ten pounds on average, and you are going to want to use a corner desk converter for two monitors, the very least amount of weight the converter should be able to hold is 20 pounds. 
The weight of the equipment on the converter directly impacts how easy it raises and lowers., so make sure you know before purchasing how much weight you will need to support.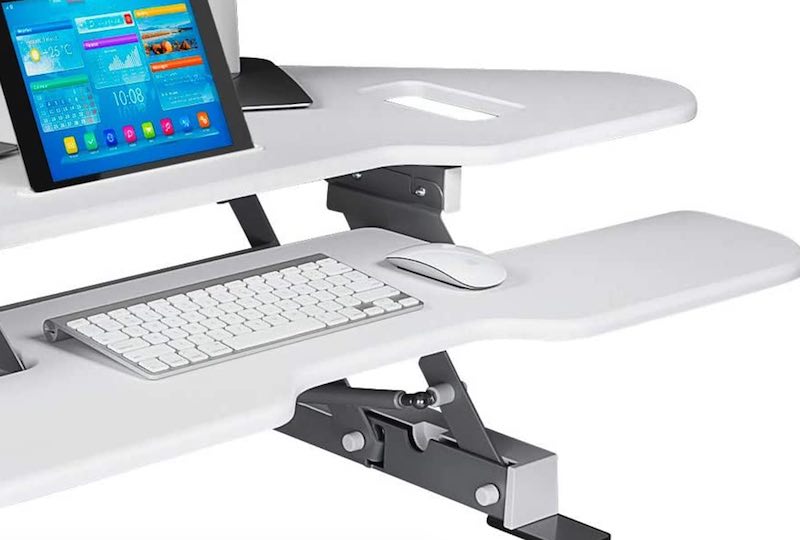 Do You Need Any Special Features With Your Corner Desk Converter?
Some desk converters come with a place for your smartphone or tablet. Others will hold a laptop to the best advantage. 
Before purchasing a desk converter, consider the way you work, the tools you use, and choose a converter with those features that easily and efficiently help you get the job done.
Are There Health Ramifications To Sitting Most of The Day?
Is having an adjustable corner desk converter just a matter of convenience? That is nice to have if you just get tired of sitting all day and want a momentary change of position? 
There are various opinions, but most studies show that being sedentary can be hard on your health and explain why sitting is bad for you.
Is Sitting The New Smoking?
According to Dr. James Levine, a professor of medicine at the Mayo Clinic, sitting is the new smoking.
Dr. Levine feels that "the chair is out to kill us."  And he may well be right. 
Dr. Levine estimates that in the United States, we spend more than half of our waking hours sitting down. It might be watching TV, driving, or sitting at a desk at work or home. 
He is a big advocate for Standing Desks in the workplace and at home. 
Dr. Levine is not the only one who feels we need to get off our duffs. 'Get Up!' or lose hours of your life every day, scientists say in an LA Times article. 
And while their estimation of the damage done seems hard to fathom, there is no doubt that less sitting and more standing will aid your body in a lot of ways. 
The former director of NASA's Life Sciences Division, Dr. Joan Vernikos, is the author of "Sitting Kills, Moving Heals,"  
Dr. Joan says that the body is a perpetual motion machine and that people need to move throughout the day.
Those who work out might think that the workout will negate the times of sitting, but these doctors say that research shows that is not the case.
Professor Marc Hamilton, Ph.D., from the Pennington Biomedical Research Center, tells Men's Health, "the cure for too much sitting isn't more exercise." 
"Exercise is good, of course, but the average person could never do enough to counteract the effect of hours and hours of chair time."
Katy Bowman, a scientist and author of the book: "Move Your DNA," says that "you can't offset 10 hours of stillness with one hour of exercise."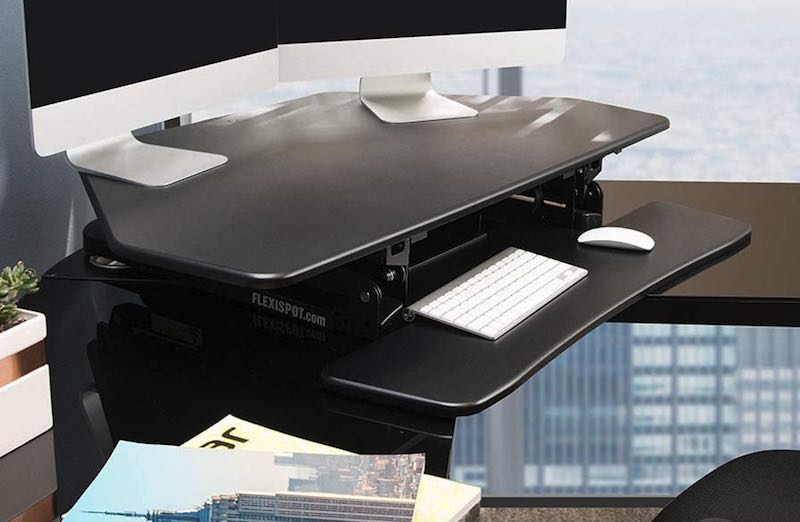 Sitting And the Increased Chance of Being Overweight
On average, you burn 50 calories an hour when you stand rather than sit. If you stand for just three hours every day, five days out of the week, that will add up to 750 calories that you will burn. 
In a year's time, it will be a whopping 30,000 calories that you have burned. Those many calories can translate to nine pounds. 
If you sat all the time instead and were to gain instead of lose that nine pounds each year for just five years, you would be 45 pounds overweight. 
Continue on that trajectory, and you can see how it would add up over the years.
Back, Neck, and Sciatica Pain From Sitting
According to the National Institute of Arthritis and Musculoskeletal and Skin Diseases (NIAMS), back pain is one of Americans' most common health problems. 
One in four people will experience back pain one day out of every three months.  
It is not surprising when Cornell University Department of Ergonomic researchers found that up to 90% more pressure is applied to your lower back when you are sitting versus when you are standing. 
Some Great Thinkers And Large Companies Support Standing At Your Desk
If you are seriously considering using a desk converter, you are in good company. 
Thomas Jefferson, Ben Franklin, Ernest Hemingway, Leonardo DaVinci, and Winston Churchill all stood at their desks. 
The National Institutes of Health, the United Nations Secretariat, and the Federal Reserve Bank all have standing desks for their employees. 
The corner desk converter will do the same thing, be less expensive and cumbersome, and it is easier to move if you move.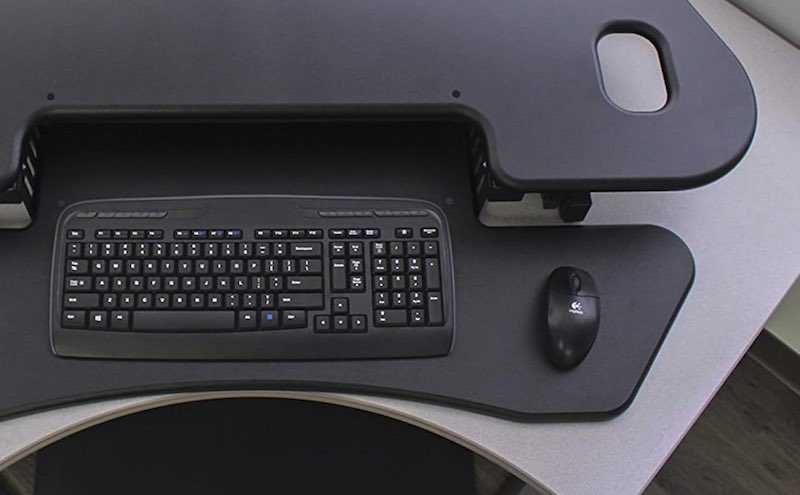 Transitioning From Sitting To A Corner Desk Converter
Know beforehand that, as with any new activity, transition yourself slowly into standing throughout your work day. Give your body time to adjust to your new habit. 
You might want to start out by setting an alert on your phone that reminds you to raise your desk converter and stand up for a few minutes every hour or so. 
As your body adjusts to the new regime, lengthen the amount of time you are standing. The ideal way to start is with a 50:50 ratio. 
The more frequently your alternate between sitting and standing, the more benefit you get. 
If you alternate every half hour or so, you will get more benefits than standing for four hours and sitting for four hours, although both are a 50:50 ratio.
In Conclusion
All of the studies and research shows that it does not do your body good to sit most of the day, day after day. 
The cost of an adjustable corner desk converter is a small price to pay to help your body get some of the motion and circulation that you need. 
You will feel better and be more productive by changing your position from sitting to standing throughout your workday.
FAQ
Do you need to bolt a desk converter to the top of a desk?
No, you do not need to bolt a desk converter to a desk. Choose a converter that raises straight up and down rather than one that moves toward you when you lift it. Look for a converter that is of sturdy construction, too.
Does a monitor have to be clamped to the converter?
No, your monitor can sit freely on the converter top, or you can also purchase and clamp a monitor arm onto the desk converter.
Is it unhealthy to sit all day?
Yes. Experts will recommend that a person get up every 20 to 30 minutes throughout the day. 
It does not matter what type of activity you get up to do, but the movement will help prevent problems from extended periods of inactivity.