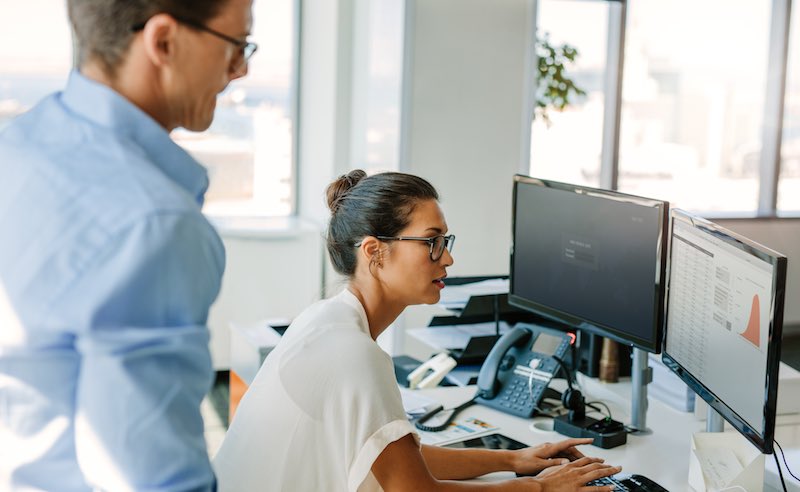 Top 5 Monitor Arm Stands. More Flexibility For The Minimal Office
(Last Updated On: April 9, 2022)
More Computers Than Ever!
The 1984 Current Population Survey (CPS) found that the number of households with a computer in the United States was at 8%.  Fast forward to 2016, and according to the American Community Survey, which is conducted by the U.S. Census Bureau, that percentage had grown to over 85%.
Whether you own a home computer or use one at work, your monitor is like the steering wheel in a car.  You won't be able to go anywhere on your computer without one.  
Our Reviews Of Top 5 Monitor Arm Stands
We have reviewed monitor arms, and have given our findings below. 
One of the newest features of the VIVO dual monitor arm stand is the ability to raise or lower the height of each monitor within a range of 1-inch. This eliminates the annoyance of unaligned monitors.
The stand has six top joints with 180-degree articulation and can be tightened to make the arms as fluid or stationary as desired. This movement gives users the freedom to place monitors in the most comfortable viewing position.
FITS 13″ TO 27″ SCREENS – Dual monitor mount fitting two screens 13" to 27" in size and 22 lbs in weight 
ORIENTATIONS: Monitors can be placed in portrait or landscape orientation.
FULL ARTICULATION – Adjustable arm offers +45° to -45° tilt, 180° swivel, 360° rotation, and height adjustment along the center pole. 
HEAVY-DUTY BASE – Measures 10″ by 12.5″ providing solid stability while monitors are held within its center of gravity. 
INTEGRATED CABLE MANAGEMENT – Keep your power and AV cables organized with detachable cable clips on the arms and center pole.
EASY INSTALLATION – Mounting your monitor is a simple process with removable VESA plates. We provide all the necessary tools and hardware for assembly.
The single-arm mount attaches to the back of your desk to free up space. The sleek black finish frame constructed of aluminum steel fits any traditional or modern space.
It firmly secures your monitor in a suspended position for better sight alignment. The mounting bracket fits most 13″ to 27″ monitors up to 22 lb in weight.
FITS 13″ TO 27″ SCREENS – Single monitor mount fitting most screens 13″ to 27″ in size and 22 lbs in weight. Mount to your desk with a heavy-duty C-clamp or optional grommet.
ARTICULATION & HEIGHT ADJUSTMENT – Adjustable arm offers +15° to -15° tilt, 360° swivel, 360° rotation, and height adjustment along the center pole. The monitor can be placed in portrait or landscape orientation.
INTEGRATED CABLE MANAGEMENT – Keep your power and AV cables clean and organized with detachable cable clips on the arms and center pole.
EASY INSTALLATION – Mounting your monitor is a simple process with detachable VESA plates. We provide all the necessary hardware and instructions for easy assembly.
WE'VE GOT YOU COVERED – Sturdy steel design is backed with a three-year warranty 
The gas spring arms on this dual monitor stand allow you to adjust the height smoothly and easily. Each joint of the arm is adjustable.
You can make your monitor tilt from -50° to +30°, swivel from -90° to +90° and rotate a full 360°. This stand also allows for your monitor to be switched from landscape to portrait mode with ease.
GAS SPRING ARM & HEIGHT ADJUSTMENT – Has a built-in premium gas spring. This dual monitor stand allows your monitors freely to stay at any height you adjust. Please note to adjust it to proper tension
UNIVERSAL COMPATIBILITY & 2 MOUNTING OPTIONS– This stand fits 17 to 27-inch monitors in most brands in the market, compatible with 75×75 and 100×100 VESA mounting pattern. Each arm holds 4.4 to 14.3 lbs; support both clamp and grommet mounting
FULL MOTION ADJUSTMENTS & OPTIMAL VIEW – Articulating arms are adjustable at each joint and allows your monitors tilt from -50° to +35°, swivel from -90° to +90°, and 360° rotation. 
FREE UP SPACE ON DESKTOP – Hold two monitors on one stand mounted on the edge of the desk or through the grommet hole.
ERGONOMIC MONITOR RISER – Raise monitors to eye level, improving posture and reducing strain on the neck, shoulder, and back.
EleTab monitor arm stand provides smooth, precise, and stable viewing angle adjustment for the optimal viewing position.
Free up more space on your desk by lifting the monitor higher off the desk, and also, you can easily share screens with coworkers. You can keep cables neat and organized with detachable cable clips on the arms.
ERGONOMIC: The dual monitor stand provides high stability adjustment, and 360° rotation angle adjustment meets the requirements of ergonomics and healthy work methods.
COMPATIBLE: The monitor arm is suitable for mounting most screens 17″-32″ in size and 17.6 lbs in weight and is compatible with 75 x 75 mm and 100 x 100 mm VESA.
MANAGE CABLES: Removable cable clamps keep the tabletop organized. They provide an elegant tabletop and stylish appearance for the most comfortable working environment.
SPRING ASSISTED: Make the monitor move up and down easily and steadily. It supports portrait or landscape monitor orientation for increased visibility and reduced glare.
STURDY CONSTRUCTION: Heavy-duty C-Clamp or Grommet Mount installation methods ensure the stability of the display arm and prevent rattling and tilting.
This monitor arm stand goes the extra mile by accommodating three monitors! You can create an efficient workspace with triple screens. Heavy-duty steel and aluminum construction can hold three 32″ monitors.
Height adjustable, full-motion design lets you work in a more comfortable ergonomic position. Quickly tilt, swivel, and rotate your screens as needed.
The base includes built-in USB, audio, and microphone ports that can be connected to your CPU. An integrated cable management system keeps cords organized.
UNIVERSAL TRIPLE MONITOR DESK MOUNT: Fits 3 displays 24 25 26 27 28 29 30 31 32 inches in size.  The maximum support weight is 15.4 pounds each. It uses the 75x75mm or 100x100mm VESA square bolt hole pattern found on the back of the monitors. 
FEATURES: Triple monitor stand has counter-balanced gas spring arms for effortless adjustments. It features (1) USB 3.0 port, (1) audio port, and matching extension cables for each. 
FULLY ADJUSTABLE: Three monitors stand outer arms can tilt up and down 90 degrees, swivel 360 degrees left and right, raise and lower. Also, the monitors can be rotated and placed in portrait or landscape orientation independent of one another. 
EASY INSTALLATION: Triple monitor stand comes with all mounting hardware, tools. The instructions necessary for assembly are included as well. Quick-detach VESA plates come off with a push of a button and re-mount by simply sliding back on until they click in place. 
5-YEAR WARRANTY: Comes with a 5-year warranty.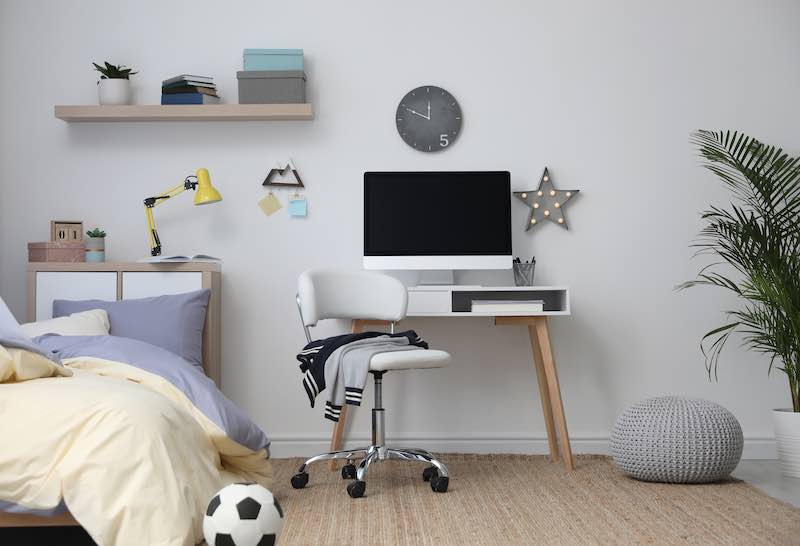 Why You Need A Computer Monitor Arm Stand
While needing a monitor might be obvious, so too, having a computer monitor arm is fast becoming a must-have.  
Desk Space
Space is often at a minimum, and a monitor can eat up a lot of space.  Some jobs require the worker to have dual monitors, both out of necessity and convenience. 
That can decrease valuable surface space and increase irritation.  There is just so much space, and no more, both at work and at home. 
Monitor arms free up workspace by elevating the monitor of the desktop. Some arms are attached to the desk itself, while others can be mounted on the wall.  
Those working in offices where space is limited, know first hand that every inch of real estate is valuable.  Not having enough desktop for the phone, file holders, and the computer itself can be a cause for extra stress.  
One has to pull the monitor closer, push it to the side, angle it for others to see, and generally adjust it off and on all day long. All this by moving all the other items out of the way each time. A monitor arm goes a long way to solve this daily struggle.
Office Ergonomics
So while freeing up limited space is one good reason for using a monitor arm, there is another reason to use one of these essential tools.  And that is where office ergonomics comes in.
When you think of ergonomics and the office, you probably think about your office chair or your adjustable desk.  A monitor arm is another object in the office that needs to be ergonomically correct.  
When viewing content on a monitor screen, it is ergonomically best that the monitor is at eye level, and the screen is at arm's length.  Your eye level should be two to three inches lower than that of the screen.
It has been shown that human eyes have a better capacity to see more clearly below the horizon line than above it. With an adjustable monitor arm, you can achieve just the right level. 
Once you can position your monitor in the best position for your viewing, you will also decrease the strain on your neck. 
There will be less of the aching, knotted up shoulders that tend to take place as you physically try to find the best position regarding your monitor. 
Monitor Customization
Another advantage is that an arm allows you to make any number of adjustments to the height, depth, and angle to the monitor. 
The user will have the ability to switch between landscape or portrait mode, even between two monitors individually.  
Also, one can customize the workstation and the working style. You can also swivel your monitor to share information with co-workers or clients, a definite plus.
Conclusion
We have come a long way from the 8% computer ownership of the 80"s.  It is out of the ordinary today if someone does NOT have a computer.  Just as that has evolved, so has how we set up our computers and monitors. 
The cost of the monitor arm stands had significantly decreased from when they first were introduced on the market.  They are now affordable, and worth the benefits you will gain from them.