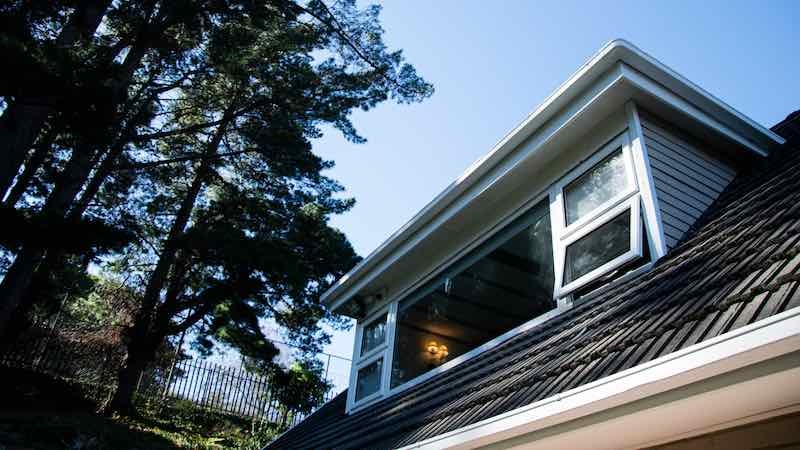 Attic Home Office Ideas. Reimagine That Old Place And Create A Home Office You'll Love!
(Last Updated On: April 9, 2022)
If you have one, attic home office ideas should be on your "to-do" list if you work from home. You may have already been working from home and plan to continue doing so in the future and you just need more space. 
Many employers have discovered that there are numerous advantages to having remote workers, working from home.
If you haven't already done so, now is the time to set aside that area of your home – and if your house has an attic, this is often underutilized space. 
A space-saving home office would be ideal for you! We have put together some attic home office decorating ideas that will make your attic office your favorite place to be (well, almost!).
1. Crisp, Brisk, and Clean.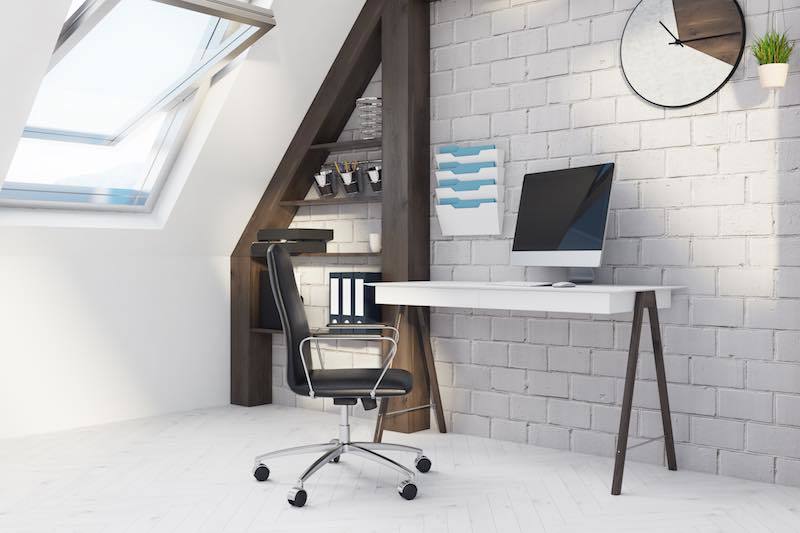 The space is reflective of a bracing winter wind that is both cool and refreshing. Clean lines reflect light back to you, and the sparse details bring a calm and collected feel to this attic office. 
You will be able to imagine that you are in a private office hideaway located in a Scandinavian alp, where no interruptions intrude and the uncluttered space enables you to be super productive.
2. Light, Warm and Appealing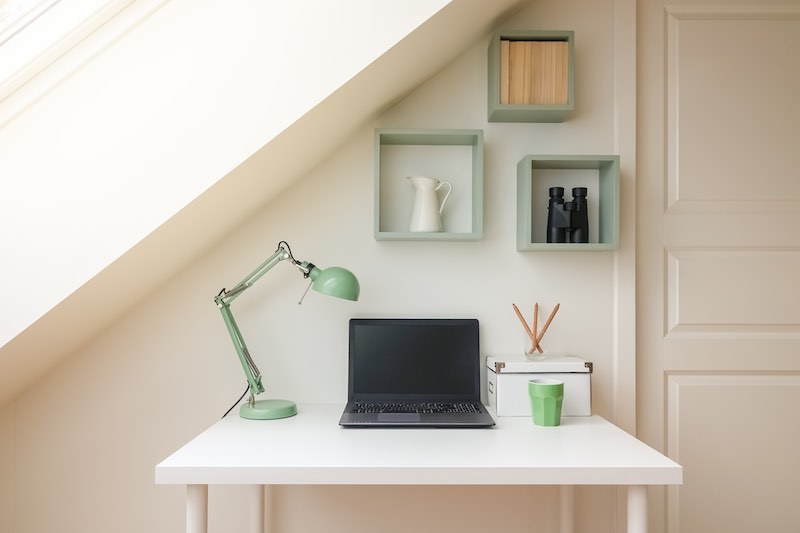 You will feel like you've been wrapped in your own cozy cocoon in this under-the-eaves office. 
Neutral colors bask you in a warmth that does not compete for your attention but allows you to set your own pace. 
This cozy office retreat will be a soothing backdrop as you navigate through your workday.
3. Industrial Improvization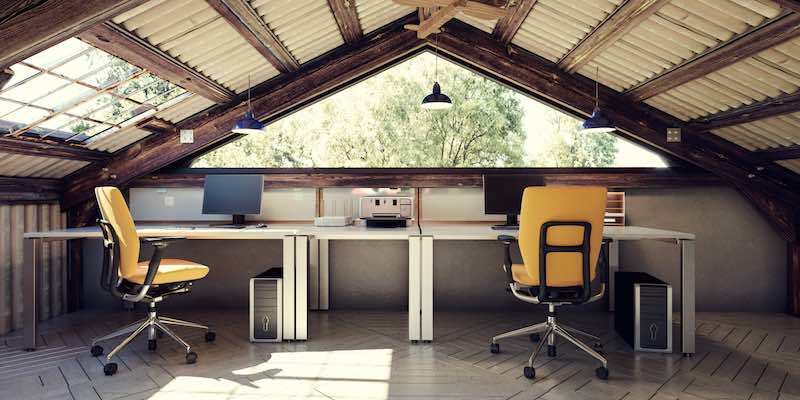 A fantastic look that combines rugged yet utilitarian aspects of design. An industrial look office in your attic will lend itself to all manner of decorating options. 
Always a popular choice, the industrial style can borrow items from any era and blend them together in perfect harmony. 
Your industrial office will be an exciting and evolving space that will always look fresh. 
An under the roof space is the perfect backdrop for you to improvise with the industrial vibe 
4. Old Playroom Style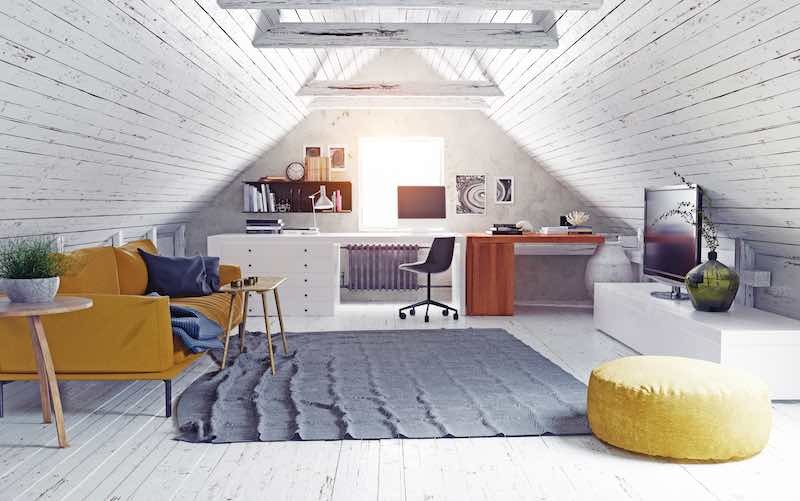 Yes, you may have grown-up responsibilities, but because you ARE the grown-up, there is nothing to stop you from indulging in a bit of whimsy. 
When you create your attic office, give yourself permission to have that space be a kick-back place with a relaxed atmosphere. 
It is the perfect blend of working from the couch, catching up on the news, or thinking through a quandary while lounging in the bean bag. 
You're the boss in your attic office, so get your work done, but have fun while doing so!
5. Maximum Light – Minimum Distractions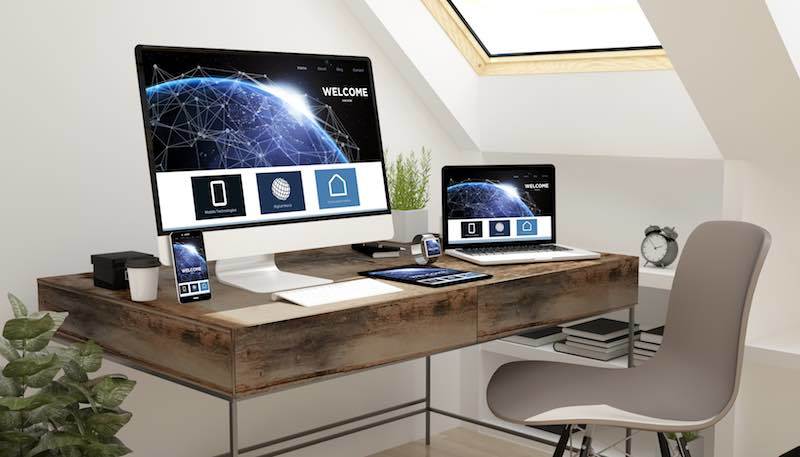 Let the light shine in! Rather than feeling cramped and shut away in an attic office, bring the light with you to your workspace. 
Even if your square footage is limited, having light streaming in will instantly give the feel of expansion to your office. 
It is as easy as adding a skylight that will flood the space with welcome light that brings breadth and openness to your work area. 
You will be surprised at how the ambient light allows you to focus and reduces distractions.
6. The Hiding Place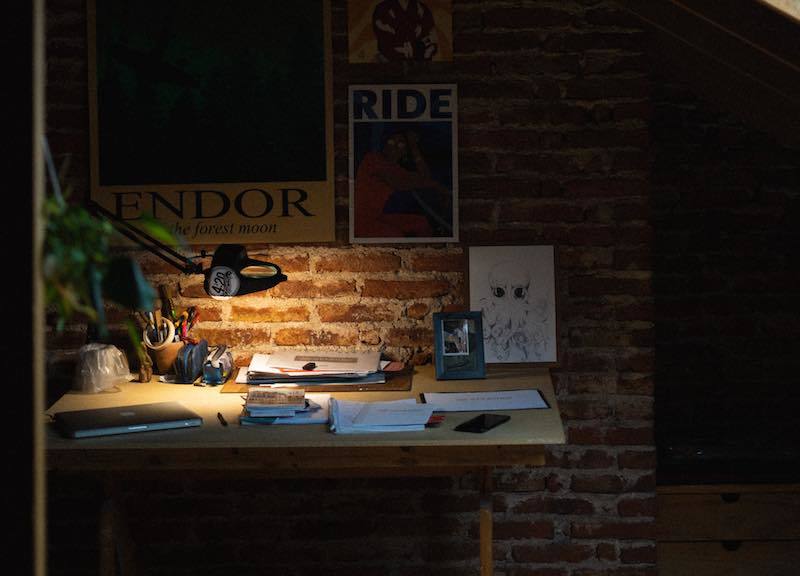 Who wouldn't love their own secret hideaway under the eaves? This designated spot can be yours alone with entry by invitation only!
This is the spot where no interruptions are allowed, and your workspace is safe from invasion. 
Make it your own with fun items like a poster from your favorite concert, a fish tank, or anything else that shows your quirky side. 
Your attic office can be your own uninvadable spot where you can concentrate and make the magic happen!
7. Creativity Space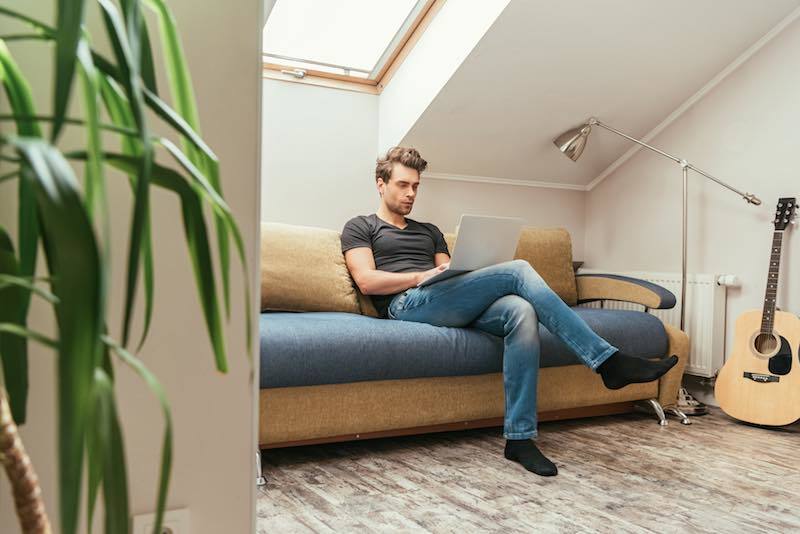 Need a place that lets those creative energies flow? Tuck yourself up in the attic! 
It is amazing how being at the uppermost spot in the house gives you a feeling of being above the fray and free from the mundane. 
Your only responsibility in this attic office is to tap into those innovative thoughts and ideas.
8. Classic (ish) Attic Home Office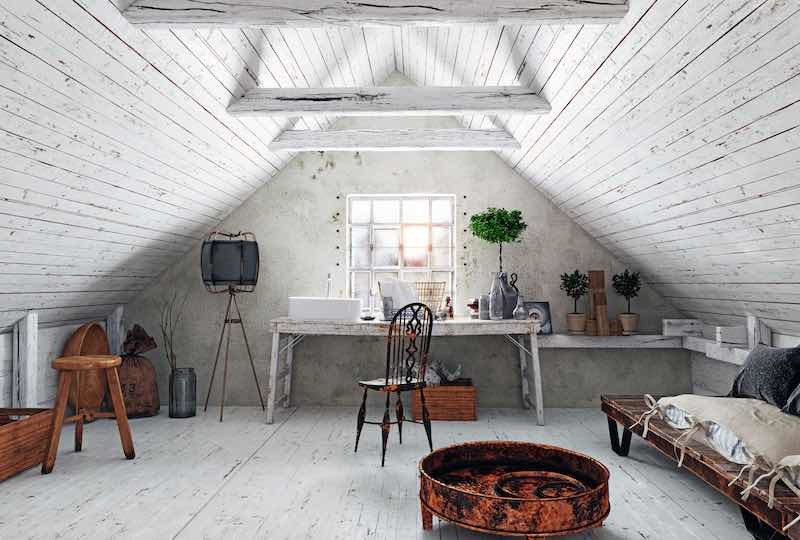 Classic is what you make it. Classic can be defined as first-rate, superior, perfect, and vintage. 
You can make your office in the attic all of those things by adding your classic personal touches. In this space, what you say goes. 
Your idea of a classic is the only one that counts as you make this office space into one that espouses timelessness.
9. Personal Space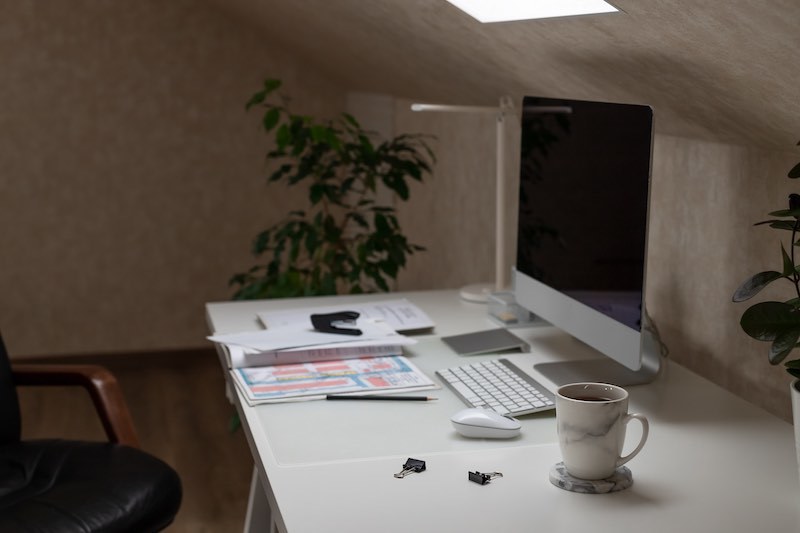 This is the best kind of space of them all! Personal space can be just as it sounds: You've made your own unique mark on the area. 
Having an attic office allows you to do just that. It will be a space that company and regular family foot traffic will not invade. 
It can be as minimal or as elaborate as you want to make it. This is the spot to make as wild or as subdued as the notion takes you. 
Because it is your personal spot, you can change it whenever and however you like!
10. Vintage Minimal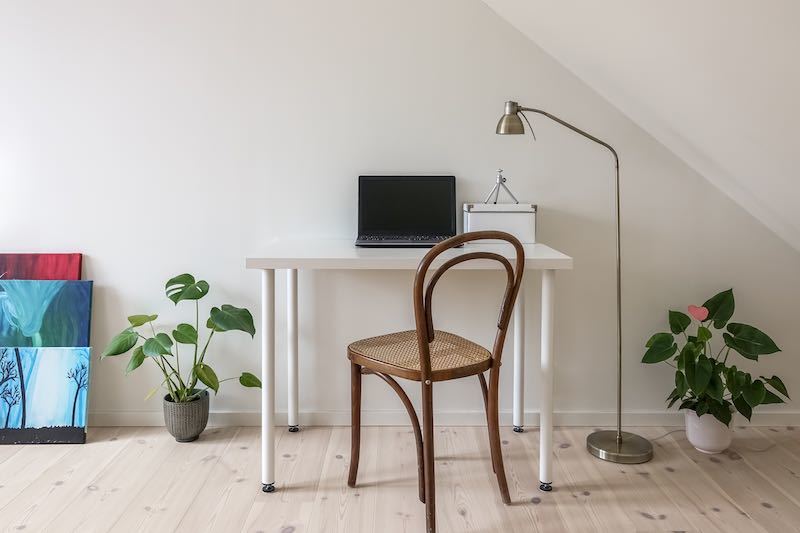 A vintage attic office is one of the easiest to decorate and the least expensive too! Go for a minimalist, vintage look by first visiting your local thrift shop. 
There is a never-ending supply of inexpensive decorations that can be funky, retro, or straight-up vintage. 
Bring in an eclectic look with items looking for a new home and a second shot to enhance your workspace. 
Look for a few things that appeal to your quirky or nostalgic side, and bring them home to adorn your attic office.
Attic Home Office Remodeling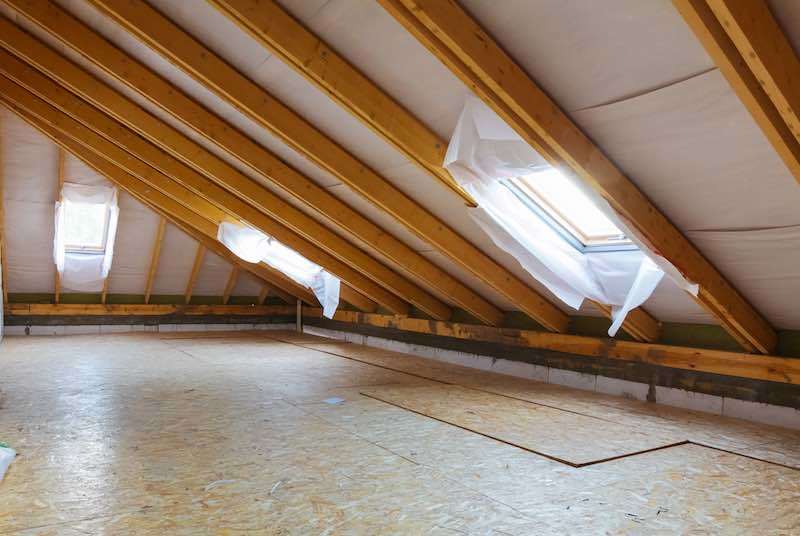 An attic is the most underutilized space in anyone's home. 
The only time it is a good thing to have all that junk collecting dust in an attic is when you discover your granny kept your dad's baseball cards, and Antiques Road Show tells you that they are worth a gazillion dollars. 
Other than that, an attic holding junk is a waste of space, but it is a valuable space that has all kinds of possibilities for conversion to a functional office space.
Tips for Creating A Home Office In The Attic
Inspect The Space Available To You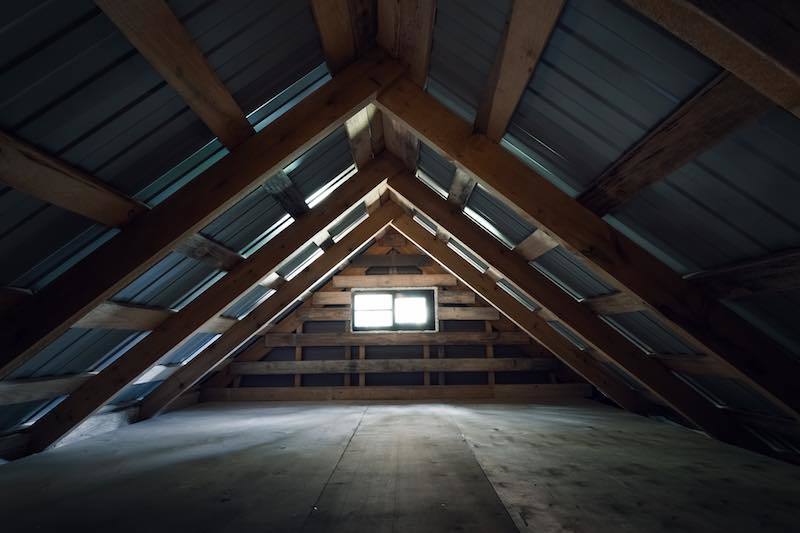 You can hope that you bought in which the previous owner put in a floor (maybe even wiring!) in the attic. 
If the area has not yet had the additions that would make it a liveable space, then you will need to check with your town's building department. 
Ask them if you will need a building permit to convert the area into a functional office space. 
You will find that any time you add living space to your home, which will increase its square footage, you will need to get permission from the building department in your town. 
Insulate The Attic Space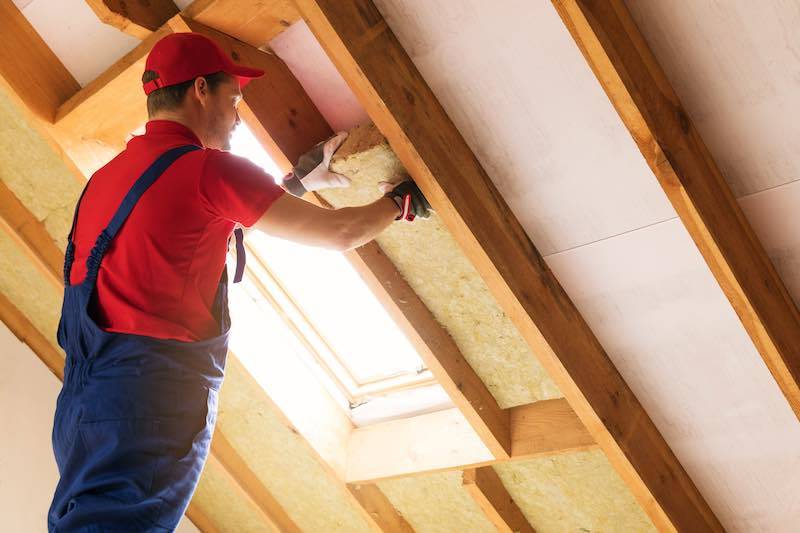 As you know, heat and moisture rise. You may need a ceiling or window fan or even some type of room air conditioner.
A layer of spray foam under the roof and in the walls will help cut down heating and cooling costs.
You may have insulation in your attic between the ceiling of the downstairs and what will be the floor of the attic, but depending on where you live, you might need insulation for the roof. 
You can find out what insulation with the correct R-value you need for your region. 
Insulating is a job you should be able to do yourself with supplies from a home improvement like Home Depot or Lowes.
Put Down Flooring For Your Attic Office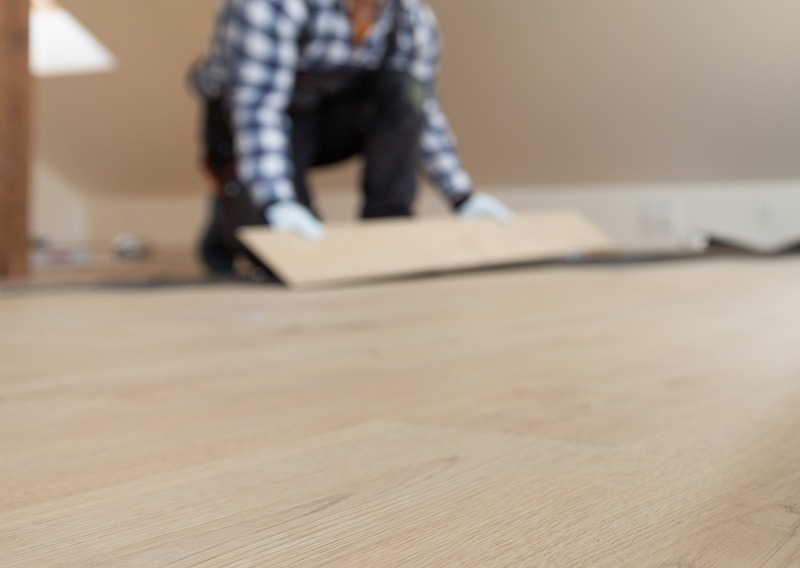 As most attics aren't necessarily used for living space, they may need reinforcing with additional joists. 
If you aren't confident about what your attic might need, consider consulting a contractor. 
You could have one come in to advise you on requirements in order to make the space safe, usable, and up to code.
Once you have obtained the necessary permits, put down a subfloor. This subfloor will become the basis for any finish flooring that you add. 
You can go all out and install quality wood, cork, laminate, or bamboo flooring, or you can do something more friendly to your pocket. 
You can always just paint or stencil the subfloor until you can add flooring. Or, just keep the painted subfloor and change it up when the spirit moves you.
Make Sure You Have Some Light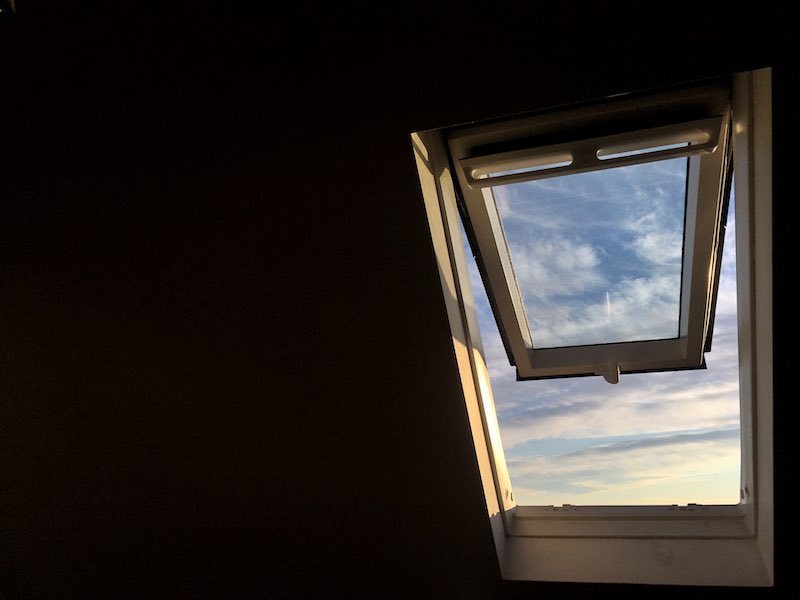 If your attic has a window, position your office and your desk by the window. If you don't have a window, consider putting one in. 
It does not have to be an elaborate dormer window or even a skylight. 
A casement or double-hung window at one end of the attic walls will make a big difference in letting in both light and fresh air. 
If a window is not a possibility, give yourself some track lighting or floor lamps that will make your space lighter and brighter.
Access And Egress From Your Attic Office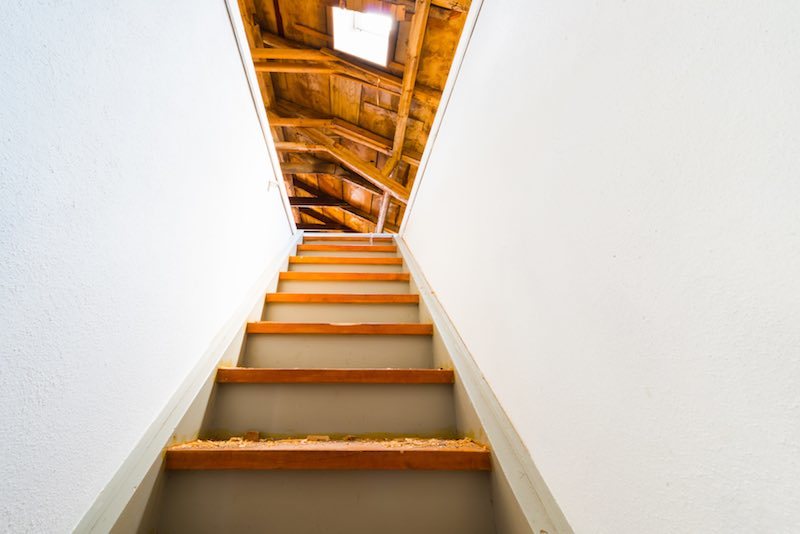 In general, building codes require that there both access and egress from an attic if you are using it as a living space. 
That means a full-size staircase with a minimum of 6 foot 8-inch clearance above it. For safety in case of a fire, there should be two ways out. 
That could be a second staircase or a window. If the second egress will be a window, get a fire escape ladder. 
Those are the kind that you toss out a window and deploy by pulling a cord. 
The following video from This Old House shows how to use and install one:
Ceiling Height In An Attic Office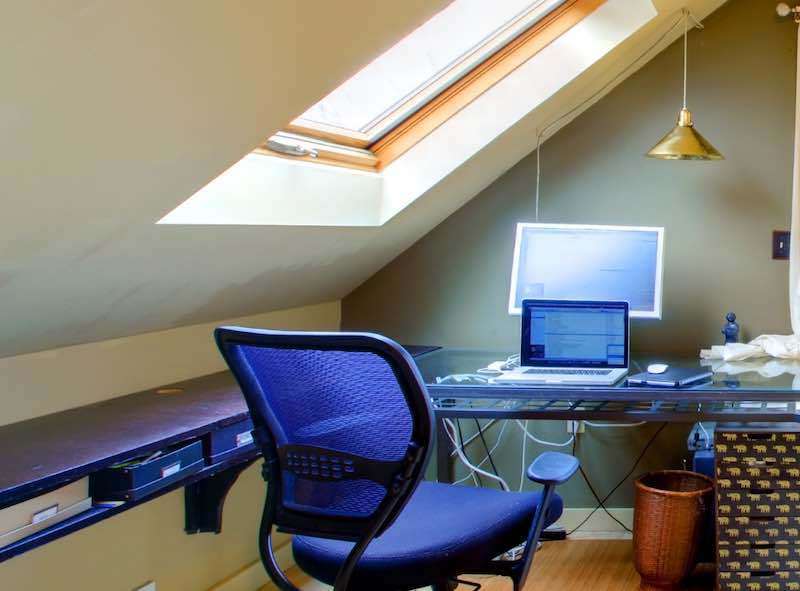 Ideally, any living space should have about seven feet of headroom and a floor area of 70 square feet. 
Hopefully, it measures about seven feet in each direction. You can use the low-clearance area for the inevitable storage items.
Your Attic Home Office Decoration Should Reflect Your Personality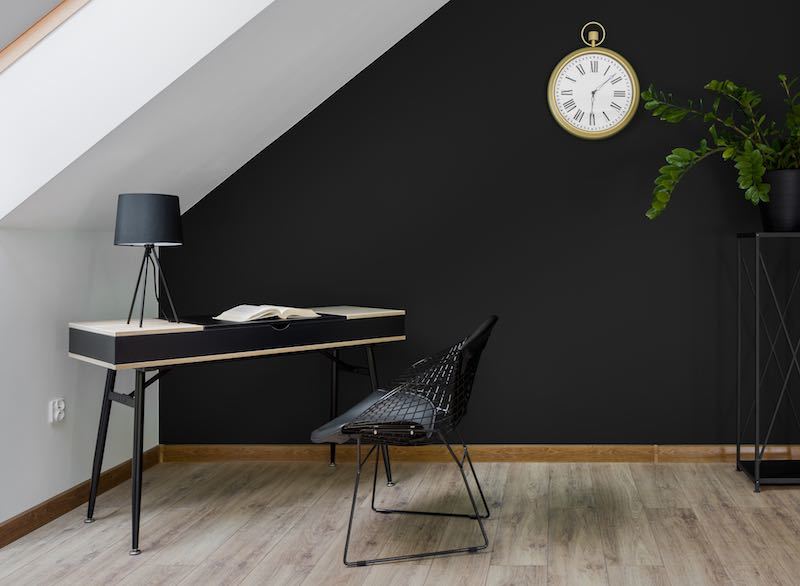 This is the most fun part of the whole transformation! When you work from a brick and mortar office, you can bring in a few items from home. 
But you can't put your stamp on a space that you occupy during your workday because it is not really your space. 
In Conclusion
In your attic home office space, you can go as crazy, wild, conservative, or classic as you want. 
That is what makes having a space-saving home office so much fun! You can decorate for the seasons, the holidays, or just because. 
It is up to you if you want to line up all your Star Wars figures along a shelf or paint the walls and decorate with your favorite sports team logos and colors. 
The sky's the limit, no pun intended, and you will be right under it in an attic home office space!