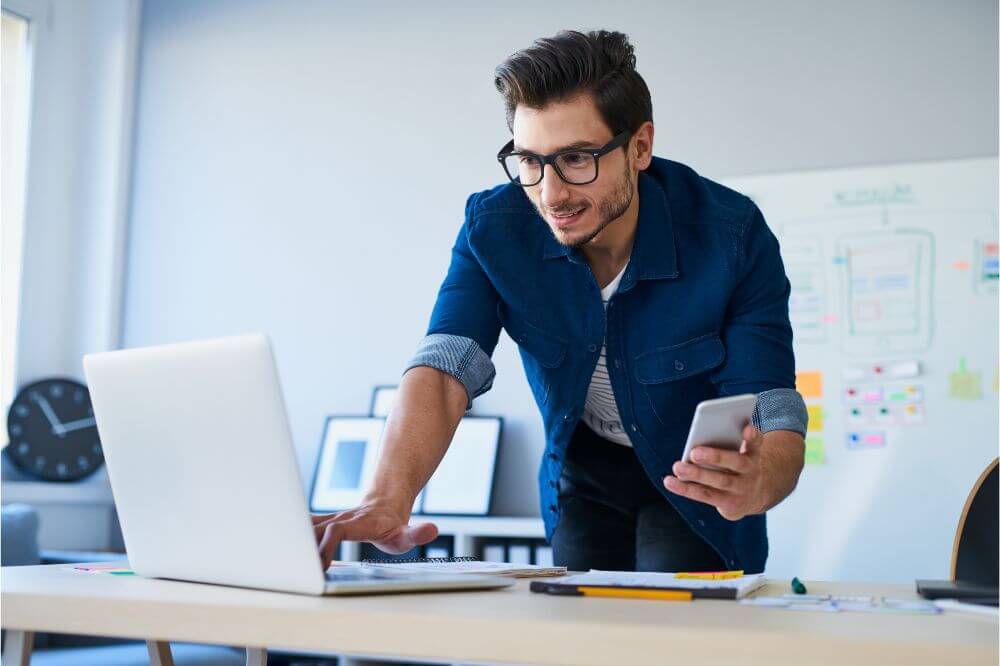 Sdadi Mobile Adjustable Standing Desk Review
Anyone looking for a simple and easy solution in terms of a standing desk should look no further than the Sdadi Mobile Adjustable Standing Desk which is as basic as they come.
Sdadi Mobile Adjustable Standing Desk
This is a standing desk which was first available for sale in 2016 and given its simplicity and very low price it has proven to be a very popular product, with lots of positive reviews. It is supplied by Sdadi who also make other adjustable products such as kitchen steps and monitor mounts, for example.
It is obviously a standing desk, but unlike some which use complicated pneumatics or electrics for adjustment, this one simply has locking connectors which you loosen when you want to adjust and tighten again when it is at the chosen height.
In January 2019 Sdadi made improvements to the desk's connectors and screws which gives the desk more stability when assembled.
Who Is This Product For?
If you work at a desk or sit at a computer for long periods of time, switching to a standing desk can provide several health benefits. In particular, those who feel strains in their back or neck can have the biggest wins by using this kind of standing desk.
You'll also love this if you like simple things because this standing desk is one of the easiest to set up and use. It also has wheels, so if you like the idea of moving to a different room to use your laptop, for example, then this desk will certainly appeal to you.
What's Included?
As this desk needs to be assembled, each of its component parts will be delivered to you. Once you open the package, find the instruction sheet, and check that each piece is present. These will include the two shelves, the frame, the castors, the connectors, and the appropriate screws and tools needed to put it all together.
Overview of Features
With the instructions and tools included, this should be relatively easy standing desk to assemble. Once that has been done, you now have a standing desk with two shelves, with the lower one being used for a keyboard and mouse, or for a laptop. The upper shelf is 23.6 inches wide so it can accommodate a monitor, or possibly two, if they are small.
The lower shelf can tilt, which many who use a keyboard prefer. There is a stop on this shelf to prevent anything from slipping off it when it's tilted.
Height adjustment to either shelf is very easy. This is done by unlocking the connectors and then locking them again once the height has been set. The height ranges are 27.5 when lowered for both shelves, and at the upper heights, it is 45.9 for the keyboard shelf and 47.4 inches for the upper shelf.
This desk comes with castors and given its relatively low weight means it can be moved without much effort to a different part of the room or office, and even to a different room or office altogether.
You have color choice for the desk which are dark grain, light grain, oak, and black.
How to Use It
Once assembled this standing desk can be used with a laptop or a computer, keyboard, mouse, and monitor. By loosening the connectors, you can then adjust each of the shelves up or down as required, and by then tightening the connectors you can hold the shelves in position.
If you are more comfortable with your keyboard tilted toward you, then by you can do so with the front shelf by loosening the connectors closest to you and tightening them once you have the shelf at the angle you want. Make sure your device is resting against the raised stop, which prevents it from sliding off.
Alternative
If even the basic nature of the Sdadi desk isn't simple enough for you, then we have another option for you, which is surely the simplest standing desk currently on sale. It is the Sangfor Laptop Standing Desk, and it is certainly basic, but that for many will be its biggest appeal.
It has one desktop shelf which can easily be adjusted between 27.6 inches and 35.5 inches in height, and it is on castors so it can be moved around your home or office.
Conclusion
The simplicity of this standing desk from Sdadi is one of its biggest appeals, but being simple does not mean it doesn't function well as a standing desk. It is easy to assemble, adjusting the height can be done in seconds, and there is plenty of space on the shelves to make working at this desk convenient if you use a computer or laptop. Being portable is also an advantage as is its low price for those of you who like getting your money's worth.
(Last Updated On: April 9, 2022)