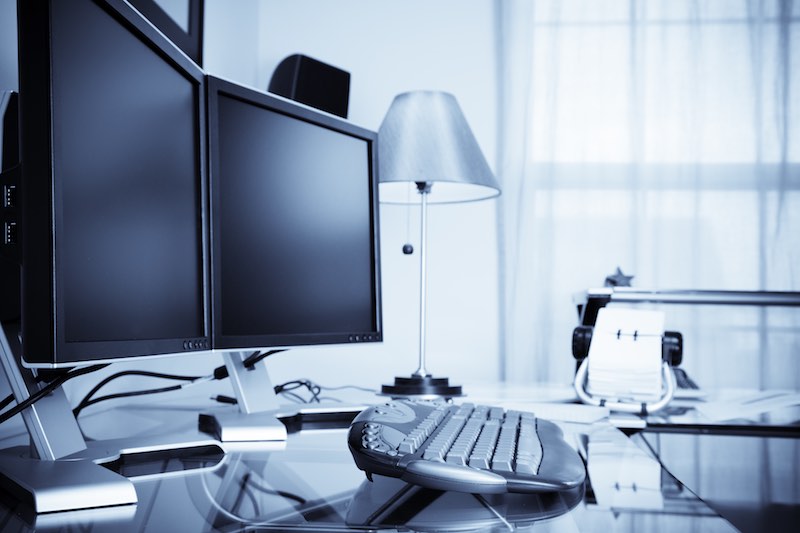 20 Must-Have Smart Office Gadgets and Accessories
(Last Updated On: September 23, 2023)
We spend a good percentage of our waking hours on the job. Why not make the most of that time with smart office gadgets?
They can make our jobs both easier and more efficient. Throw in some health benefits, and the 20 smart office accessories listed below will be a positive addition to your time at work!
The HP OfficeJet 3830 All-In-One Printer is an entry-level inkjet.
You can connect your smartphone or tablet directly to this printer without having to access a network. 
The OfficeJet 3830 works well for low-volume printing and copying in a small or home-based office.
If you are looking for a way to manage wires, free up workspace, and have your monitors in an ergonomically correct position, this dual monitor mount stand is perfect! 
The EleTab lifts the monitors off your desk, making it easy to adjust the viewing angle for comfort or sharing with a coworker. 
This sliding stand saves space by sliding in and out from the top. The keyboard is compatible with iOS, Android and Windows, and others. It types quietly and is comfortable to use. 
The keyboard provides a cable-free connection and will operate up to a distance of 10 meters. 
This unit is designed for charging your iPhone Device wirelessly. A 2-in-1 wireless charging house makes it convenient to charge your iWatch and iPhone/New AirPods at the same time. 
The iWatch charging holder is detachable and will travel conveniently with you.
We all know that it is better, health-wise, to spend more time out of your chair than in it. Topo Mini's Anti-Fatigue Mat will assist you in doing just that. 
Topo Mini's cushioned mat supports the movement, stretching, and massage. 
With an incredible 12 month battery life, with TruWave technology for precise, smart cursor control over many surface types. The TeckNet Bluetooth, wireless mouse works with Bluetooth-enabled computers.
The energy efficiency features include an on/off switch and smart sleep mode to help reduce power consumption that enables you to keep going for longer on just 2 AAA batteries.
The Cowin E7 noise reduction technology works well in both wired and wireless mode to quell all types of noise. The around-ear headphones have deep bass and a crisp, powerful sound for your music.
They have a built-in microphone for hands-free calls. 
The New Bee headphone stand supports headphones of all sizes. The stand is made of aluminum and TPU rubber to provide a safe and stable foundation for your headphones.
This stand will make your headset easy to find and protect your headphone investment.
This atolla USB 3.0 hub can expand one USB 3.0 port of your computer to 7 external USB 3.0 data ports and one USB smart charging port for more USB devices and sync data at speeds up to 5Gbps.
This hub's USB 3.0 charging port can also charge your iPhone or iPad.
This smart mug, controlled with your phone, will keep your hot drink at the exact temperature you prefer (between 120 degrees Fahrenheit – 145 degrees Fahrenheit) with 1-hour battery life on a single charge. 
You can also keep the Ember Mug on the included charging coaster for all-day use.
The Lamicall tablet stand is suitable for iPad and tablets between 5 and 13 inches. It is perfect for playing games, watching videos, viewing photos, reading, typing, and video recording.
This stand supports both vertical and horizontal viewing. It is made from an alloy steel material for greater strength and lighter weight.
This powerful smart speaker has both Amazon Alexa and voice control built-in. Check news, set alarms, or ask questions. Best of all, you can control it all with your voice.
It has a compact design and is humidity resistant, so you can also place it in the bathroom. Put two Sonos Ones in the same room for stereo separation and more detailed sound.
Amazing! Control your electrical items via your phone wherever you. The Smart Plug is compatible with Amazon Alexa, Google Home Assistance, and IFTTT, all with no hub required. 
Just plug the Teckin into an electrical outlet, connect a device to the Smart Plug and wirelessly control your device using a tablet or phone. 
The Coway Mighty air purifier is designed to accommodate a room up to 361 sq.ft.
The unit uses a true HEPA filter reduces up to 99.97% of particles in the air.
The LED display tells you how clean or dirty your indoor air is. The fan has a three-speed operation, and the machine can be set to run quietly 1/4/8 hours with automatic shut off.
This TaoTronics LED desk lamp has 18 adjustable light choices: 6 brightness levels and three lighting modes to choose from, along with a USB port to charge your devices.
The desk lamp has an ultra-slim arm and base with a brushed aluminum finish.
This VuPoint Solutions will convert your old photos into digital files. Scan documents and photos in color or black and white as PDF or JPEG files. 
This unit is compact and portable and comes with a drawstring pouch. 
The BlaCOG digital alarm clock does it all. It tells you the time, has a calendar, a thermometer, and day of the week. You can adjust sound and brightness. It also allows you to set three different alarms. 
It is lightweight, and at about 7inches, it is compact. Choose from four different finishes. 
Cubii Pro elliptical machines are perfect for exercising at home or in the office. Track your goals as the Cubii syncs steps, distance, and calories burnt with iPhone and Androids. 
The whisper-quiet Cubii is best for seated use and is compact under desks.
Use this convenient charging station anywhere: at home, desks, tables, or nightstands. The Hercules Tuff is perfect for companies or classrooms, and everywhere in between. 
There are six 2.4 amp ports which charge cell phones and tablets up to 80% faster than other chargers. 
As an ideal way to add moist, comfortable air to small bedrooms, hotel rooms, and workplace cubicles, this 2nd version URPOWER produces more mist than previous versions. 
Add your favorite essential oil to add a pleasant scent.
Includes seven color-changing lamps of your choice, a nightlight, programmable on/off