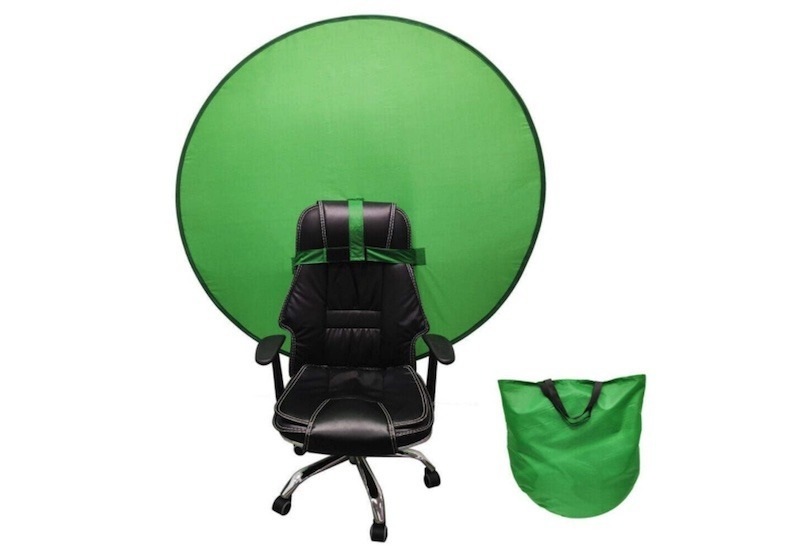 Our List Of Portable Green Screens For Office Chairs
(Last Updated On: September 23, 2023)
In today's work world, we have come to rely on Web conferencing platforms like Zoom and Skype, and having a green screen for your office chair is also a tool to rely on.  
These platforms, like Zoom, are used daily to connect with co-workers and clients. It has become an essential lifeline for continuing business. 
You might be working from home and in your own personal surroundings. You need to maintain your privacy and continue presenting a professional profile. 
Fortunately, there are affordable and accessible solutions to having a professional background for all of those web conference calls. Green screens can transform your background and are simple to set up and to store.
A green screen is a visual effect technique where two images or video streams are layered together. The green screens listed below give you the flexibility needed no matter where you are located. 
The screens slip on the back of the chair you are using and display the green background behind you. They set up in less than a minute and will cover whatever is behind you. 
You will be able to hold a Zoom meeting in your kitchen, bedroom, or wherever your home office is located. Once your session finishes, the screen stores compactly in their carrying bags and are ready for the next meeting or to take along with you wherever you go. 
#1. Primesale.us Pop Up Screen
When using green screen technology, the Chromakey function allows you to have a background with any image you select during video calls. The Primesale Pop-Up screen will fit on your office chair when you have a Zoom, Skype, or Webcam call. 
You can open and install the green screen in seconds. The circular design is a generous 49 inches in diameter. With a pocket for the chair back of 21 inches long and 9 inches in depth, the Primesale fits over the top of your chair back. 
Easy to carry, this pop-up screen will fit directly into the carrying bag, making it easy to store. 
#2. Naladoo 2021 Green Background Screen
Naladoo makes a 4.65-foot green background screen of quality polyester with a flexible metal frame that helps the screen to keep its shape. You will find that the green color helps to reduce light reflection for a better quality picture. 
Adjustable hook-n-loop straps allow you to secure the backdrop to almost any chair. Take the background screen wherever you need to, as it is easy to collapse and store in the included carry bag. Great for portrait photos or live streaming. 
#3. Shoppingday Pop2Back 58″ Portable Webcam Background
A large 58 inches in diameter, the Pop2Back portable background opens up and installs in a matter of minutes. Take it wherever you need after folding and placing it in the included storage bag. 
Made for use with the Chromakey function, the green screen technology allows you to have a background with any image during video calls. 
There is a backrest strip made of elastic fabric that will be compatible with most sizes of office chairs. 
When using, make sure to adjust your camera so that it zooms on your face with the proper ratio. Doing so will allow you to get a complete back chroma key coverage. 
#4. Webaround Portable Webcam Background
The Webaround portable screen allows you to set whatever image you want as your background when attending Zoom, Skype, or other video conferencing platforms. 
The chroma key green colored background measures 52 inches in diameter when open. When you want to store it, the screen has been built with spring steel for easy collapsing to a diameter of 21 inches, enabling it to fit in the included carry bag. 
The Webaround fits most office, gaming, or dining room style chairs. 
#5. Pacoco Green Background Screen
Help to reduce light reflection for a better quality picture with the Pacoco green background screen. Great for video conferencing from home or when you are wanting to have a neutral background at the office, this 4.65-foot chroma key green screen will suit the purpose. 
The Velcro straps are adjustable and work on most office chairs. Collapse the screen and store it in the included carrying bag. 
How To Decide What Size Screen You Need
The green screen needs to be large enough to fill the video frame of your camera. If you are unsure of the size of the screen that you need, it is possible to figure out yourself what size screen you need. 
Begin by setting up your webcam or camera and then frame yourself the way you want. Use an object, like a broom or yardstick as a focal point. After placing the broom in the picture frame, take it and move the broom to one side until the item exits the video frame. 
Use a piece of non-marking tape, like painter's tape, to mark that point on the floor. Repeat the same exercise on the other side of the camera frame, and mark the distance on the floor. 
When you finish, measure the distance between these two points, and that will give you the minimum width of the green screen that you will need.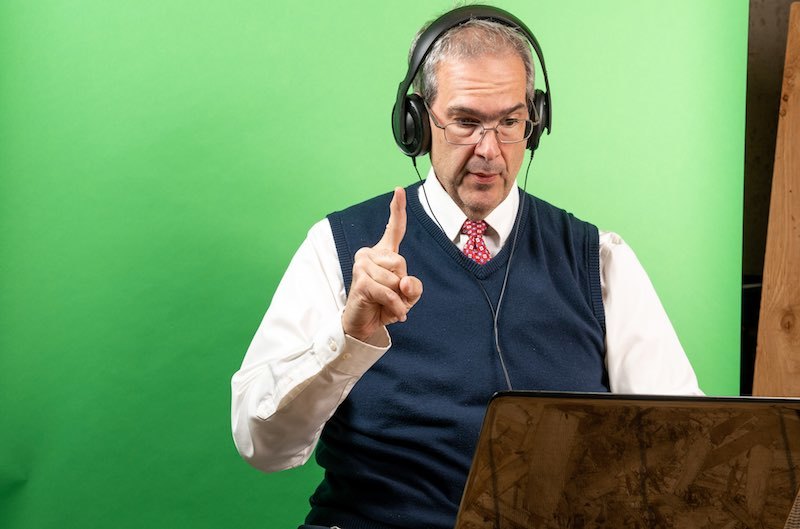 Tips For Using A Green Screen
Just remember, don't wear green or hold anything green when using a green screen; otherwise, those areas will be transparent. Shiny objects are also a no-go. 
If you are on a sales call or an interview, you will not want to use an unprofessional or trendy background. Choose something that reflects your intent. 
Make sure that you have the correct size green screen for your camera. Nothing will be more distracting than having your actual background spill out around the edges of the green screen. 
Just as you would for any online meeting, position yourself in the best light, both figuratively and literally. Soft, even light is the best to choose.