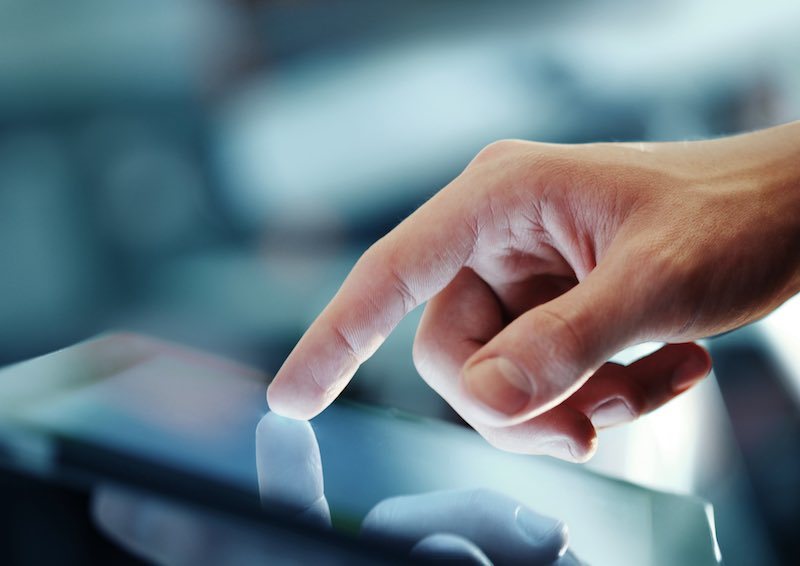 Best Tablet For Digital Planning
(Last Updated On: April 9, 2022)
With your busy life to organize, you will want the best tablet for digital planning that you can get. Fortunately, there are several on the market, and better yet, they are affordable!
There are so many layers of your life to keep track of; work, home projects, doctor appointments and all of those important personal details. 
It might be hard to fathom (and dangerous to do) but it would be easy to forget your significant other's birthday with all of life's other demands. 
There are only so many hours in a day, and time flies even when you are not having fun.
Digital planning can come to your rescue, and a tablet is a perfect place to store all that valuable information.
Best Tablet For Digital Planning
The best tablet you can get to use for digital planning is the 2019 Samsung Galaxy Tablet with a touchscreen. 
With a large 10 inch display, the Samsung has 225 pixels per inch to deliver clear images for your digital planner. 
List Of Digital Planning Tablets
Here is our list of the best tablets for digital planning with an Android or iOs tablet.
The Samsung Galaxy Tablet is a large tablet with a 10.1-inch screen. The display resolution is 1920 X 1200 and produces about 225 pixels per inch. 
It has good speeds when performing everyday tasks like surfing the net or using email. 
While very bright, the screen still reduces glare and can be easily seen when in a bright room or outdoors. 
There is, however, a bit of a lack in contrast. Colors were not as vibrant as other tablets, and viewing angles were middle of the road. 
The on-screen keyboard is a comfortable size, and the buttons were easy to use and intuitive. There was just a minimal lag with the touchscreen interpreting gestures. 
The initial set-up will be quick and easy, along with personalizing the tablet. The Samsung Galaxy is fast to link up to your wireless network. 
You will find that it transfers files to and from a different computer or storage solution without issue. 
The downside is that you will be able to display just one app at a time on the Samsung, so multitasking is cumbersome as you will have less information on the screen.
Most of your typical file types on the Samsung are supported by default. For example, the tablet includes a video conference app by default. 
The camera on the tablet records in HD, as does the webcam video. You will find that playback will be smooth. 
The sound from the built-in speakers is a bit on the thin side, but acceptable. Photos produced from the camera are so-so. The videos had noise, and the colors were not true.
The tablet allows for mounting a flash drive when you use the USB type C-port, but the Samsung Galaxy has no HDMI port. 
When using a tablet, you want it portable, so battery life is an important feature. If you are surfing the web, the battery will hold up for about 11 hours. 
When viewing movies, expect about 10 hours. If you so choose, you can use the battery-saving mode. 
This will adjust your tablet setting, such as the brightness of the screen, and it will help you get the most time out of your battery. This tablet weighs about one pound without a keyboard. 
The dragon Touch notepad tablet features a 1280 X 800 resolution and a 1.3GHz quad-core processor and 2GB of RAM. 
There is 32GB of internal storage and a micro HDMI port. The Dragon Touch will also support dual-band WiFi. 
An affordable tablet, a large display screen will be perfect for video games. Ideal for streaming Netflix and YouTube and even for eBook reading. 
You will be able to sync the Dragon to your TV for movies and videos. The display has a 178-degree broad view for any time of the day. 
When you want to view various angles, you can combine a broad view with In-plane switching (IPS) technology powered by Smart color technology. 
You can add up to 64GB of storage by using a micro SD card. The Dragon Touch has a pre-installed screen protector to guard against dirt and fingerprints. 
Use the dual camera in both the front (2MP) and back (5MP) to capture important moments to share with the family. 
When compared to other tablets, the Dragon is a bit limited on battery life. You will get about 8 hours before you need to recharge. 
The tablet does come with a 5V/2A micro USB power adapter to use when gaming or watching movies. A bit hefty, the Dragon weighs in at just under two pounds.
This android tablet features a powerful 64-bit quad-core processor that is both energy-saving and fast. 
The Vankyo's 1.5GHz, 2GB RAMwill quickly launch games, not lag during games and give a great performance when viewing movies. 
The Android 9 Pie is Android's latest version. The Vankyo is a GMS certified Matrix pad. 
With a 1920 X 1200 resolution and a large 10.1-inch screen, the tablet has an easy fold case that can be readily positioned for viewing, reading, or making video calls. 
Built-in 32 GB of memory can be expanded to 128 GB with a micro SD card.
Thanks to Bluetooth 5.0, the Vankyo provides double the transfer speed and four times the communication distances as those of 4.2 devices. 
The MatrixOad S30 supports GPS. When offline, download maps to use when a WiFi signal is not available. 
And even when not connected to WiFi you can plug in a headphone set and listen to your favorite FM stations. 
Dual box speakers will give you both volume and sound quality for music, movies, and gaming. 
The battery life is going to be at around 10 hours before you need to recharge. 
This is a substantial tablet that weighs just under three pounds.
The Lenovo M10 HD tablet will do double duty for you. Touted as ideal for a family, the Lenovo will also power through everyday jobs like email and will not slow you down when surfing the web. 
With a 1280 X 800 resolution and a bright screen, the tablet will reduce the glare to make it easier for viewing in high light situations. 
The tablet also has eye-protection technology that reduces eye strain. With a very slim profile, the Lenvov has dual front-facing Dolby speakers. 
The speakers enhance music, movies, and videos with an immersive sound. Although Lenovo describes this tablet as perfect for families, the viewing display quality is a bit narrow. 
Some colors show a bit of a blue hue. The tablet does show it's family friendliness with a kids mode that parents can use to make sure the kiddos are surfing in safe waters. 
It also has face recognition login that allows for an added layer of protection for the tablet's owners. 
The tablet includes both front and rear cameras that will enable you to take photos. You can also connect with both family and friends from wherever you are. 
The Lenovo has Bluetooth 4.2 and a micro USB port; however, most common file types are not supported by default. 
You may need additional apps to view specific files. On the Lenovo RTF and MSOffice files are not supported. 
The battery will deliver up to 10 hours of browsing time and 8 hours of video or movie playback. 
While the tablet has a battery save mode, it is not intuitive to find and activate it. Without a keyboard, the tablet weighs about 1.2 pounds.
Another tablet from Samsung, the Galaxy S6, has good speeds when copying files, browsing the web, or answering or creating emails. 
The resolution of the display is about 225 pixels per inch and 2000 X 1200. 
The screen is capable of reducing the glare on the screen, making it more comfortable if you are in a bright setting or if you use the tablet outside. 
The contrast is somewhat lacking, and you might find that the colors are not as crisp and clear. If there are multiple viewers, you will find that the angles are not as optimal as they would be for a single viewer. 
The touchscreen showed no lag when responding to gestures. Using the on-screen keyboard was easy to use as the buttons were of a comfortable size. 
Fast at connecting to a wireless network and displaying no lag when transferring files makes the Galaxy S6 up to the task. 
Especially appreciated, the tablet can display two apps at once. This makes it more user-friendly when you can view more information on the screen than just one app. 
Supported by default, common file types do not need installation on the Galaxy S6. The camera video and the webcam both record in HD. 
This makes for an excellent option for creating movies and playing them back on TV. There is a little lag in video playback, but not much. 
At the same time, not the best quality, the sound from built-in speakers, was reasonably clear. 
The photos produced from the camera did have natural colors, but the videos had colors that were not natural. 
The text was clear to read, and no issues were using the web browser. The Galaxy S6 does not have an HDMI port but does have a USB type-C port. 
The battery will last for a little over 12 hours if you are browsing on the web. If you are watching movies, you can expect to get a little over 10 hours. 
If you have a drained battery and charge it for 30 minutes, you will get a two-hour runtime before you need to charge it again. Without a keyboard, this tablet weighs about one pound.
Why Use A Digital Planner
You need all the breaks that you can get to make life a little bit easier, and having a digital planner is one of the breaks that will save you a lot of headaches. 
No one can juggle all the various aspects of their lives without dropping the ball once in a while.
 While that is understandable, if it is a crucial occasion or appointment that you miss, it could be disastrous. 
A digital planner will help you with time management, improve your productivity, relieve stress from disorganization and provide a place for keeping records.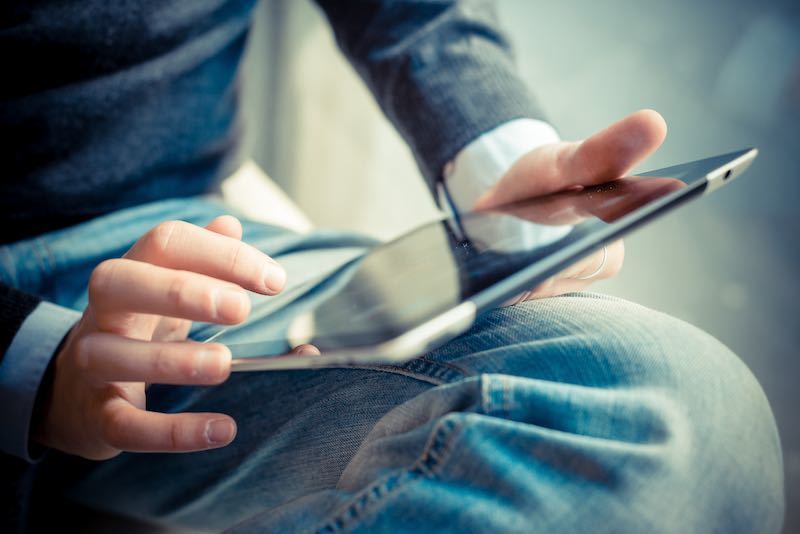 How To Go About Digital Planning
Digital planning can simplify your life by helping you manage and prioritize the day to day tasks and important events. It can elevate some of the stress of trying to keep it all organized.
If you need some assistance in how to go about digital planning, Beatrice will give you the 5 Reasons Why I Switched to Digital Planning (And You Should Consider It Too)
Christa is willing to tell you How I Switched from Paper to Digital Planning. 
Just remember that you take in information much like a sieve. Let what does not apply to you go by the wayside and keep the valuable nuggets that you can use.
Additional Handy Gear You'll Need With Your Tablet
This handy two pack will give you one stand for home and one stand for work.  These stands will hold a range of tablet sizes and free up your hands. Great for watching movies and videos, too. 
Yes, it would be best if you had a slip-on protective case for your tablet. One thing that most tablets users notice is that the tablet itself tends to be slippery. 
Most tablets are smooth metal that can slip out of your hands quickly. A protective case gives you a better grip and protects your investment.
The last thing you want is for the screen on your tablet to become scratched up. Your tablet might still function, but your viewing would be severely impaired. This screen protector will be invaluable for your tablet. If the protector gets scratched up, replace it for less than $10.
Lastly, you want an inexpensive bag to put your tablet in when transporting it from here to there. Slim and lightweight, the felt made ProCase will carry your tablet, charging cord, iPhone, and stylus. Keep it all together and protected when you are going from place to place.
Things To Consider When Choosing a Tablet
You have decided that you are going to give digital planning a go. So where do you go from here? Do you grab any tablet that seems okay?  There are a few things to think about first.
Tablet Portability
Most tablets that have an 8 inch or smaller display will weigh about one pound. Most of them are relatively thin. 
The one with larger displays can get up to almost three pounds. So decide where you will be using this device the most. Will it be stationary at home or will you tote it wherever you go?
Budget
This is a good starting point because you can weed out many options right off the bat. 
Stay within your budget by ignoring the expensive bell and whistles and going for the tablet to make digital planning easy, not the tablet that will turn you into a videographer.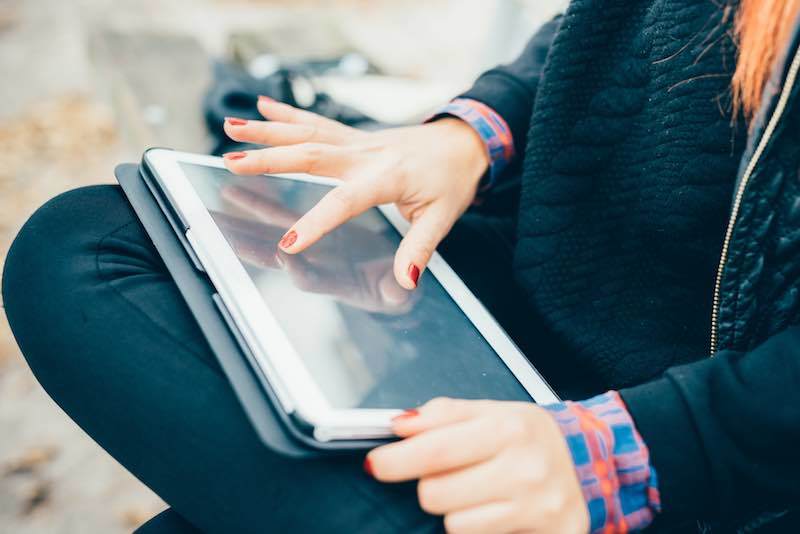 Tablet Use
Besides digital planning, have in mind what else you will use the tablet for. Do you want a separate keyboard? 
Will you be using lots of apps? If you think that you will be watching movies, reading books, and listening to music, you will want a tablet that can do all those things without lagging. 
For the most part, tablets have not gotten to the point that you will choose them for music alone because of the quality sound. Tablets are not at that stage of development yet.
Tablet Family Use
Decide, too, if this tablet will be for your personal use or let family members get in on the fun. 
There is always the risk that kiddos might delete all your careful planning or drop it in the fish tank. If possible, a tablet of their own could be the best bet. 
It may sound like an indulgence, but their world and their future are full of electronics, and they should know how to navigate that world.
 A tablet for kids often is more sturdy and filled with parental filters to help you control what they see and where they go.
Tablet Recreation Time
Maybe you will want to be able to game on the tablet. It is a great way to unwind and take a break for a bit. 
However, you will need a tablet with enough storage to hold the game and a processor that is powerful enough for you to play the game.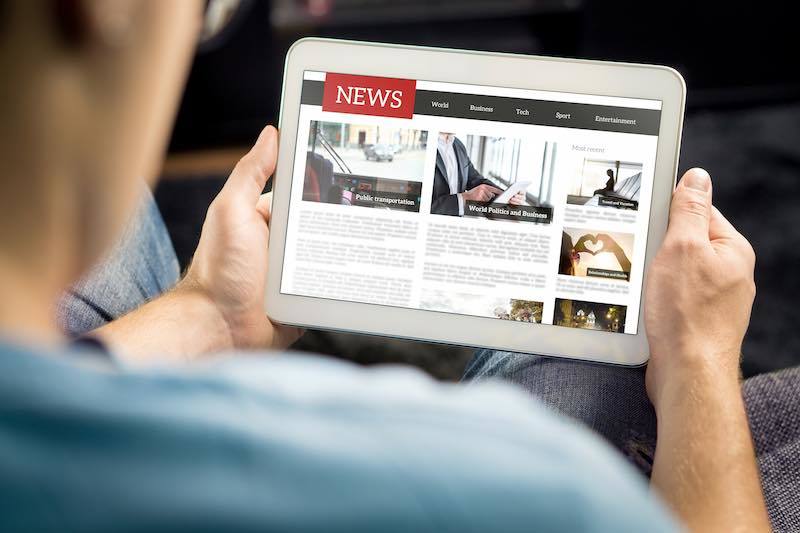 Tablet Screen Size
Most tablets start around 7 inches. Don't do yourself the disservice of getting a size that is too small for your needs, as that will lead to frustration, and you will end up not using the tablet. 
Especially when using digital planning, a ten-inch screen will suit your needs best.  
The resolution of the screen will make images and text sharper, so the higher the numbers, the better. 
Pixels per inch (PPI) describes the resolution of a tablet screen. The higher the resolutions, the more pixels per inch and the higher quality and crisper the image.
WiFi Connection on a Tablet
All tablets will offer wireless connectivity. A WiFi only model will be less expensive than those that incorporate cellular service. 
Higher-rated tablets will come in a version that gives you access to cellular data networks but know that it may add to your monthly cell phone bill. 
Check with your plan to see if it allows you to share your smartphone's cellular internet service with a tablet.
Tablet Operation Systems
There are two main operating systems, or rather, two dominating options when it comes to tablets. 
Apple's iOS and Google's Android. Those are not the only two as Microsoft has its Surface line of devices. But for the most part, you will be choosing between iOS and Android.
Any tablet's capabilities will be relying solely on their operating system. 
Just as with a computer, your tablet will need to upgrade factory-installed versions and allow the installation of new apps. 
Security is a big concern today, and having the latest version of an operating system will improve security. 
Check before purchasing that the operating system on the tablet can be updated.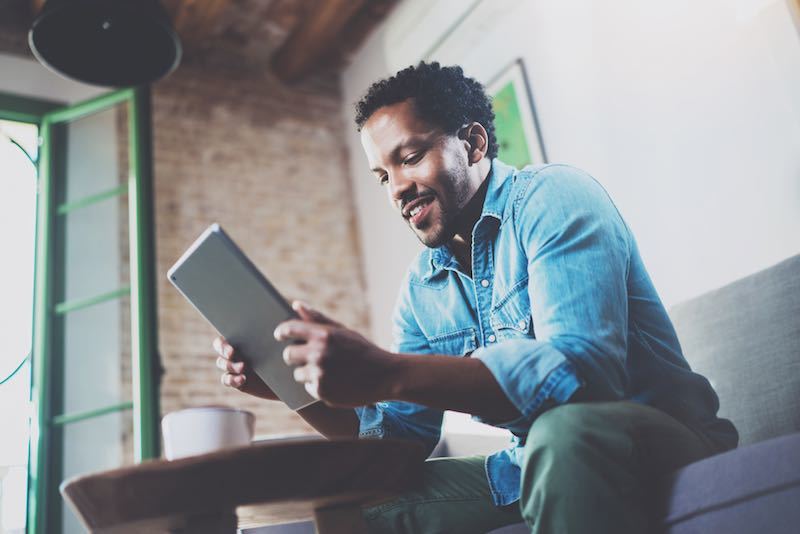 Tablet Storage And Apps
Most tablets have storage that can allow you to add additional space with a memory card. 
A few tablets, but not many, can read a flash drive. Look for a tablet that will accommodate more memory if need be.
Another consideration is the applications. In this aspect, Apple has the edge over Android. Many developers of apps will create new apps solely for the Apple App Store.
Tablet Battery Life
The all-important battery! Most tablets will offer a minimum of 8 hours before needing to charge. 
The better tablets will get up to 11 or 12 hours before needing to plugin. Knowing how you will use the tablet before purchasing will help you determine how much battery life you need to go for. 
If you can remain plugged in or want to be wholly dependent on the battery, the length of battery life in a tablet can tell you which model to go for.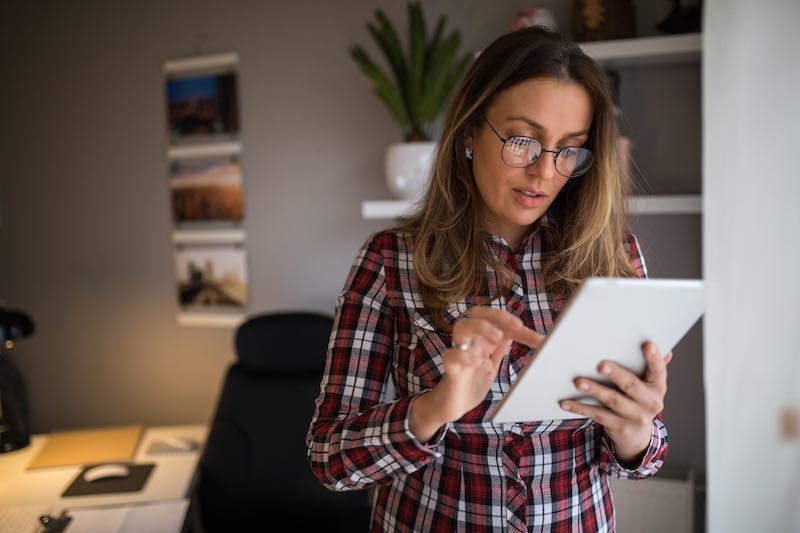 In Conclusion
Life has a way of catching up with us when we least expect it. 
Keeping organized and on top of those obligations, along with the fun times, elevates the stress of managing a hectic schedule. 
Using a tablet for digital planning will control your schedule and peace of mind, making life that much more enjoyable.
FAQ's
Is a digital planner environmentally friendly?
Yes, it is. One of the biggest reasons is that it is kinder to Mother Earth when you use fewer paper products. Trees will enjoy a long life when you have your schedule on your tablet.
How Much do digital planners cost?
You only have to buy a digital planner once but can purchase add-ons. Most planners cost between $15 – $30. Other planners are free but have in-app purchases.
Do You need to be online to use a digital planner?
When offline, most of your digital apps still work to do your planning and note-taking without an internet connection. Once you do have a connection, the app will automatically sync up.