5 Best Memory Foam Seat Cushions For Work Or Home Office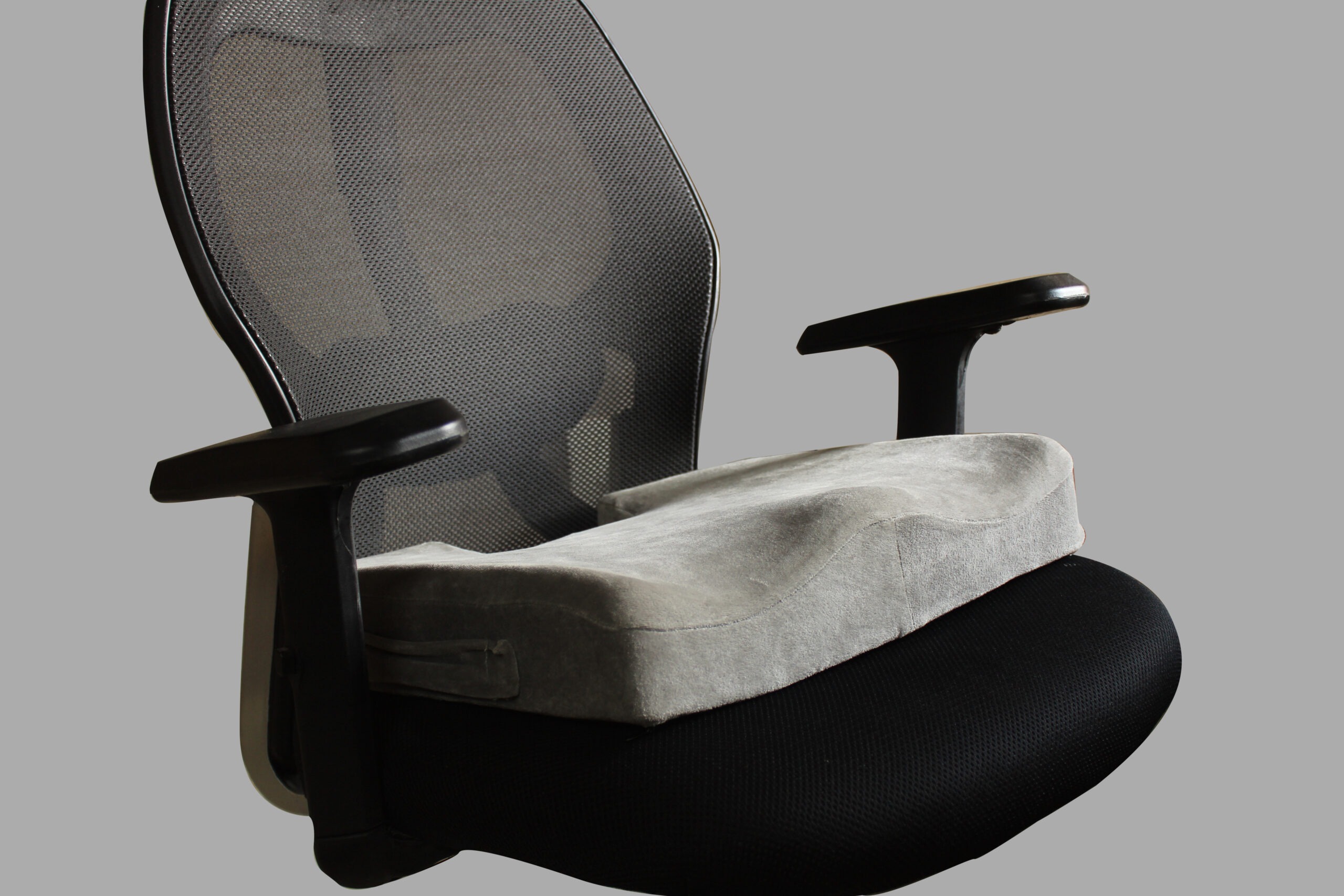 A day of sitting does not seem like it would be strenuous, but without a memory foam seat cushion, you could end your day with all kinds of aches and pains.
The ComfiLife Gel Enhanced Memory Foam seat cushion will enable you to sit longer with far less pain and support your musculoskeletal system.
Hopefully, you have a good executive office chair at work or home to place your seat cushion on. These are our favorites for The 5 Best Executive Office Chairs of 2021 that will help you get through your workday in comfort.
A memory foam seat cushion is affordable and a necessary tool for anyone who needs to sit for long periods. These are our five top favorites in memory foam seat cushions.
Products Review Of Top 5 Best Memory Foam Seat Cushions
| | | | | |
| --- | --- | --- | --- | --- |
| | | It helps relieve sciatica pain | | |
| | | | | |
| | | | | |
| | | It stays cool when in use | | |
| | | | | |
1. ComfiLife Gel Enhanced Seat Cushion
The ComfiLife Gel Enhanced seat cushion is one of the most comfortable cushions on the market today. Made from premium quality memory foam, the cushion also has a gel layer to help keep it cool. 
Fitting securely on your chair, the non-slip rubber bottom keeps the ComfiLife in place. The ergonomically designed seat cushion will give you maximum support that reduces pressure on the tailbone. 
It will also help alleviate lower back pain and the stress on discs in the spine. Working from home, or anytime you are sitting for an extended period, the ComfiLife cushion will deliver a comfortable and pain-relieving place to sit.
Pros:
It helps relieve sciatica pain
Cooling gel layer
Promotes better posture
Machine washable cover
It can be used in office, car or wherever you need it
Reasonably priced
Cons:
Some users felt cushion needed to be thicker
2. Xtreme Comforts Coccyx Seat Cushion
This large-size seat cushion from Xtreme Comforts is designed to be a coccyx cushion to help prevent discomfort to your tailbone for prolonged hours of sitting. The U-shaped cushion will alleviate the pressure that can bring on the pain. 
Made from memory foam, this orthopedic seat cushion will maintain its firmness, and the anti-slip bottom will keep the seat cushion in place. 
The Xtreme Comforts is ergonomically contoured to distribute your body weight across the seat and "float" your tailbone in the open space of the "U." This will reduce pressure on your tailbone, discs, and vertebrae throughout your spine, giving you a day of comfort in your office chair.
Pros
Large size
Budget-friendly
U-shape coccyx cushion
Cons:
Expect to pay a restocking fee if returned
3. Everlasting Comfort Office Chair Seat Cushion
Made from memory foam, the Everlasting Comfort seat cushion will use your body heat to soften and adapt itself to your body's curves. 
This will provide you with support and comfort in your office chair, in your car, or while gaming. The Everlasting Comfort cushion will eliminate pressure points created when seating for long periods. 
The ergonomic "U" shaped cutout on the cushion will create a space for your tailbone that has no pressure. Lower back pain will get relief from this comfortable memory foam seat cushion.
Pros:
Lightweight and portable
Machine washable cover
Non-slip bottom
Cons:
Fabric can stain leather car seats
4. Purple Double Seat Cushion
From the makers of the Purple mattresses comes the Purple Double seat cushion. The Purple Double cushion gives you dual support for both soft and hard surfaces. 
Use the small grid side for soft surfaces and use the large grid side for hard surfaces. Just flip the cushion to whichever side you need. 
Made of hyper-elastic polymer, the Purple gives you the comfort you need when sitting for long periods. 
The integrated, free-flowing air ducts maintain a neutral temperature to help keep you comfortable. The Purple Double is engineered to relax under pressure and give your body even support.
Pros:
Works on both hard and soft surfaces
It stays cool when in use
It comes with a washable cover and carrying handles
Cons:
5. FOMI Premium All Gel Orthopedic Seat Cushion
The advanced column-buckling technology of the Fomi Premium All Gel Orthopedic seat cushion disperses your body weight evenly. 
This eliminates uncomfortable pressure points and gives you relief from lower back pain and sciatica. The gel structure of the Fomi increases air circulation to help keep you cool all day. 
Made from a medical-grade gel material, this seat cushion will maintain its original shape and keep you supported all day long. 
The non-slip friction bead grip bottom makes sure that the cushion stays in place.
Pros:
The cushion has carry handles for easy transport
Non-slip bottom
Breathable gel
Cons:
Some users felt the cushion was too hard
Buyers Guide For Memory Foam Seat Cushions
Make Sure The Fit Is Correct
The memory foam seat cushion must be the right fit for you to help relieve the pressure from continuous sitting. Measure the chair you plan to use the cushion on, as one size does not always fit all.
When selecting a cushion, avoid a cushion that is longer than your thighs or narrower than your hips. 
You don't want a very wide cushion so that it does not lay flat or one that is so long it hangs over the edge of the seat.
Look For A Memory Foam Seat Cushion With a Washable Cover
Having a washable cover is necessary, especially if you will be using your cushion for most of the day. A cover will make it easier for you to keep the cushion clean and smelling like new.
Support For Your Back And Tailbone
When you sit for hours in a row, it can aggravate existing conditions or create aches and pains that you never had before. Memory foam seat cushions provide your back and tailbone with much-needed support that alleviates or eliminates the pain associated with sciatica. 
Most of us need to work for a living, and being in pain throughout the workday can put a damper on our health. Giving your musculoskeletal system the necessary support using a memory foam seat cushion impacts your work experience positively.
Look For A Memory Foam Seat Cushion That Is Portable
If you have a commute or use one or more chairs during your workday, it is advantageous to have a portable seat cushion. Some memory foam seat cushions have a handle on the side to make the cushion easier to carry along wherever you go.
In Conclusion
---
When you experience less or no pain from sitting for prolonged periods, you can accomplish more, and you do your entire musculoskeletal system.
Memory foam seat cushions are affordable and make your day both productive and pleasant.
FAQ
---
What is memory foam?
Memory foam is a type of polyurethane substance that has been combined with an assortment of chemicals to contour your body naturally.
---
Can using a memory foam seat cushion help improve your posture?
Yes, a memory foam seat cushion can help improve your posture. The cushion allows you to achieve the proper spine alignment that helps to keep your cervical and lumbar regions where they should be.
---
How long does a memory foam seat cushion last?
Depending on how much it is used, a memory foam seat cushion, even one used all day, every day, should last several years before needing replacement.
(Last Updated On: November 18, 2021)