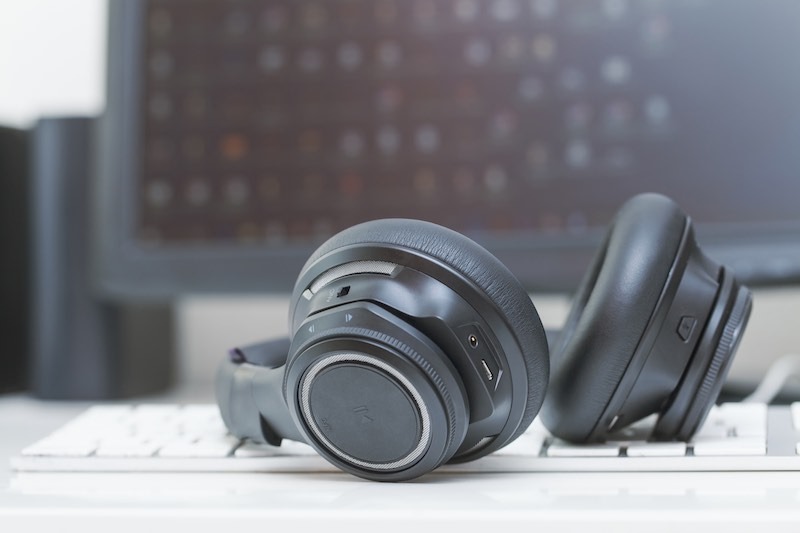 10 AWESOME Over-Ear Headphones With Microphones
(Last Updated On: April 9, 2022)
Increase your office focus with a set of over-ear noise-canceling Bluetooth headphones with a microphone. You will be able to shut out all distractions and truly concentrate on urgent matters.
Listen to soothing background music of your choice, but never miss a phone call when you have a set of over-ear Bluetooth headphones with a microphone.
Rather than having to re-gain your focus because of continual distractions, having a Bluetooth headset with noise cancellation and a microphone will allow you to complete your work on a timely basis without the usual frustration.
We have listed 10 over-ear headphones that fit a variety of budgets and will work well in a minimalist office or home office.
#1 TREBLAB Z2 – 30 Hours Playtime
Treblab Z2 will give you 30 hours of playtime on a single charge, so more than a full day without the need to charge again. Bluetooth 5.0 and neodymium-backed 40mm speakers give you great audio and are very comfortable to wear. 
The Z2 comes with a built-in microphone and voice assistants: Siri, Google Assistant, Bixby, and Alexa. If you choose to use the Z2 during workouts, the headphones are IPX4 water-resistant. 
The Z2 wireless over-the-ear headphones have T-Quiet active noise-canceling technology that blocks out external sounds so that you can focus on what is essential.
#2 COWIN SE7 – In-depth, Powerful, and Crisp Sound
Quell airplane cabin noise, the city traffic, or bothersome office phones and chatter with the Cowin Bluetooth compatible noise-canceling headphones. 
The SE7 will help you to focus and give you an in-depth, powerful, and crisp sound, making your listening experience rewarding with quality sound. 
The built-in microphone can Bluetooth 5.0 delivers hands-free calls. With quick and stable connections to your Bluetooth devices, you will never miss an important call. 
A padded earphone and foldable design provide all day long comfortable wear, and the foldable headset makes it easy to fold and go. With 30 hours of playtime on a single charge, the built-in 800mAh battery will provide suburb service. 
#3 Anker Soundcore Life Q20 – Up to 90% Ambient Noise Reduction
Reduce ambient noise by up to 90% with the Anker Coundcore headphones. Bluetooth 5.0 technology gives an ultra-fast and reliable connection between Life Q20vactive noise-canceling headphones and your mobile device. 
The Anker is compatible with smartphones, tablets, and laptops. These headphones are engineered with two internal and two external microphones and a digital ANC algorithm that detects and cancels out ambient noise. 
A long 40 hours of playtime in wireless active noise cancellation mode at 60% volume increase to 60 hours in standard music mode.
A five-minute charge will give you four hours of listening. Foam ear cups covered in protein leather and a travel case come with the headphones.
#4 Mpow V5.0 – Dual Bluetooth Connectivity
The Mpow headset has dual Bluetooth connectivity to two devices at the same time for both calls and music so that you can switch seamlessly between the two. 
The noise-canceling headset gives you HD voice for crystal clear, professional-sounding calls and works perfect for your home office. You can cancel out the activity in the background and focus on your tasks.  
The wireless microphone reduces ambient noise with one mic that captures your voice, and another reduces background noise. You will get 22 hours of talking time before you need to charge your unit and 200 hours of standby time. 
Ultrasoft leather ear cushions make for a comfortable fit all day. Choose between wireless and wired mode, and this headset will work with Siri and Google assistant.
#5 Avantree Aria Pro aptX-HD – Flexible and Detachable Mic
The versatile Avantree Aria Pro will work with any Bluetooth-enabled devices, such as smartphones, computers, or transmitters. Ideal for working in an office setting, on an airplane, traveling, or even in the backyard. 
The Aria Pro delivers a high definition sound quality with dynamic bass and gives you a better listening experience. Use it to enjoy your favorite movie without distractions from other noises. 
The phone calls' voice quality makes for professional calls, and the microphone is both flexible and detachable. The Aria Pro has an adjustable headband and comes with its travel case.
#6 Toshiba – 33-foot Working Range
Toshiba is a quality name in electronics, and they bring you this fun, bright blue set of noise-canceling headphones. With no wires to get in your way, you can work, workout, or move about freely. 
The wireless headphones have a 33-foot working range with crystal clear audio. The Toshiba over-the-ear Bluetooth gives 20 hours of continuous play before needing to be recharged. 
You will appreciate the deep bass and unmatched sound of these Toshiba noise-canceling headphones.
#7 COWIN E8 – Lightweight, Great Fit
Comfortable and high-quality, the Cowin noise-canceling headphones deliver a crisp and clean sound. You will be able to hear each note much clearer when listening to your favorite music. 
Comfortable protein ear pads and a long 20-hour playtime makes the Cowin ideal for using at your home office. While you are on the clock, you can block out the background noise and stay on task. 
The headphones are also lightweight, with earcups that rotate for a great fit. These headphones work both with and without an audio cable. The built-in microphone and Bluetooth compatibility give you high-quality and professional-sounding phone calls.
#8 Vankyo Hybrid – Fast and Stable Connection
You can escape the sounds of the city or the office when you want to with the Vankyo. Reduce the ambient noise by 90% so that you can concentrate and focus on important projects. You will no longer have to be interrupted by the office chatter or phones ringing. 
The Bluetooth 5.0 technology delivers a fast and stable connection. The microphone optimizes calling quality, and you can make sure not to miss a call while listening to your music. 
The Vankyo gives a full range of frequencies up to 40kHz on a 30-hour playtime. With its foldable design, you can easily place these headphones in their carry case and take them wherever you go.
#9 Sony WHCH710N – Dual Noise Sensor Technology
You can live among the noise but not have it affect you whether you are at work, on a long flight or in the middle of your commute. Sony is a reputable name in electronics, and these noise-canceling headphones are an example of their quality products. 
The Dual Noise Sensor technology automatically senses your environment to deliver an amazing sound experience and block out ambient noise. You will have long-lasting listening with up to 35 hours of battery and quick charging capabilities. 
Smartphones compatible with hands-free calling and wireless Bluetooth streaming with NFC one-touch makes taking those important calls seamlessly.
#10 Bose QuietComfort 35 II – Augmented Reality
Bose is the ultimate in sound, and the QC35 headphones are no exception. You clear away any distractions in your world to be able to focus, or just distance yourself from the noise of life.
With the Bose app, you can adjust the noise cancellation level, enable music sharing and manage your Bluetooth connections. 
With the push of a button, you can have Alexa wherever you are at. The Bose Comfort 35 is enabled with Bose AR, an innovative, audio-only take on augmented reality.
Embedded inside your headphones is a multi-directional sensor that Bose utilizes to provide contextual audio based on your location. 
Volume-optimized EQ gives you balanced audio performance at any volume and a noise-reduction dual-microphone system that offers clean and clear calls. You will have 20 hours of battery life and a durable, comfortable fit.
The QuietComfort 35 comes with a carrying case, charging cable, and an audio cable for use without battery power.