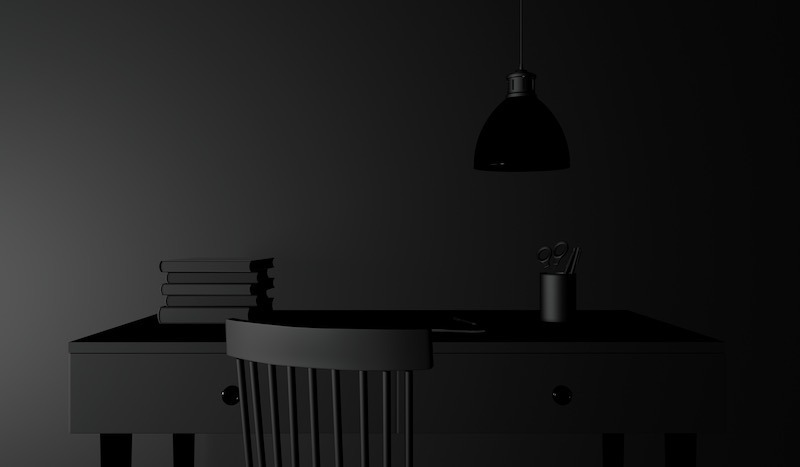 Best Matte Black Office Furniture
(Last Updated On: April 9, 2022)
Redefine Your Workspace. Follow the Trends.
Matte black office furniture has been on trend for a while now. When talking about modern contemporary furniture, the color that most people opt for is black.
There is something intense and exciting about having black pieces of furniture in your space. The dark matte tone of black adds depth, a touch of sophistication and complements the other colors in your space.
This will also allow you to fashion a space that is distinctive from the rest of the surroundings. Below we have put together 10 pieces of matte black furniture that will be great additions to your workspace. 
Minimal Matte Black Desk
The first and probably the most important item in your office is your desk! This matte black desk by JOISCOPE will look great with any wall color. It is easy to construct; two people can put it together quickly.
The storage compartments are a plus; you can easily store your important files and work equipment at arm's length.
Matte Black Faux Leather Home Office Desk Chair
Now that we have the desk, the next step is to get a stylish yet comfortable chair to go with it. This matte black-toned chair from Volans will go great with your matte black desk.
The chair is easy to assemble, and a single person can put it together without any difficulty. The design of the chair is very contemporary and modern. Both the chair and the desk will complement each other beautifully. 
Wire Matte Black Wall Grid
This wire matte black wall grid set from EZDC is more than just wall decor. It is an indispensable element that will spice up your space. You can use it to display your pictures, memories, and important notes. It will add a personalized touch to your desk. 
Matte Black Office Trash Can
This trash receptacle from Bino will look great with your overall theme. It has a matte black tone covering all sides; your unwanted items won't be on display for everyone to see. It fits perfectly, even in small spaces. It opens and closes smoothly without making unnecessary noise. 
Matte Black Wall Mount Computer Monitor Arm
This matte black wall mount arm from Ergotron is excellent for your workspace if you don't have space for a monitor on your desk or don't have a desk. You can easily attach your LCD with the arm and move it according to your liking.
It is very easy to put together and adjust. The mounting arm is very sturdy, and you will hardly feel any monitor movement while typing if your monitor is a touch screen.
Matte Black Desk Mat for Office Home
A product with multiple qualities, this matte black desk protecting mat from TOWWI will be your new favorite. It is durable and portable and can be used on your office desk or a gaming desk.
The high-quality waterproof and stain-resistant leather makes it easy to clean. It also provides protection; the surface of your desk will remain free from any scratches or stains. 
Globe Electric Matte Black Desk Lamp
A workspace is never complete without a lamp. This modern and contemporary lamp from Globe Electric will add a great touch to your desk. It has a tripod base which makes it sturdy and also looks very trendy. The matte black finish of this product will go perfectly with your elegant and modern office look.
Matte Black Ceiling Fan with LED Light and Remote Control
With summer right around the corner, this fan will be a cool and welcome addition to your work area. This classic decor piece from Hunter comes with an LED light in the center, covered by white glass, which looks elegant.
This item is excellent not only in form but also in function, as it has a strong motor that provides a powerful flow of air and will cool your office area quickly. 
Matte Black Double Curtain Rod
This curtain rod made by Sun Zero is specially designed to wrap around your window frame to save energy, block light and reduce noise. The double rod adds a layered look, plus you can control how much light you want to let it. The matte black tone of this rod has a very industrial look. It is also easy to install and adjust. 
Matte Black Blackout Curtains
Last but not least, these blackout curtains from Rutterllow will finish the overall look of your workspace. These matte black curtains will add a sophisticated and cool vibe to your office. The material is of excellent quality, made with 100% polyester.
They are easy to install; a single person can put them up. The triple weave technology of these curtains makes them efficient and unique.