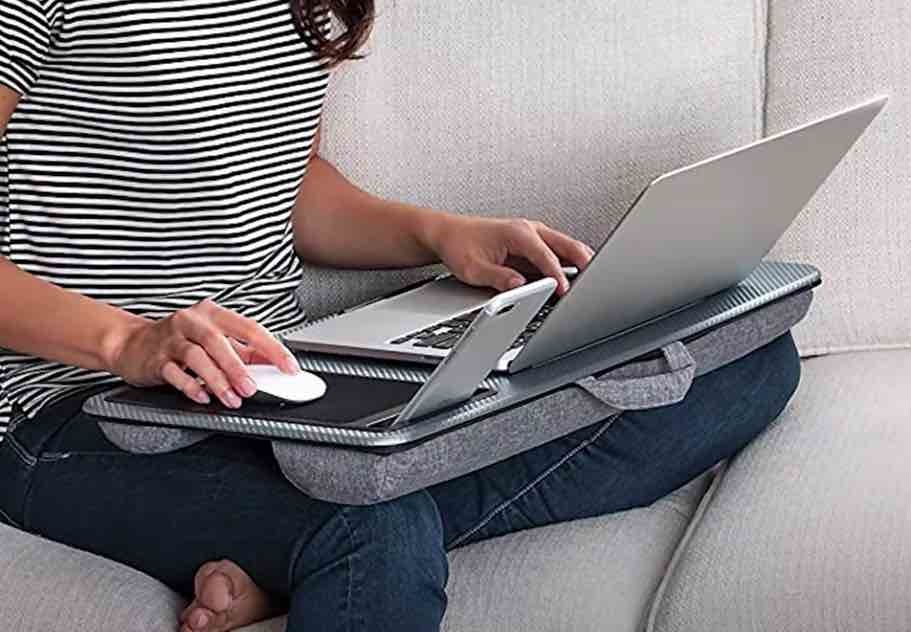 Best Laptop Lap Desk With Wrist Rest And Mouse Pad.
(Last Updated On: April 9, 2022)
A laptop lap desk with a wrist rest and mouse pad can eliminate the discomfort of using a laptop every day. It is incredible how a simple tool can make all the difference in your daily life.
There are many lap desks on the market, and it can be confusing to know which one will work best for you.
We have reviewed five different lap desks, and in our opinion, the Huanuo Laptop lap desk covers all the bases and is the ideal product to use with your laptop.
Fits up to 17 inches Laptop Desk, Built-in Mouse Pad & Wrist Pad for Notebook, MacBook, Tablet, Laptop Stand with Tablet, Pen & Phone Holder (Wood Grain)
This Huanuo compact laptop lap desk will hold your devices, like smartphones and tablets,  in one spot while you are working. 
It is annoying to have to improvise where to set your needed items, but this laptop desk holds them all for you in one place. 
It makes it convenient not to have to search or have a device just a bit out of reach when you need it. 
There is a slot for your tablet and one for your phone. The angled desk will hold your laptop and has a leather mouse pad area too. 
The comfortable lap desk with wrist rest keeps the laptop in place and cushions your wrist. 
The bolster cushion base angles the desk upward at just the right angle to make it efficient for working on your laptop. 
The bolsters underneath the desk provide comfort for your legs or lap so that you can continue working, reading, or writing for as long as you need to. 
The Huanuo has a handy carry handle so that you can take the desk from room to room or on a trip. 
Made from wood grain with a light pattern and a neutral grey fabric on the wrist rest and bolsters, the laptop desk looks good enough to take to the office or an important meeting. 
An excellent platform for watching movies, too, with room on the mouse rest for the bowl of popcorn! 
The overall dimensions of the desk are 14 inches high and 21.5 inches wide. 
Over 80% of the almost 2000 reviewers on Amazon gave the Huanuo a five out of five-star rating.
Stylish looking in black carbon, the LapGear lap desk is just as functional as good looking. A slot that will hold most smartphones will also hold a laptop that is up to 15.6 inches. 
An integrated lap desk mouse pad gives you the ability to have a designated space for that tool. 
The built-in soft foam wrist rest gives you the needed angle and protection for your wrists. 
Underneath the desktop are two bolster cushions that help to angle the desktop and cushion your legs. 
The desk measures 14 inches deep and 21.1 inches wide. A handy carry handle lets you take the desk wherever you want. 
Use the desktop to work on; it can also substitute as a table for lunch or playing games on your tablet.
The original laptop desk from LapGear, this platform gives you a generous 15.7 inches deep by 22.4 inches wide. 
A bonus with this lap desk is the integrated mouse pads on both sides of the desktop. You will be able to use this ambidextrous desk with a mouse on either side. 
The built-in ergonomic wrist rest gives needed support to your wrists so that you can go through your workday without your wrists aching. 
The rest also keeps your laptop in position on the desk. Two bolsters under the desk are filled with microbeads that conform to your legs or lap to make for a comfy rest. 
The bolsters serve to give a slight angle to the desk, making it easier to work on your laptop. 
The bolsters also form a channel underneath the desk that allows for ventilation to keep your computer from overheating. 
A unique feature of the LapGear is the two underneath zippered storage pockets. It is a great place to store an extra mouse or keep keys or wallets when you take the desk traveling with you. 
A built-in handle makes this portable laptop desk easy to take along.
If you have one of the larger laptops, or just like the extra space, the Ameriergo lap desk is for you. 
This lap desk will hold a laptop that is up to 17 inches. With a smaller laptop, you will be able to use the integrated mouse pad. 
A convenient carry handle makes this laptop a mobile desk and lets you take it when traveling or hook it over a bike handle. 
This is an excellent desk to get that needed work done, whenever you need to get it done at home, on a plane or when a passenger in a car, the Ameriergo gives you the stable surface you need. 
Use the slot on the top of the desk to hold your tablet or smartphone. You will be able to continue to talk on either device hands-free while using your laptop. 
The incorporated wrist rests give you a soft place to rest your wrists while dual cushions underneath support the desktop when on your lap. 
The space between the cushions provides the airflow that is beneficial to your laptop. Use the desk for gaming, reading, or writing.  
This Huanuo lap desk is by the same maker as our favorite lap desk and has the same features as our first review, except that this lap desk is black, which looks more like a deep grey. 
If you were choosing between the two, this particular desk has a more professional look that would fit in with any business setting. 
If you need to be mobile and do business simultaneously, the Huanuo can go with you. 
With the holder for a tablet and smartphone, you can attend zoom, skype, or facetime calls hands free, while still accessing data from your laptop. 
Today's business world calls for more flexibility than ever, and the Huanuo is like having an office on your lap. 
The carry handle makes it easy to take along and gives you the space you need wherever you are.
Buying Guide For The Best Laptop Desk With Wrist Rest And Mouse Pad
Your laptop is pretty much indispensable, and you spend many hours using it. It is a necessary piece of equipment that is vital to those of us who work from home or in an office.
Since you are on your laptop a lot, you want to be able to have the flexibility of moving to various places around the office or house and don't want to be confined to one particular spot. 
Having a laptop lap desk can help you do just that, but how do you make sure to get the right one?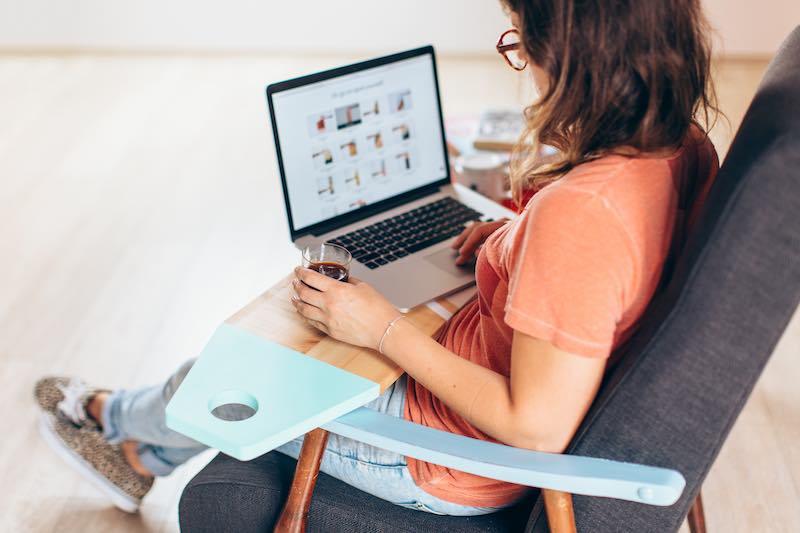 Here are a few things to look for in a laptop lap desk.
Function
Consider how you plan on using your laptop desk. If you are going to use the laptop mainly at home, you would probably be able to do without a carrying handle. 
But if you are taking the lap desk to the office or other meetings, then the handle will be indispensable. 
A handle makes it as easy to carry as a briefcase and one that you will appreciate if you commute by subway, train, or bus.
If you regularly use a mouse, you will want a desk that has a dedicated mouse pad.
If using your smartphone is part of your daily norm, a lap desk with a slot for your phone, and a tablet will be an asset to have. 
Having the slots gives you all your tools at the ready. You would be able to have conversations or virtual meetings while accessing the information on your laptop.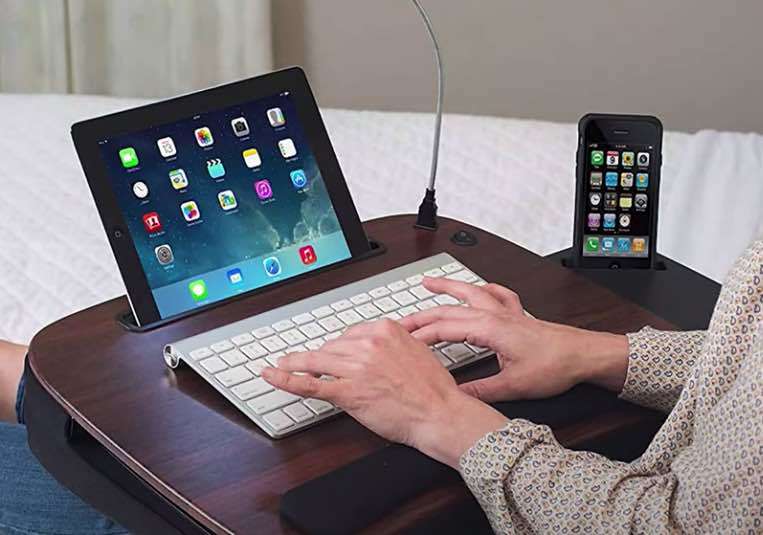 The size of the laptop lap desk
Your laptop should fit comfortably on the desk. Measure your laptop for both length and width, and choose a desk that will give you a few more inches both ways. 
This will give your laptop more stability when you are typing. As mentioned before, if you use a mouse, the lap desk should be large enough to accommodate the computer and leave room for the mouse. 
If you are going to use a small table or countertop, make sure that the lap desk will fit in that area, also.
If you are using the laptop desk in your favorite chair most of the time, measure the chair to make sure the desktop will fit. 
It would also be a good idea to measure your lap. If you commonly sit with your legs spread, you will want to make sure that the desk will be wide enough to accommodate doing so.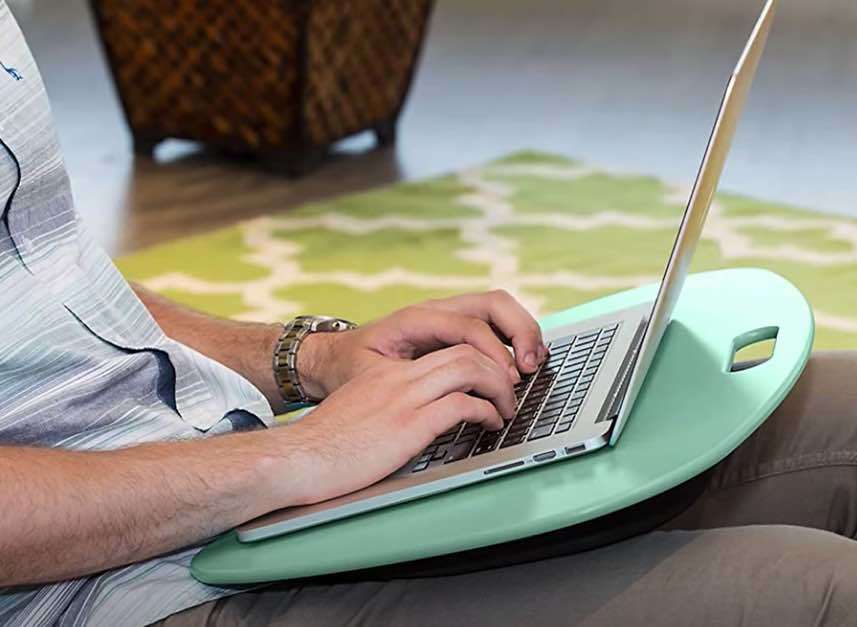 The weight of the laptop lap desk
The desk itself should not be overly heavy if you will be using it primarily on your lap. Even with padded bolsters underneath, heavy material will only feel heavier as the hours pass. 
Choose something lightweight. Laptops are not, in themselves, heavy, so while the construction of the laptop desk needs to be sturdy, the material should not be heavy.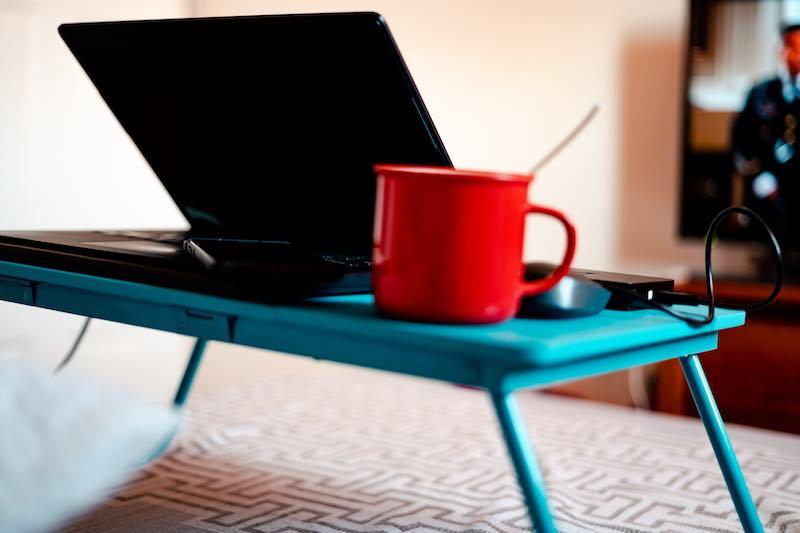 The cushioning of the laptop lap desk
The better lap desks will have a wrist rest that serves a dual function. It will protect and support your wrists, and it will also keep the laptop from sliding off the desk surface. 
Some lap desks have a plastic lip that serves as a stop for laptops, and while that works, it does nothing to help your wrists.
The bolsters under the lap desk should also be a form of support for the desk and comfort on your lap. Some of the more popular material for these supports are:
Foam Wedge
This is the most inexpensive type of padding for the bolsters, and it does not do an excellent job of confirming your legs or being very comfortable.
Plastic beads
These beads move and shift according to your legs' shape or how you lay your wrists across the supports. 
They can be just a little noisy as they shift, but most people say they don't notice it at all. 
You do need to be careful with the fabric that encases the beads, as one small hole or tear will have the beads spilling out by the hundreds.
Memory Foam
This foam is the most expensive filling for the bolsters. There are two camps for memory foam, some people love it, and some hate it. 
Those who love it feel that it conforms beautifully in a way that other materials do not.
Those who hate it think it tends to be hot, and it is more like stiff mud that does not allow for much freedom of movement. 
If you have not tried memory foam before, make sure you test it out before purchasing a lap desk that uses it.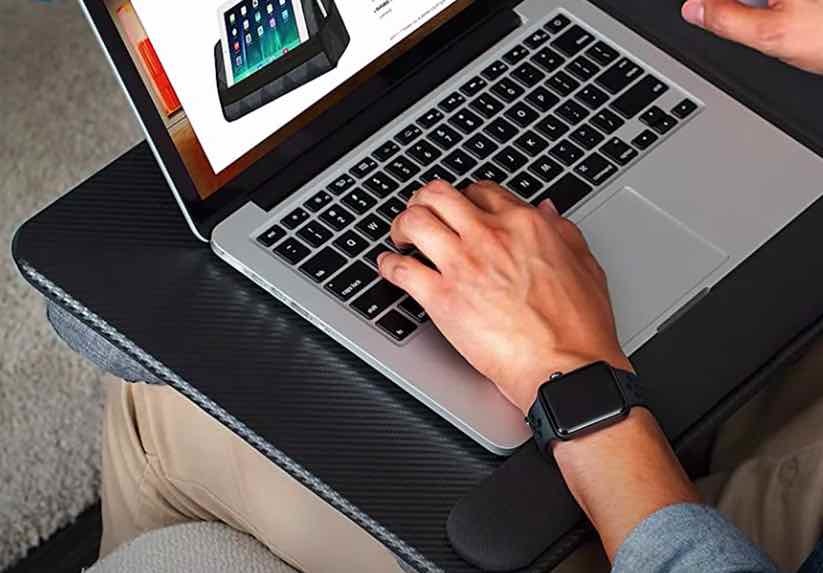 The material of the laptop lap desk
While you want your lap desk to be aesthetically pleasing, it might look nice, but it needs to hold up for the long run. 
While being sturdy, it can't be too heavy, or you will end up not using it.
Some of the materials for lap desks include:
Plastic
You know that thousands of items are made from plastic, and lap desks are no exception. 
While that can make the desk lightweight, plastic is very rigid and can crack. Sensitive to cold, if you take your lap desk with you, it can be affected by temperature changes.
Wood
Wood lap desks are sturdier than plastic, are more attractive, but they are also certainly heavier. 
That can make them not the best option for a desk that you might want to tote with you. If you are going to use it primarily on your lap, that will get heavy very quickly.
Composite
The best of both worlds, composite materials are lightweight like plastic but are sturdier. They have the ruggedness of wood without the weight.
Heat distribution in a laptop lap desk
Heat is not the friend of any laptop computer. It is also not your friend if you tend to work with your laptop on your legs for long periods. 
A lap desk will raise the computer off your legs, and the supports under the desk give the laptop some relief from the heat it generates. 
Look for a lap desk that staggers the under desk supports. The better ones will have support along the bottom of the desk and another, thicker support along the top. 
This puts the lap desk at a slight angle, which makes typing more comfortable. 
It also creates a tunnel under the desk that allows for ventilation and airflow under the laptop and over your legs. 
Avoid the lap desks that have a cushion that encompasses the entire bottom of the desk as this does not allow for any ventilation for your legs or the computer.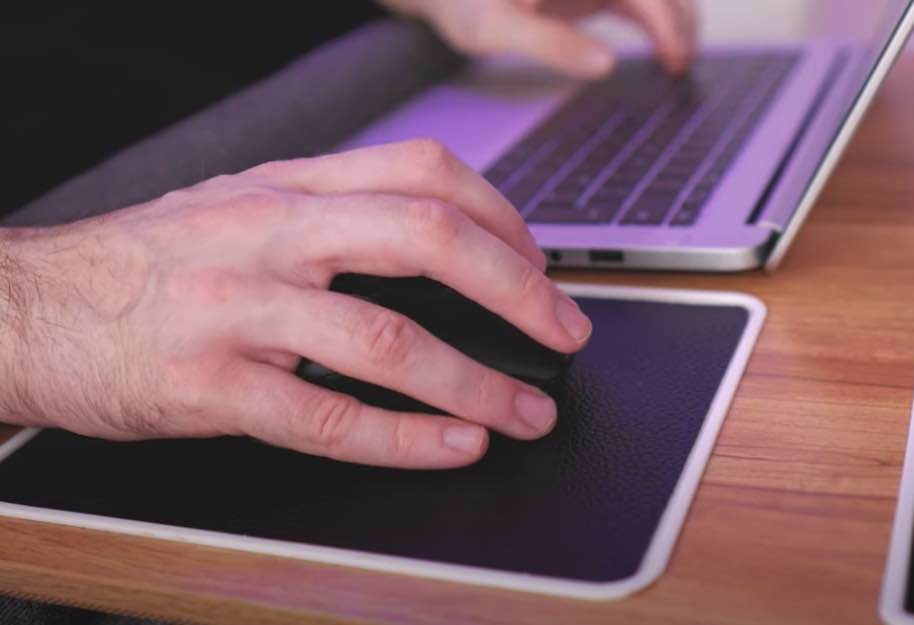 The Ergonomics Of A Laptop Lap desk
Ergonomics are the human factors that apply to the design of products and it aims to minimize the risk of injury or harm. 
Over the years, ertgonomics has become an essential factor in the workplace and is just as crucial for those who work from home.
While the main culprit for any injuries, aches, or pains associated with working on a computer is the positions held for long periods. 
The best general advice is to maintain good posture, shift positions often, and switch from sitting to standing periodically throughout the day.
A lap desk with an ergonomic wrist rest certainly can help with preventing carpal tunnel by giving your wrists the proper support and angle to work from.
A laptop lap desk in itself is not an ergonomically designed tool that is going to improve your skeletal muscular health vastly. 
However, it is an option to use during the workday to change up your position and posture. 
The lap desk allows you to take a break and use it as a laptop couch desk or sit in your favorite chair for a bit.
Like a reviewer who had broken their foot, they said that the lap desk was a lifesaver that enabled them to continue to work from their bed with their foot propped up.
While it is certainly hoped you never need a lap desk for that reason, there are many instances that a lap desk is useful and beneficial.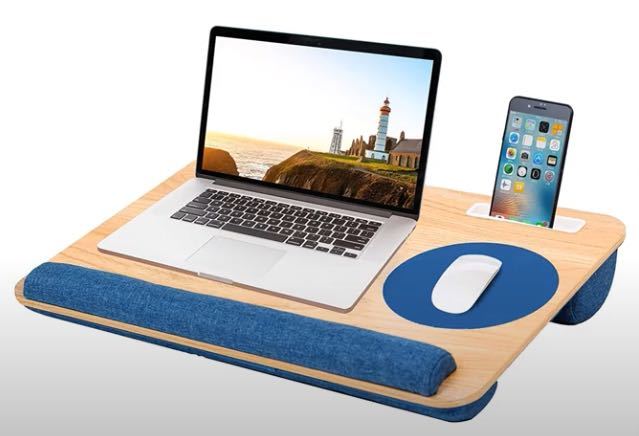 In Conclusion
Lap desks certainly have their place in your work life, whether it be in an office or from home. The laptop has become indispensable in your life, and a lap desk is just as essential.
Choose one with the features you need, and you will find that your lap desk will be a welcome addition to your workday.
FAQ
Does my laptop emit harmful radiation?
Yes, laptops do emit radiation, but not to a harmful level. Laptops emit several types of radiation.
All of the radiation emitted by a laptop is too low-frequency and too low-intensity to be dangerous so that you can type away without fear.
How do I clean the wrist rest and bolsters on my lap desk?
You can use an upholstery spot cleaner or a mild dish soap solution to freshen or clean the lap desk fabric. Once clean, let the desk air dry before using.
Can children use a lap desk?
Yes, a lap desk is convenient for kids to use for schoolwork, drawing, or playing games. A lap desk gives a sturdy place for a snack, too.

Being portable makes a lap desk especially handy for kids who never stay in one place for too long.